Despite possibly being eligible to represent Canada in the future, recently capped Golden Jaguars international Shaquille Agard said that his intention was to always represent Guyana on the international circuit.
Having left local shores at the age of four, Agard, who currently plies his trade in the semi-professional ranks for League1 Ontario unit Durham FC, greatly impressed the management staff with his overall tactical and technical application to cement a spot on the touring roster.
Speaking exclusively to Stabroek Sports, the 20-year-old versatile Centennial College attacker said: "Honestly I would rather play for the nation I was born in than the nation that I grew up in. I have been telling everyone that I want to play for Guyana instead of Canada.
"It was great to play for my country and great experience. Thank the coaching staff and everyone for giving me a chance. Thanks also to the players for making me feel comfortable as a player from Canada."
According to Agard the experience he gained was invaluable.
"It's been a good learning experience in my first outing. This is international football, in terms of the experience it went well and we played very good. The team gelled within 10 days but the results are what we have to work on," he added.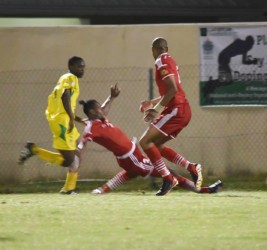 Questioned about his thoughts on the talent of the local players, Agard said…. "The Guyanese players are very fit. If they were to go in Canada they would be far superior in fitness due to the climate. I found it hard to get my fitness up in the climate. Other than that they have the same technical ability.
"In Canada there are so many different coaching styles and lot of players grow up understanding different systems. There is also a little more tactical understanding of the game in Canada because more systems are taught went you are young."
Asked about his thoughts on the team's CFU Caribbean Cup performance, Agard said: "Overall our performance was strong. As a team we started out shaky because they are two players on squad that had international experience. I think they are more but that's the two I know of. We started off shaky but eventually we stepped up."
Agard also gave his views on the coach of the Golden Jaguars.
"I think Denzil Thompson is the best coach I have played under. He is very smart and knows what he is talking about and knows how to motivate the team, that's why we played very good especially in the last game.
"I think we could add little more experience just to help improve players like myself but I like the way we are going with the youth development. "We do that in Canada, we start young and build teams that become strong. They understand you since you are small and then you gradually become better and get a better understanding of the game."
Asked about the areas the team can improve on, he said: "Going forward speaking for myself we can improve on finishing. Our system is very good, we just need to work on our techniques more. Keeping the ball and not just rushing, that comes with experience. We need to keep possession and not just kick away the ball."
Comments
Wales Football Club secured its second win in the Stag Beer sponsored West Demerara Football Association (WDFA) Senior League edging Jetty Gunners 1-0 yesterday at the Den Amstel ground.

Stewartville Secondary punched their ticket to the next round of the Digicel Schools football championships dismissing Windsor Forest 5-2 yesterday at the Leonora Sports Facility.

LILLE, France, (Reuters) – Wales produced a stunning upset to reach the Euro 2016 semi-finals after Hal Robson-Kanu's superbly fashioned goal and Sam Vokes's late header secured a 3-1 comeback win over Belgium yesterday to set up a clash with Portugal.

BORDEAUX, France, (Reuters) – Title contenders Germany will come face to face with their ultimate tournament nightmare when they take on Italy in their Euro 2016 quarter-final in Bordeaux today.

Digicel U-18 football Chase Academy defeated Lodge Secondary by a 3-0 score line when the Digicel National Secondary Schools U-18 football tourney continued yesterday at the Ministry of Education ground, Carifesta Avenue.