Certain foods are all about tradition in terms of how they are made and eaten; however, I have to confess (and this is the season for the baring of one's soul) that I have never liked the traditional Cross Buns. I find them to be dry and never sweet enough. The only thing I want to eat my Cross Buns with is some cheese, therefore, the sweetness must be there to contrast with the savoury, sharp cheddar cheese. With a bun so full of spices one should be able to eat a Cross Bun just as is, even dunking it into tea or coffee. So, this is what I set out to do – make a bun as soft and fluffy as a Butterflap, sweet like an Amish White Bread and with the gloss and stickiness of a Coconut Turnover.
For this version of the buns, there are 2 sets of glazes – one with sugar water to create the sticky effect and the second one which is a light icing glaze that coats the entire top of the buns giving them an added bit of sweetness. If your family would really be upset if they don't see the traditional cross on top of their bun then by all means, skip the light icing glaze and make a thicker version and design the buns making the cross.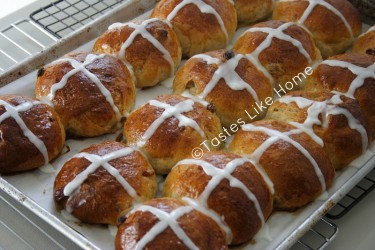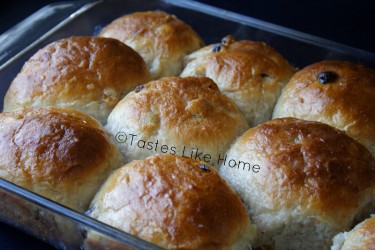 Yield: 12 – 14
INGREDIENTS
For dough:
1 tablespoon instant yeast (or active dry)
½ cup granulated sugar
1 + ½ cups warm whole milk (110 – 115 degrees F)
4 cups all-purpose flour
1 teaspoon ground cinnamon
¼ teaspoon ground cloves
¼ teaspoon grated nutmeg
¼ teaspoon table salt
1/3 cup currants (substitute with raisins)
For glazes:
No. 1
3 tablespoons sugar
2 tablespoons water
No. 2
½ cup icing sugar
2 tablespoons whole milk (or water, lemon, orange or lime juice)
DIRECTIONS
For dough:
Add sugar to bowl along with milk and stir to dissolve sugar. Toss in yeast and give a little stir (be sure to wipe off any yeast stuck on the spoon), cover and leave to proof (rise) for 10 minutes in a warm place.
Add flour to bowl along with ground cinnamon, cloves, nutmeg and salt and stir to mix thoroughly, toss in currants or raisins and stir to mix.
Make a well in the center of the flour mixture and pour in the yeast-milk mixture and mix to form dough. Once formed, knead the dough for 2 – 3 minutes, place in an oiled bowl, cover and put in a warm place to rise for 1 ½ hours or until more than doubled in size.
Oil and 9 x 13 baking dish or pan and set aside.
Punch down risen dough and knead for 2 – 3 minutes and then cut dough into 12 – 14 equal pieces. Form each piece of dough into a ball and place in baking dish or pan. Cover loosely with a tea towel or plastic wrap and let rise for 1 hour.
Preheat oven to 375 degrees F with the rack in the middle 20 minutes before the 1 hour of rising is complete.
Glaze # 1:
Add the 3 tablespoons sugar and 2 tablespoons water to a small bowl and stir to dissolve sugar.
Brush the risen dough with sugar-water and transfer the dish to the oven. Bake for 12 minutes; remove dish/pan from oven and brush with sugar water then return to oven and bake for another 12 minutes. At the end of the second set of 12 minutes, brush the buns again with sugar water and bake for 3 minutes.
Remove dish from oven, place on wire rack and brush a few times with any remaining sugar water and leave to cool in the dish for 10 – 12 minutes.
Glaze # 2:
Meanwhile, add icing sugar and milk (or whatever you are using) to a bowl and whisk to dissolve. Using a tablespoon drizzle the glaze all over the buns – on the top, and letting it spill over to the sides. Let buns continue to cool until you are ready to serve them.
The buns can be eaten as is, with butter or jam. I particularly like mine with cheese.
Around the Web