KINGSTON, Jamaica, CMC – West Indies Cricket Board president, Dave Cameron, has caved into pressure from CARICOM and will meet with Heads of Government in Grenada on December 4, to discuss the recommendations of the Cricket Governance Review report.
The WICB head came under fire recently from chairman of the CARICOM's Cricket Governance Committee, Grenada's Prime Minister Dr Keith Mitchell, over his reluctance to schedule an "urgent meeting" to discuss the report, which has as its main proposal the "immediate dissolution" of the WICB.
Speaking last week in Dominica at the OECS Summit, Mitchell accused Cameron of an "amazing level of disrespect" after the WICB president refused to budge on a decision not to entertain a meeting with CARICOM Heads before the scheduled Directors Meeting in St Lucia on December 12.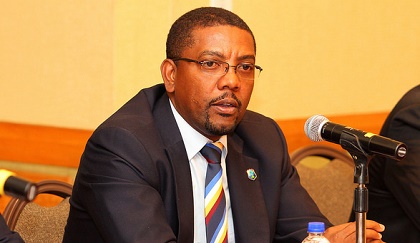 However, Cameron on Monday apologized for any offence he may have caused CARICOM but said he needed time to speak to his shareholders.
"I would not, and have never disrespected any leader of the region," the Jamaica Gleaner quoted Cameron as saying while speaking at an event here Monday.
"The letter that we (the WICB) published is simply to outline a process that we felt is a reasonably one. I needed time to talk to the shareholders, what we would call the constituent members of the WICB, before actually meeting with our leaders.
"If it caused any offence, I sincerely apologise … again. I am now scheduled to meet the ministers on the fourth of December in Grenada."
Cameron was making reference to a letter sent recently to CARICOM Secretary-General, Ambassador Irvin LaRocque, where he denied a request for an "urgent meeting" but invited the regional Heads along with members of the Cricket Governance Review panel, to the Directors meeting.
Despite agreeing to the December 4 meeting, however, Cameron maintained that governments should not influence the decisions of independent sporting organisations.
"The history of the WICB and its socio-economic and political connections are extremely important, and we understand its relevance to the regional psyche," Cameron pointed out.
"[However] we are a sports business organization. An international governing body such as IOC, FIFA, the ICC, is largely concerned about two things, governance and autonomy.
"Governance has to do with the structures and accountability, and autonomy has to deal with the ability of the organization to make its own decisions without interference."
"We need our governments, we need their support, but the decisions of the organizations should not be influenced by the governments."
Cricket Review Panel was appointed by CARICOM's Cricket Governance earlier this year and tasked with the responsibility of assessing the governance structure in West Indies cricket and making recommendations.
The panel was chaired by UWI Cave Hill Campus principal, Professor Eudine Barriteau.
Around the Web