(Trinidad Express) St Lucia's Prime Minister Kenny Anthony says that all the players who quit the tour of India in October last year should have been fired.
"For my part, I would have started with a new fresh team," said Anthony, who was speaking at the Caricom Leaders Lecture series hosted on the St Augustine campus of the University of the West Indies last Tuesday evening.
Emphasising that he didn't think politicians should interfere in the administration of West Indies cricket, Anthony said that Caricom leaders nonetheless needed to review the West Indies Cricket Board of Control and set up a better system. "The WICBC are not answerable to the people of the region," he said, adding that, once the board's structure was changed, the politicians should leave it alone.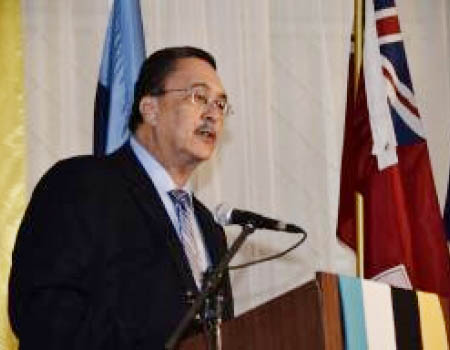 The St Lucian prime minister was speaking on the topic "Delivered or Denied: The Dividends of Integration", arguing that the problems in WI cricket were part of a larger breakdown plaguing the Caribbean. "Caricom is in crisis," he told the audience who filled most of the auditorium at Daaga Hall. "It is a crisis of our institutions, our societies, our economic models, and our governance." Referring to the global economic contraction, Anthony said, "What is happening in the Caribbean now, especially the Eastern Caribbean, is traumatic. It has never happened before – never!"
Trinidad and Tobago, he noted, had failed to assist its less well-endowed neighbours, despite promises to do so. "There is tremendous vacillation in what T&T will invest in – natural gas, petroleum, a pipeline," he revealed. "The other islands have given up on getting an answer, and are busy investing in alternative energy."
While supporting the concept and ideals of Caricom, Anthony said that the body had not paid many dividends. "Caricom is out of touch with the realities of the region," he said. "It has lost a golden opportunity in this time of economic transformation by ignoring the needs of member states." He was very critical of the manner in which issues were handled by the Caricom Secretariat. "Procrastination is often disguised as documentation," he said, adding, "We have confused conversation with implementation."
The prime minister also noted that "many governments are not paying their dues" to the regional body, but revealed that automatic payments had been accepted in principle at last month's Heads of Government meeting in the Bahamas. "There has been a breakdown in the arrangements of functional cooperation,' Anthony said, as he touched on issues such as the buyout of Columbus Communications by Cable & Wireless, saying that there should have been a regional authority to deal with that matter. In respect to the inability of regional heads to agree on one candidate for the post of Commonwealth Secretary General, Anthony recommended that all three candidates should be withdrawn and a board of eminent persons be set up to choose one candidate from the region.
Around the Web