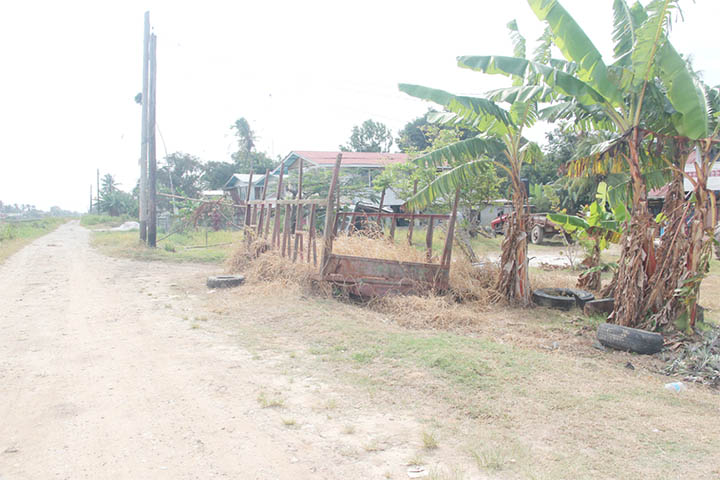 Vrede en Vriendschap is such a tiny place in Canal Number One that you could easily pass it unawares. But once you find it, you realize the little haven it is for its residents.
Ten minutes driving from Bagotville junction into Canal Number One should get you there but there is need to keep a keen eye on the landscape, since it's not located on the public road but on the dam running parallel to it. Another reason why it might be a bit difficult to find is that the wrong spelling appears on the village sign, which says "Vries en Vens Schapp." But should you ask directions—except for those who might say they've never heard of it—most would direct you right to the little village just beyond where the Two Brothers Primary School is situated.
Once you cross the bridge, you're in a community of just about 10 to 12 houses and an average population of around 50. And having found the village, you'd need help finding the houses since most of them are hidden behind fruit trees and flowering plants or parked trailers and tractors. Plants and trees separate most yards from the road; many have no fences.
The lone road is lined with pineapples growing along the side of it and seemed desolate since the children were at school. There was no laughter or cries or chatter; the only noise cutting through the stillness was the shrieks and whistles of birds hiding among the trees.
From the houses, there were glimpses of residents bending their necks to see the stranger intruding their village. One of those residents was Mark Souvenir who lives at the end of the village.
At the time of our meeting Souvenir was relaxing in his hammock. He said he has lived in Vrede en Vriendschap for over 17 years. Now 50, he lives with his wife and two children, in relative comfort, he said.
The area is provided with electricity and potable water and a van that drives along the public road every other day offers groceries for sale. Souvenir said he and his neighbours share the produce from their farms with each other so they have no need to go looking for fruits and vegetables to buy.
Vrede en Vriendschap is Dutch and translated to English it means 'Peace and Friendship.' Its residents live this truth. The village has a mix of Indian and African Guyanese and mixed families as well and they all live in harmony, Souvenir said.
The residents visit their respective places of worship in other villages since there are none in their tiny community that runs a little over two miles down in the backdam.
Since there is no school in the village, the children attend the Two Brothers Primary in the neighbouring village or the McGillivray Primary further down Canal Number One. The children and adults in Vrede en Vriendschap enjoy playing cricket, football and rounders in the compound of the Two Brothers Primary School.
Souvenir lamented on the condition of the drains leading from the backdam, which need digging. The poor drainage, he said, would often cause farms to flood during the rainy season. Rudolph Trotz, the oldest villager, lives three houses away from Souvenir.
Trotz was born in 1934 to Rosaline Canzius Trotz and Percy Trotz in the village of Tenez Ferme. Rosaline died only last year at the ripe old age of 101. Trotz proudly displayed a picture of her hanging on his wall. He said he had attended the Noitgedacht Primary and then Mackenzie High in Linden. He lived in Linden for ten years before returning to Canal Number One to live in the nearby Two Brothers village. Trotz worked at the Two Brothers' store selling pharmaceutical drugs and after the brothers left he started working as a taxi driver. Trotz has been living in Vrede en Vriendschap for 15 years now, 13 of those years as a retiree.
The 81-year-old recalled that as a little boy, he attended a school of 500 pupils where he was one of only two Afro-Guyanese pupils. His aunt, he said, was the only Afro-Guyanese teacher, and they all lived in love and peace.
During the 1960s, he recalled, they didn't have machinery to plough their farms so they used oxen. The villagers planted plantain, cassava, pineapple and sugarcane among other crops. Some of the owners had contracts with the Booker Brothers Estates for their oxen to be used to plough the canefields.
Back then, he said, "You could lef de house [open] an gone backdam and come back [and found everything intact]." Trotz said the only problem they might have had "now and again" were the little boys who'd steal fruits from the trees in the backdam. "Deh don't have children going to school now, pure big man and big woman," he lamented. And while he's unhappy that those olden days could never return, he'd never leave his village for another. "The village is quiet, not rowdy, no thieves; we live like brothers and sisters in dis place here," said the charming old fellow.
Now that he's retired Trotz enjoys visiting his relatives abroad and watching sports and "the Young and the Restless" on television.
A few houses away, I found Roopnarine Tameswar who was born in Vrede en Vriendschap in 1972. The carpenter and mason works wherever he finds work and when he's not doing that he is on his farm. He plants and sells cashews, mangoes, pineapples and peaches. He lives with his wife, five children, son-in-law and granddaughter. He describes Vrede en Vriendschap as a "Very good place, quiet, cool, nuff farming. Nice place fo live in. No problem, no thiefing, everybody just cooperating. In times of death and problems, everybody give a helping hand."
Speaking to the Dutch origin of the village, Tameswar said there's an old saying that goes, "Weh Dutch deh, something deh," which he said means that wherever the Dutch once owned there's evil.
According to village lore, Vrede en Vriendschap has a Dutch "land master," in the form of a snake. Tameswar recalled that while he was growing up, his grandparents and other villagers had warned him that should he ever see an unusual black anaconda he should leave it alone and not try to harm it. Villagers believe that this snake "rules the backdam." Tameswar said his grandparents told him that evil would follow him should he disobey. He then went on to relate an eerie story of running into the reptile one day.
"I de going backdam fuh cow and I smell dis ting, rank, rank, rank and I done know is a camodie. I trace de smell fuh see weh it deh and I see de camodie," he recalled. According to the farmer, the anaconda was "jet black" in colour, almost 2 feet in diameter and it was so long he could not see the end of it. Remembering what he had been told, he said, he simply looked at the snake and then went on his way. He never saw it again.
Tameswar also produced a "Dutch lamp," which he said he had found while digging his yard. He opined that such things could be unearthed in any of the villages in areas once owned by the Dutch.
Around the Web