By Valrie Grant
Entrepreneur, Managing Director, GeoTechVision and Chairperson Small Business Council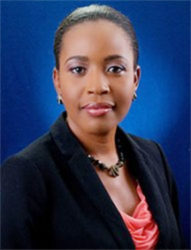 Building strong and sustainable business relationships across borders was the theme of the Republic Banks' Triangular Trade Mission which took place from November 28 – 29, 2016 at the Guyana Marriott Hotel. This Trade Mission saw participation of delegates from Barbados, Trinidad and Tobago, Suriname and Guyana.
We all can agree that the private sector drives economic growth through investment, employment and business creation, innovation and knowledge transfer, and other multiplier effects from their operations and activities. Beyond this, it is however, especially heartening to see private sector actors who recognize their role in inclusive economic growth and development. I believe that Republic Bank has demonstrated that they take this responsibility seriously by arranging this Trade Mission. They have also shown that they want to help their business customers take advantage of regional opportunities.
The discussions highlighted that governments must create the conditions and framework within which sustained and inclusive economic growth driven by the private sector is possible. Beyond this enabling environment, strong public sector capacity is also needed to ensure that agencies are able to deliver services and carry out their regulatory and other responsibilities in a transparent manner that strengthens the accountability between government and citizens.  One of the main messages from the forum was that it is the combination of increased private sector activity alongside good policies and strong institutions that will lead to economic success. It was also clear that we need to leverage the expertise and capabilities of our regional neighbours in order to leap frog aspects of development in the region.
In the case of Guyana, many opportunities for regional investment and participation were highlighted with emphasis being placed on ensuring local content and embracing local partners. There was significant interest in fact that Guyana has struck oil and the surge of excitement surrounding this fact from some of the participants was noticeable. What this means in real terms for the local economy will be determined by the direction that the authorities decide to adopt. Guyanese businesses were also encouraged to explore opportunities regionally.
This Trade Mission served as an opportunity for attendees to access key business information including information on the Guyana business environment, doing business in Caricom, the role of finance in cross-border transactions and trade, bridging economies, highlighting synergies and more. Participants also had the opportunity to network with business counterparts from the region.
The number of delegates in attendance at this Trade Mission also highlights that Guyana is open for business or at least that there is the perception that a great business opportunity exists. Many are therefore seeing the opportunity to be first investors in certain sectors.  Government must however ensure that they nurture and support these economic opportunities with specific policies. Policy may target business needs to help with public good. There must also be infrastructure and could include hard infrastructure such as energy, transport and telecommunications and soft infrastructure such as capital markets and skills development.
Not to be underestimated are the value of public-private partnerships that are based on the identification of complementary expertise and shared commercial and development interests. These are important in harnessing the private sector's contribution to inclusive growth and development.
The seminar was a powerful reminder that the future of Guyana's economic growth is closely tied to the private sector. Yet, the public sector needs to create an environment in which the private sector can thrive and the two must work together to deliver services and opportunities.
What is clear is the need for the policy makers to consider developing a growth strategy that emphasizes inclusiveness where the growth and opportunity is shared by all – women and men, young and old, rural communities and urban.
Congratulations to Republic Bank on a job well done. The Trade Mission not only presented opportunities to make valuable business connections but it stimulated useful discussion and reflection on how a competitive private sector can be an engine of sustainable economic growth.
If you have a question related to this article or just a general question on entrepreneurship, write to us at guyanabusinesswise@gmail.com . Your question may be addressed directly or in our next article.
Around the Web