The two candidates for Constituency 6 of the Toevlugt/Patentia Neighourhood Democratic Council are concerned about the effects of the Wales estate closure but are still prepared to work to develop the community.
Stabroek News spoke to the two representatives: Eviton Gulliver, a cane farmer/former supervisor at Ainlim and Cyril Joseph, a tractor driver at the estate.
Gulliver, 62, is representing A Partnership for National Unity + Alliance For Change and Joseph, 57, is competing for the People's Progressive Party/Civic. They are both contesting in the First-Past-the-Post component of the March 18 local government elections for a seat on the council.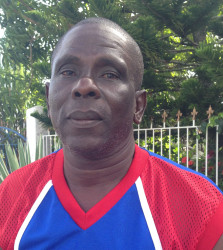 The men who both reside at Sisters Village, West Bank Demerara would be responsible for the areas from Long Pond to King Street Side Line Dam.
Gulliver has been involved in community work for the past 30 years and currently serves as an NDC councillor.
He plans to develop the community through the upgrading of the street and digging "of the drains at all times because you can't predict the weather."
If elected, he would also ensure that there are proper recreational facilities for everyone and that there is proper lighting in the streets. He intends to use funds from the yearly grant to pay for the streetlights.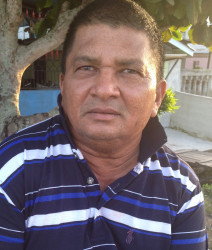 Gulliver said the closure would "affect the entire community because about 80% of the people depend on the estate."
As a cane farmer, he would suffer a "big loss" because "it is not practical to take the cane to Uitvlugt" given the price for sugar. He stressed that cane farming would now become a "loss business."
He quickly recognised though that "it is not the end of the world" and that workers "would find other means and ways to work."
He told this newspaper too that: "People are innovative and they would find other ways and means to survive. I am certain that they would be able to earn and pay their rates and taxes."
Gulliver recalled that in his "young days most of the residents used to be cash crop, citrus or cattle farmers. They never depended on the estate for survival."
He knows that if he wins he would have to take on a big responsibility and is confident that he can handle it and would be able to make a difference in the community.
He said too that: "local government would bring people together in a more cohesive way.
Joseph was optimistic about lifting the community for a brighter future for all of the residents. His plans are also to upgrade the drains and roads and to push for streetlights, which are badly needed.
He intends to keep the drains free of garbage, noting that some residents installed mesh in the drains "and all of the garbage get stuck there."
He would also install humps on the streets to prevent speeding. A serving Rural Constable, he would focus on security and would ensure that there are more patrols so that residents would feel safe at all times.
If he is elected he wants to "serve not one group but the entire community. I would not discriminate but would be equal in my work."
He recalled that during the "previous administration they were only doing things in one way. I want to stamp out favouritism."
As leader, his aim is also to assist the poor and the needy to provide assistance to them where necessary.
Overall, he wants to "bring the community to a better standard and make it a safer and healthier place to live in."
Joseph, who has worked at the estate for 39 years, said the closure "would be a hard blow for the community. It is not just one ethnic group that would suffer but the entire community. Far down from VL [Vive La Force] to Vreed-en-Hoop would feel the effect."
He pointed out that to "close an estate without looking at the people or consulting with them is bad administration. How would parents manage to send two to three children to school?"
According to him, Wales is one of the "best estate because it is very easy to transport sugar and for farmers to bring cane and it has cheap labour."
He said it would be hard for residents to be able to pay their taxes and bills and that they would only be able to do so if they find alternative jobs.
A practising Hindu and former president of the Swarsattie Upkartic Mandir, his duty was to "mobilise my brothers and sisters to walk in the right path."
Around the Web