A prisoner, who was hit with pellets in both eyes during unrest last month at the Camp Street Prison, is now blind and his mother is pleading for assistance to foot his medical bills.
"I know people might be hard and say he deserve it but they don't know he story. Nobody has offered we help and he gat to get help to do everything plus he in pain all de time," Anika Mangal, the mother of 27-year-old Devindra Persaud, told Stabroek News yesterday.
Persaud was shot in both eyes with pellets fired by members of the Joint Services during renewed unrest by prisoners on March 4th, a day after a fire had claimed the lives of 17 inmates at the prison. The pellets are still lodged at the back of his eyes.
Mangal, 45, travelled from her home at Williamsburg, Corentyne, to the city yesterday to highlight her son's plight and seek financial aid.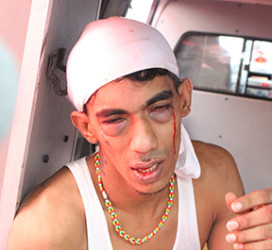 She showed documents from the Georgetown Public Hospital Corporation that state that Persaud could undergo surgery in Trinidad and Tobago to remove the pellets at a cost of about US$10,000.
The mother of seven lamented that she wasn't getting any help from the state and no information or directive was given to her on how her first born could be assisted. She said that since the incident and Persaud's subsequent hospitalisation and discharge, he has been at home with her and that it has been very taxing both emotionally and financially.
Her financial troubles have now been exacerbated because she has lost her domestic help job because of the extensive time she took to tend to Persaud in the hospital.
She said that she was not aware that her son was even imprisoned as he had moved to Mahaica to live with his girlfriend and they were not in communication.
However, his sisters immediately alerted her after they recognized their sibling, with his eyes swollen and bleeding from a photo on the front page of the Stabroek News.
"My son went through a lot and you have to hear him tell the story. He watch them prisoners burn up he say and he get shoot up with pellets all over his body, not only he eyes. He still has pellets in his body, his hand and under by his heart and the pellets them lodge in both his eyes too but the hospital ain't explain why they (were) not removed," Mangal said.
"I see he in that condition at the hospital and he tell me he was only on remand because he couldn't afford the $150,000 bail they put him on…Is my son and I feel for he. The lil money I had, I had to beg family for some more to find the $150,000 bail he went on… I end up bruks because I lost the cleaning work I had because nobody ain't gon wait long on me like that. Now he home it harder," she said.
She said now that her son is home with her, he has to be assisted to do most things and teaching him to walk without his sight, has left her without an income.
"I tell my daughter like we will have to get him a mop stick so he could feel around to get he used to the place and so. His brother is help me bathe him and I is do everything else for he but you could see he stress out," Mangal asserted.
Persaud's mother partially blames herself for the state her son is in as she reflected on his childhood and her role.
"I had it hard, very hard. Is seven a them I have from three years to 27 and this life has not been easy for me. My mother died when I was nine months old and I never had a father around. Then I get he and I used to live in Parika Backdam but had to give he away when he was four because them didn't have no school near where we been," she said.
"His father… wuh me go say? Is like he didn't have one and I thought he would have had a good life with he aunty and she could give he the things I couldn't give he that time," she added.
Mangal feels that being able to raise money to have her son get the medical attention he needs is giving her a second chance at making it right with him. "They say if he get the surgery in Trinidad chances are he might be able to get some kind of sight in one of the eyes. I would like for him to get in both but right now if they say is just the one I am grateful," she said.
"It is my son and like this thing wake he up… he prays every day that he still alive and want back he sight to do good with he life. I believe he because he was always a good child. He used to do all kind work at he aunty, scrub step, wash everything, everything. I want to help he like any mother would. He is meh first son and I love he," she added.
Around the Web