Stricken with poliomyelitis while still a toddler and confined to a wheelchair for the past 20-odd years, 57-year-old Pamela London's life has been difficult, but domestic violence, ridicule and poverty have made it harsh and unfair on all fronts.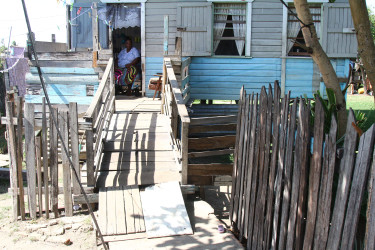 The house Food for the Poor built for London several years ago is falling apart and has no electricity supply. She has no access to her outdoor washroom and bathing facilities. The wooden ramp her son managed to 'knock up' for her to access the house is a hazard. She is receiving treatment for high blood pressure and has cataract in one of her eyes.
With her poor living conditions, health challenges and the fact that money and proper clothing are almost non-existent, London or 'Pam' as she is popularly called, has no choice but to live one day and a time. She often goes to bed stressed out over what would be her meal for the next day or how she will get the $5,000 she needs to travel from Coldigen, East Coast Demerara to the city for her doctor's appointment.
Her son—the older of her two children—helps out a great deal but there is only so much he can do. London says that she feels she is "robbing" him of a better life, given that most of his meagre earnings go towards her care. Many times he is left without food to eat or transportation money to travel to work. When there is no money, he has no choice but to stay home. Her other child, a daughter, has her own family to care for.
London has been receiving support from Red Thread and is thankful for all that has been/is being done for her.
Diagnosed
London recalled that she was diagnosed with the disease at age two and her mother subsequently took her to the Ptolemy Reid Rehabilitation Centre (PRRC) at Carmichael Street for treatment. The centre was initially set up for children suffering from residual paralysis as a result of the polio virus. It now provides special education services for the differently abled.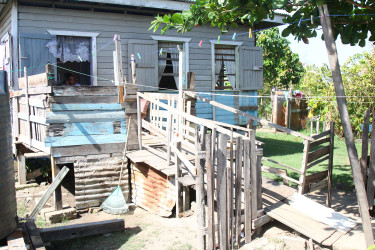 She spent the next 18 years of her life there. She recalled that while there she was taught skills and was able to walk short distances unaided.
She said that after leaving the centre she was sent to a private school, but given the lengthy distance she had to travel to get there she was removed subsequently and kept at home. She said that after her father died she was left in the care of her sister-in- law.
Because of her condition she spent most of her day in the house and about a year later she moved to another address to live with relatives.
A few years later, she met a man ten years older than her and got pregnant. At first, she said, the man, who would later become her husband, "disowned" the baby. This led to her crying a lot.
However, shortly after she gave birth to her son, London recalled, the man sent her some baby clothing and a letter in which he pleaded with her to go and live at his home. She declined.
In due course, the baby's godfather went to the man's home to collect money and he was asked if London would come and spend a day with him.
Scared at what she might face, she said, she went to the house in the company of her son's godfather. "He [the godfather] seh if anything he gon hole de baby and run," she said before bursting into laughter.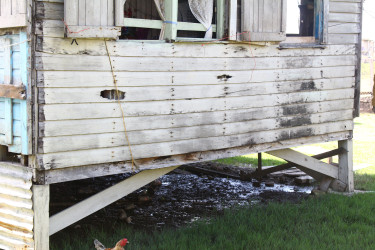 As it turned out she gave in to the man's pleas and decided to spend the night at his home. A few years later, they got married and she gave birth to their second child – a girl.
At the time of the second birth, she said, she was still walking, but it was in a "hop and drop motion" as one foot was shorter than the other.
She said her living conditions were far below proper standards. She described it as "a flat thing pon de ground with shingles and cardboard. It wasn't a real house. If rain fall you bathe in there."
As had occurred in her first
pregnancy, she delivered her daughter via Caesarean Section but this time she was left in severe pain. She said the pain started in her right side, but the doctor kept telling her that it was the after-effect of the local anaesthetic injection she had been given in her spine to facilitate the C-Section.
"I keep telling he this thing sticking me but he said that it is the drugs and that it gon work out," she recalled. She said that when she got up to walk it was like the pain was "juking meh to meh heart. I keep telling them and I spent two months in the hospital."
During this period neither her husband nor any of her relatives visited her, apart from a cousin who had gone and collected the baby shortly after she gave birth. London said that over the two months, her condition deteriorated to the point where she could not walk without terrible pain.
Frustrated, she asked to be discharged.
She recalled how she had to carefully lower herself from the bed to the floor, after which she "dragged" herself to the washroom to tidy herself. She said that the nurse asked her how she was getting home and she said in a taxi; little did the nurse know that she had no money.
London said she dragged herself down the steps and out of the building, but was unable to get into the taxi that had been called to collect her. A man who was passing lifted her inside.
Though she had lived with her husband at Paradise for some time, she could not remember how to get there. When she got to the village in the taxi, no one she encountered recognized her. However, as the taxi was driving along, she saw a familiar shop and asked the driver to stop. By pure coincidence, her husband was in the very shop and he paid the taxi fare. She was let out on the side of the road, but after waiting for a while, she realised that her husband had "run away."
She recalled sitting on a salt bag at the side of the road, waiting for her husband to return to help her across the narrow strip of wood leading to their home. She said her husband's relatives who lived nearby just stood behind their curtains peeping at her.
Eventually, she said, a neighbour went to her aid and was taking her across the makeshift bridge on her back when they both "fell overboard".
Other residents then assisted and took her to her front door. After having a bath, London said, she was unable to dress herself and becoming frustrated, she began to cry. She said her son ran to her and threw his arms around her. Her husband was standing outside, but when she called out to him, he did not come, she said, even after she threatened that she would have her family come and remove her from the home.
It was not until much later that he finally went in and was shocked that she was not wearing any clothes. She then told him that she could not walk and requested assistance.
According to London, her husband then enquired about their baby girl and she informed him that the baby was at her cousin and that things should remain as they were as she could not look at a baby in her present state. The cousin lived several villages away.
She said that while she was hospitalized the members of a church would often visit her. When they went to her home and inquired about her baby, she directed them to her cousin's home and the baby was collected and taken to her.
Teased
London told this newspaper that her relatives shunned her and treated her differently from her other siblings. What was worse was that her husband, who had three older children, was often teased and ridiculed for being with her. She said his mother, who never liked her because of her disability, had said, "he [London's husband] eyes pass she fuh go and deh with a handicap."
Giving in to the teasing and the pressure coming from his side of the family, London said, her husband one day packed his belongings and moved out while she was asleep.
The church members took zinc sheets and built a proper roof and they would often go and take her to church with them. One day when she returned home, all of the zinc sheets had disappeared and the shack was open to the elements.
She got a tarpaulin to use as a temporary roof and she and her children had somewhere to rest their heads that night. However, she was told to pack her belongings and be prepared to leave in the morning. She recalled that one of her husband's relatives even brandished a gun and threatened to shoot her if she did not leave quickly.
As she was packing, she said, her husband walked in and inquired what she was doing. She then related to him what had transpired and he insisted that he did not have a hand in it. He then left and she and her children went to relatives who lived several villages away.
After a while, her husband showed up and asked for her to return home. At this point, she could no longer walk and moved about by dragging herself on the ground.
She said she did not want to go but her relatives insisted that she should go because they could not afford to keep her and the children. She decided to give it one last shot.
Sometime later, she said, she fell ill and was taken to the doctor. After an examination she was given two tablets, one to drink with warm tea and one to insert. Little did she know that she was three months' pregnant and the tablets were to terminate the pregnancy. She expressed anger that the doctor did not inform her of the pregnancy and allow her a say in whether to terminate or not. "I wouldn't ah keep it, but leh I mek de decision first," she said, opining that the doctor was probably concerned about her condition.
London got her first wheelchair through church members who also assisted in ensuring that her son had all he needed to go to school.
It was around then that the physical abuse started. Her husband accused her of having "nuff mouth" and was particularly upset that she had a wheelchair. His belief was that it would make the road more accessible to her and men would become interested in her.
She recalled that he threw kerosene at her but it caught their daughter instead. He threatened to light a match. After she threatened to go to the police he promised to behave himself.
But later, she was slapped because she unbraided him for collecting food from his mother and not giving any to his hungry children. She said he also attempted to chop her with a cutlass.
Having had enough, London subsequently moved out and into a little shack at the side of the road not far from the home she shared with her husband. From the shack, she sold things to sustain herself and children. The shack had no light and she had to depend on light coming from a neighbouring building. It was cramped, in a poor condition and not ideal for two young children. She lived there for two years.
London said she often contemplated drinking poison because of the frustration and fact that she had no support. One day, she returned to her husband's home and removed a bottle of poison which she had hidden. While her children were sleeping, she took out the bottle, but while her mind was telling herself to drink, she suddenly lost her vision temporarily. For her, this was a sign that she should not take her life.
London said that after a woman visited her one day and inquired about her difficulties, she got the house and a new wheelchair.
She said while she is thankful for the home she is encountering challenges. The yard is soggy and floods very easily when it rains. When this newspaper recently visited the sogginess was evident. And some of the boards on the house are rotten, which has led to holes being formed.
London stressed that life is hard. She said that electricity supply to the house has been disconnected because they cannot pay the bill. She said even though she visited GPL on several occasions and indicated that the bill was too high, she was told that there was nothing that could be done. GPL workers later removed her meter. For now she has to make do with a makeshift lamp – a bottle, a wick and some kerosene.
A kind neighbour charges her cell phone.
To get up the makeshift ramp she needs assistance. If she can't find anyone to help, she has to remain outside. The entryway of her small house is so narrow that it is a challenge going in and out. Stabroek News witnessed that it took her ten minutes to find the right angle to get from inside the house to a small landing. In the end she was sweating and panting for breath.
London bathes on her landing either late at night or every early in the morning as she is unable to access the bathroom which is located in the yard.
She said she has skills which would guarantee her an income, but persons have continuously tried to con and rob her.
London informed that she can make green seasoning, knit, sew and look after children. Up to a year ago she was taking care of six children at her home, while their parents worked. She said one person had four children and though she only charged $1,500 for the month, a fuss was made to pay. She said that people take advantage of her disability and that is not fair.
London is advocating for more to be done for persons with disabilities. She said the support is not there and highlighted the need for a special organization for people living with polio and its resulting disabilities. "I would say my life is very hard. It is very hard to live," she stressed adding that if she had support, it would have been much easier.
Anyone wishing to assist London can contact her on 667-9355.
Around the Web