(Trinidad Express) Small and medium-sized businesses could be crippled and the man on the street could find himself unable to wire transfer as little as TT$200 to relatives abroad if the Foreign Account Tax Compliance Act (FATCA) legislation is not passed by the September 30 deadline given by the United States.
This is according to outgoing chief executive officer of the Trinidad and Tobago Chamber of Industry and Commerce Catherine Kumar.
She was speaking yesterday at a news conference on the FATCA issue hosted by the Bankers Association of Trinidad and Tobago at Republic Bank, Park Street, Port of Spain.
One of the implications for banks on non-compliance with FATCA is the imposition of a 30 per cent withholding tax on US source payments.
Kumar explained this tax could result in the end of some businesses.
She said banks could also lose their relationships with the US and other foreign correspondent banks with which they normally conduct business.
She said this could have an adverse impact on certain services provided by banks, including wire transfers.
Bank customers could also feel the pinch.
"What does this mean for the man on the street? It means that when you go into the bank you may not be able to do a wire transfer to send that little TT$200 to your daughter or your son who is sitting there and waiting on money to be able to get through the next day, for education expenses.
"So all the things that we have begun to take for granted, and we don't really understand the technicality behind it and how it really operates, those things will be severely impacted," Kumar said.
Also present and supporting BATT's position were the chief executive officer of the Trinidad and Tobago Coalition of Services Industries Radha Permanand, chief executive officer of the Energy Chamber Dr Thackwray Driver, president of the Association of Trinidad and Tobago Insurance Companies (ATTIC) James Camacho and chief executive officer of the American Chamber of Commerce of Trinidad and Tobago Nirad Tewarie.
BATT vice-president Nigel Baptiste called for the Opposition and Government to put aside political differences for the sake of the country and get the bill passed.
"This issue is probably one of the most critical issues confronting Trinidad and Tobago right now.
"The political class is, in my opinion, playing Russian roulette with our future. We are really banking on the good graces of another country to keep us in good standing.
"And let's be clear, this legislation will pass one day but the question is what happens between that day and now and the implications for the country and for citizens, some of which might not be reversible," he said.
"If that is fully understood and appreciated I think they can pass this legislation before September 30," Baptiste added.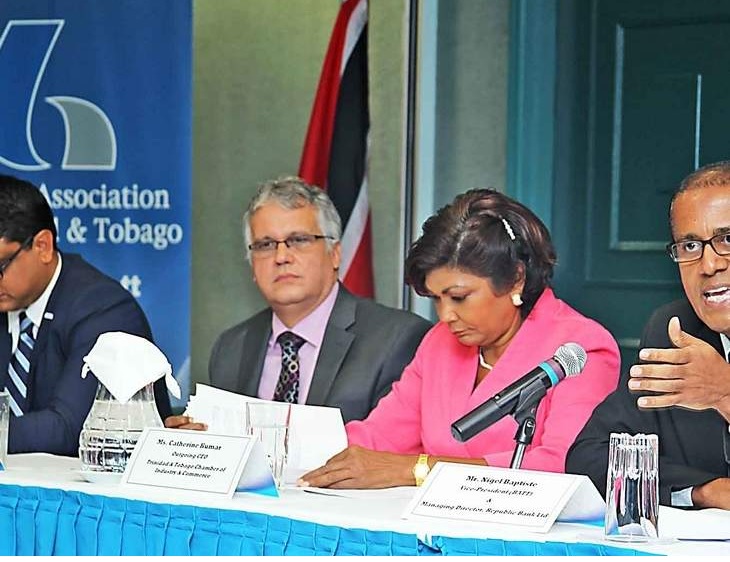 The heads of the business organisations were of the opinion there was no need for a Joint Select Committee to be set up to review the Tax Information Exchange Bill, (FATCA legislation) as suggested by the Opposition two weeks ago.
"When the talk about actual legislation was released, BATT had reviewed the legislation.
"In our view there are very minor changes to the legislation and we submitted what we believed were the relevant amendments to this legislation. The information is outside there. It does not need a JSC," Baptiste said.
Kumar believed the suggested amendments to the legislation could be done at today's sitting of Parliament.
"There really is probably no need for a JSC at this point in time because the bureaucracy in setting that up will take us way back. We would pass the September 30 deadline, which is next Friday.
"So it can be done right there in Parliament by debating, agreeing on what amendments need to be made and completed and have the bill passed.
"Sitting and waiting and hoping at this point, a mere week away from September 30, about whether we would get any extension from the US, to me, is just not on the cards," she said.
Around the Web