From Donald Duff in New York
It is getting to be very predictable here at the 2016 World Chess Champion-ship title match, after the fifth game of the 12 match series between defending champion Magnus Carlsen of Norway, and Russia's Serjey Karjakin ended in, you guessed it, a draw.
However, unlike the previous two games which were long drawn out affairs, yesterday's game ended after a relatively short 51 moves.
Carlsen, who has played the more aggressive chess, seemed to be frustrated after the match.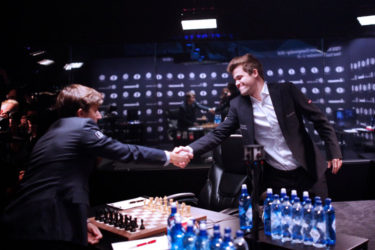 "I thought I was better, but I screwed up and I was lucky not to lose," he said at the press conference afterwards, suggesting that Black missed a possible win by not playing Re1.
"It was basically a very interesting game. I had a promising position but I did not make use of it," was Karjakin's take.
Yesterday's game with the Italian Opening was relatively quiet, and followed the early main lines of the opening, with White castling Kingside on his fourth move.
Showing that both players were well prepared and had done their homework, the opening moves were played rather quickly.
The first person to take over five minutes to make a move was Karjakin, who pondered for six minutes in response to White's d4, attempting to control the centre with his pawns.
On move 14, Black captured the e4 pawn hoping that White would respond with knight takes e4, at which point Black would have played d5, forking the bishop and the knight, and winning a piece.
However, Carlsen true to form, responded with the sharp bishop taking f7 check, effectively regaining the pawn.
White subsequently attempted to have his two knights in the centre, which immediately led to a flurry of exchanges, and when the field cleared, it was a queen, two rooks, one bishop and six pawns middle game.
Later, Black's attempt to double rooks on the f file subsequently led to the trading off of one of the rooks, and the game eventually meandered into a queen, rook and bishop endgame.
On move 42, Black played d4, which appeared to be a pawn sacrifice aimed at getting his white bishop on d6, but instead of bishop taking d4, White played queen taking d4, and later Black was able to regain the pawn after White played e6.
White's final attempt at a win, was to try and promote his passed pawn on the g file, but Black subsequently exchanged queens, and later played rook e4, threatening the bishop on e3, at which point the players agreed to a draw.
Summing up his play so far Karjakin, admitted to making a lot of mistakes in every game, but said that this was because the games are intense.
Carlsen said he too was unhappy about the mistakes he has made, but said that was because of the serious content of the games.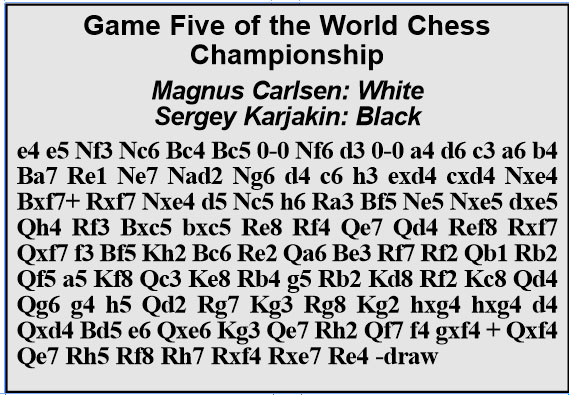 "That at least, I'm happy about," he concluded.
Around the Web