The name is of English origin, but that is just where it stops, Middlesex, the first village in Canal Number Two, was bought by four brothers, Rahiem Lalman, Mangal, Liliah and Karan. Today only 85-year-old Rahiem is still alive, but the real history of the village appears to have been lost as he is senile and cannot recall anything.
One of his daughters said she believed the village was bought around the time she would have been born in the fifties. And given that it was purchased by four brothers, just about the entire village—approximately 80 persons—is related.
When the World Beyond Georgetown met with the man and his family they were all in jovial spirits preparing for an upcoming wedding. However, none of them had an inkling as to how the village got its name, or how much the brothers paid to purchase it.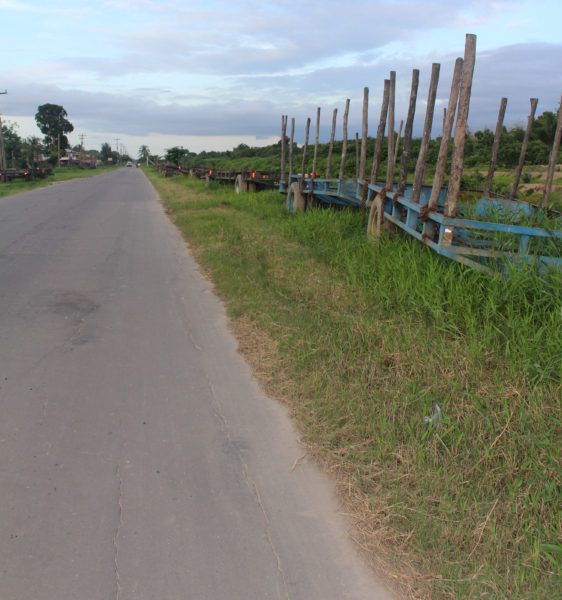 In Middlesex, unlike the other villages in Canal Number Two, vegetables such as okra and bora and fruits like bananas and mangoes are grown on the government reserve alongside the road. Neighbours or relatives check in on each other just to see if all is well.
Gayatre Singh was relaxing in her hammock having returned from a trip to the doctor. All smiles and bashful at first, she eventually started talking and recalled growing up in Middlesex.
"In me days we used to walk to go to school. At that time they didn't had so much transportation. Deh had one, one car. Them car man never used to pick up small children. We used to got to walk and go to school. One, one morning if we lucky, we uncle guh call we and say, 'come, come' and he gon give we the drop and we glad and we gone. We used to get $10 or $5 [allowance] and we does get plenty things with it: a bun, sugar cake, icicle and tamarind ball," she related.
Asked how the village got its name, Singh laughed and said she did not know. "When I go out and people ask me for my address and I tell them Middlesex, they look at me funny and ask what I say. Then they'll ask if it's Middlesix or Middlesex and most of the times when people ask me where I live, is the same set of questions you keep hearing over and over. Some people just laugh and make fun of it. It's weird. Only last week a girl working at the airport asked the address and after I tell she, she ask again and started to laugh. She said she never hear about a village with a name like that," Singh said.
Growing up, she heard her mother repeatedly talk of four brothers buying the estate and planting cane.  She was told also that the villagers are all related, but she never thought to find out any more of it.
"Me grow up amongst family; I don't know about neighbours. That time it didn't had fence. Everybody place you ah run through; nobody ain't walking on the road. Everybody live good here. That time was nice. Daddy used to plant on the [government reserve] over by the trench almost halfway of the village with banana suckers. Everybody was family so nobody ain't care if he plant in front of them. When them ready and want, he use to share by the hand. He use to work in the backdam in the morning and catch fish when he come home after he rest-off; that was what life was like here. Persons here are either farmers, labourers or drivers," Singh said.
The village also has a cooperative facility which villagers call the "co-op shop". The facility deals with issues of farmers in Canals Number One and Two and other villages such as Wales and Stanleytown as well.
According to Singh back in the 1970s, the facility was just a shop where her mother and other villagers purchased groceries. After it closed, it was reopened to handle issues surrounding sugarcane farming.
Today the village has no shop and persons get their groceries from the vans that come along the road every other day. Still, Singh prefers to travel to Vreed-en-Hoop to get her groceries and she journeys to Georgetown once a week to shop as well.
While we talked she called out to her children who were watching the television just to check on them and in doing so memories of her childhood came to mind. "Longtime was nice. They didn't had TV and phones like now. They use to play more games like catch, and in the night time when it got moonlight," she recollected.
But things are not like before, especially when it comes to crime. Though the village has no thieves, she said, they do venture into the village sometimes hiding in the bushy lots marking their targets. "… It got some does come from Belle West [a scheme close by]. Bright daylight when you gone they breakin' in you house. About two time they break-in here. The most them gone with was a gas bottle; nothing big," she stated.
But it still is a nice place to live. "Everybody living here is kind people. When me walk this road, I does talk to everybody and everybody does talk to me; that's how we live here," she said.
Tagenarine Lalman, grandson of Raheim, was on his farm doing some work in a shed when we caught up with him. According to Lalman, the village was once an estate owned by an Englishman named Matthews; it was called Matthews' Estate. According to what he heard, back then the estate's crops were citrus and rice, but when his grandfather and great uncles purchased it, they started planting sugarcane.
Lalman said the closing of the Wales Sugar Estate will affect Middlesex labourers who work at the estate and also private farmers who depend on the estate.
A farmer himself, he plants cabbage, tomatoes, calaloo, watermelon and papaya among several other crops. His farm runs as far as the eye can see. Beneath his cashew trees a good number of blackened and bruised cashews lay on the ground, beaten down by the rain from the previous night.
Lalman sells wholesale and has been into cash crop farming for some 30 years now. Before that, he planted cane as well, but cane, he said, brings in a slow dollar.
"Middlesex is the most comfortable and peaceful place to live; everybody alright. From farm to home," he said.
He had the same experience as Singh when giving his address, but said it's something he's become accustomed to.
"An advantage of living here: you can come at the backdam and get something to cook or eat… in Georgetown you got to look for a market so that's one good thing about living here," he said.
However, Lalman said better drainage and irrigation would be welcomed as the rainy season sometimes causes flooding. He would like also for the village to be provided with streetlights.
Devika Budhram was out for her usual afternoon run, but had stopped to chat with an elderly resident of the village. For her, growing up in Middlesex was memorable.
"Growing up here my childhood days were fun. We would play cricket on the road and sometimes you just play in the trench. There were those days when we left to go do homework by friends; sometimes we lied saying we were going for homework reasons except we went to play. During crop time the cane trailers are usually parked on the road and we would steal cane. This is one of the friendliest areas. If you don't like what mommy cooked you could always go by the neighbour. When persons get fruits and vegetables they share among themselves. That's how we live here," Budhram said.
Having attended the Endeavour and the Commons Primary School Budhram said she had some of the nicest teachers. In fact, she believes learning then was so much easier and fun. The teachers then paid more attention and took the time out to give advice. "They put more emphasis into us learning. They even went as far too as buying tennis rackets and balls from money out of their own pockets so we can play in the afternoons," she recalled.
Budhram said there are a just few disadvantages that need to be taken into consideration.
"For one, we need streetlights. For another, persons who leave their trailers parked on the road, people steal their trailer slings [chains]," she said.
"A gym here would be a good idea. If a person could invest into it, it would be nice. I run in the afternoons along with another friend from Resource [a nearby village] and there are many persons from within Canal Number Two who go all the way to Vreed-en-Hoop to use the gym there. Some go as far as Buddy's so having a gym here would be beneficial."
She too emphasized on the closing of the Wales Sugar Estate and how the community will be affected by it. "Middlesex and most of Canal Number Two depends on Wales Estate so with the current situation we'd be very much affected. Persons who have cane lands need the estate. Persons who don't have cane lands are most likely working at the estate so either way we'll be affected. I have a friend who works at the estate including the rest of the family; so when that closes that's almost the entire family out of jobs," she said.
Around the Web