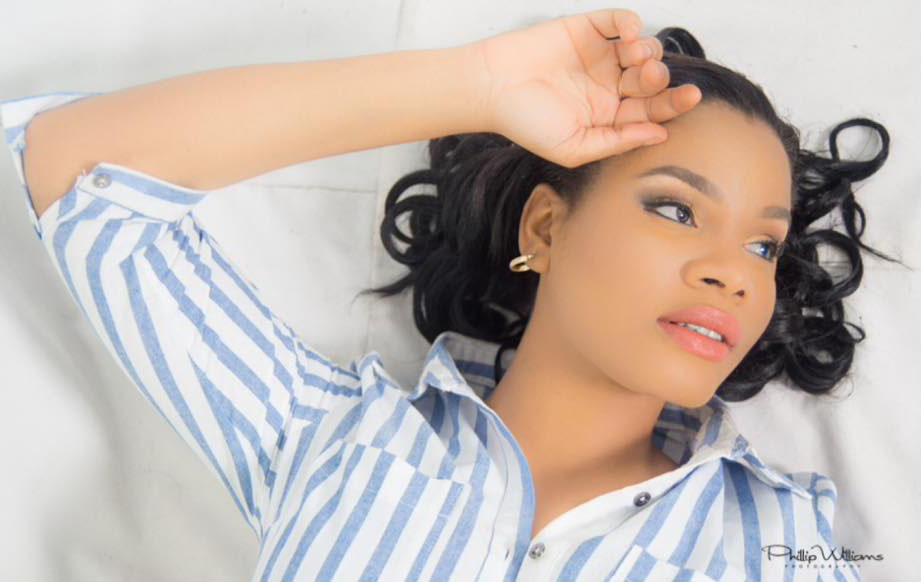 Still battling a disorder that sometimes makes her hate the way she looks, the reigning Miss Guyana World Nuriyyih Gerrard says she continues the process of loving herself even as she has gotten over the initial shock of winning the crown and is settling into enjoying her reign and the preparation for the Miss World stage later this year.
She is long past the shy timid primary school girl and emboldened secondary school student who had a knack for debates and impromptu speaking. What is still somewhat of a surprise for her is the fact that she is into pageants.
She did not say it but maybe she sometimes pinches herself to ensure that it is not just a dream that a crown sits on her head because as she painfully revealed to The Scene there was a time when she could not bear to look at her reflection in the mirror as she did not consider herself pretty enough.
The closest Nuriyyih or 'Nuri'—as she is fondly referred to—had ever been to a pageant in the past was dressing in a 'cultural' outfit and modelling it whilst a student of Annandale Secondary School. Nuri never had any intention of one day entering a pageant because she feared she was just not pretty. Whenever she stood in front of a mirror she found fault with her physical appearance. Her lack of self-confidence didn't fade as the years went by.
She disclosed during a conversation that she was later diagnosed with Body Dysmorphic Disorder (BDD), an anxiety disorder that causes a person to have a distorted view of how he/she looks and to spend a lot of time worrying about his/her appearance. This drove her many times in the past to contemplate suicide, but with counselling, daily workouts and listening to positive music Nuri is determined get better.
Her stepping on a pageant stage was about more than just the competition, it was part of her determination to overcome that disorder and today she believes she is closer to that goal.
"Growing up in school I was shy but always cracked jokes within my circle of friends to make their days bright. In primary school [Paradise Primary] I was very timid. I didn't talk unless the teacher asked a question. By fourth form I was interested in performing arts and impromptu speeches. I was always a part of debates and impromptu speech competitions," Nuriyyih told The Scene.
Her broadcast career kicked started in 2010, when she was employed by the National Communications Network (NCN) as an announcer/producer for radio. By 2013 she found herself in the 'Hits & Jams' studio as a radio host for the 'Jump Start Show'.
Over the years she has had the opportunity of meeting contestants participating in pageants and being amazed at the remarkable changes she observed when one of those contestants returned as queen. Those ladies, she said, didn't just return with titles but higher self-esteem. This was where her curiosity got the better of her as to what goes on behind the scenes that changes the lives of these girls and makes such a positive impact on them.
Nuri started researching pageants, the Miss World Pageant to be more specific. She discovered that the pageant focused more on the contestants' inner beauty rather than their outward appearance. "This is not a pageant where… you just pick a platform and talk about it," she noted, citing the appeal of the humanitarian aspect of the pageant.
Armed with this information she took the jump and signed up for the pageant and preparation began immediately.
"The training running up to the pageant was very intense for me. I had to make changes to my diet and to exercise more. [With me having] a sweet-tooth it was difficult to give up this addiction and as a person not having a very active lifestyle I had gained weight overtime. Gradually I was able to keep this up with discipline," she said.
Initially, Nuri said, based on her intellect and the feedback from her supporters she believed she was a front runner in the pageant but later based on what bloggers were saying she felt she did not stand a chance. After she placed in the top three for talent and sports the blogs began to change and it was then she believed there was a possibility of her winning.
According to Nuriyyih, she bonded easily with the other contestants as she found that they had similar passions. "We were able to foster a really loving relationship. We all had a shared passion of wanting to create an impact and make a difference in the world. To be somebody like that you have to have a pure heart. We all just really cared about each other. We'd often share our experiences and challenges prior to and during the pageant using Whatsapp and other social media. We still talk constantly with each other."
Turning to coronation night and what being Miss Guyana World 2016 means, Nuriyyih said, "Winning the crown was a proud moment for me. It was a surreal moment for me. It was believing in myself that I am beautiful.
"I get to be the national representative for my country and a youth advocate for other young persons dealing with issues who can't stand up and speak for themselves.
"I do feel like I have a lot more responsibility now. I do have more respect and confidence in myself and it has also been a fulfilling experience to date."
The diet
Since she won the crown Nuri has been on a rigid diet to ensure that she remains fit.
"Everything that tastes good, I can't have, literally. My diet is now fish and grass. For breakfast I have oatmeal, raisins and boiled egg whites, no yokes and that's the best part. Three hours later I have fish and steamed vegetables and another three hours later, fish and vegetables again. In the evening it's a protein shake and a spoon of peanut butter; this helps with cravings. Throughout the day I have to ensure I drink lots of water," she shared.
She prepares her meals daily. The list of 'can't haves' includes: sugar and dairy products and she uses very little salt. She has managed this for come close to two months already without giving up. But as disciplined as Nuri tries to be, she admits that she does cheat once in a while.
To add to that her training entails 40 minutes to an hour of high intensity cardio and strength training.
Her platform deals with mental health and because of her experience she hopes she can easily reach out to persons and help them to relate better once they know that she too would have faced similar challenges.
The 'Beauty with a Purpose Pageant' saw Nuriyyih launching the 'Tribe – Live without Stigma' Campaign late in of August this year. "It encompassed different activities; visiting orphanages and youth camps, creating mental health awareness content through radio, television and social media and creating a mental health act," she said.
Nuri plans to continue to bring awareness in schools and other youth based institutions. She recently created a non-governmental organisation—the One Act Foundation—which is aimed at promoting good mental health through the use of social and emotional learning techniques. So far the organisation has six persons on its board of directors. "We had about 200 persons send in applications to be volunteers. We want next year to… do some training. No matter what challenges these persons face we're trying to help them learn to cope and bounce back so that they won't break under pressure."
Nuri would be the first reveal that that it is the inspiration she derived from many persons that has brought her this far and she hopes she can inspire some little girl as well. But while there were many who inspired her she singled out two for special mention.
"Locally Margaret Lawrence is my inspiration because she's an amazing, very phenomenal woman [who is] talented, genuine, humble, modest and has a keen sense of fashion. Internationally [it is] Oprah Winfrey; I think Oprah is just the epitome of a philanthropist…. She's made a great impact on the lives of generations of young people. I believe Oprah is proof that we all can use our talents and abilities to make a difference in the world and we can make a difference while still remaining true to ourselves," the queen said.
The well-known and admired radio host wishes her grandmother, Daphne Fraser, could have lived to see her accomplishments. "When I had finished writing CXC she had said she thought that I should be a lawyer or work in radio. I would have liked to see the expression on her face now. She'd be very, very proud."
Nuriyyih also has her own business, NG Communications, through which she does promotional spokes modeling for companies, commercials and hosts events. In a few years from now she hopes to have a thriving business where she can expand and offer employment to young people. It is also her most fervent hope that by then the One Act Foundation would be successful in assisting young people with their social and emotional developments.
Nuri enjoys singing, acting, dancing, reading (self-improvement or motivational books), travelling, and writing fictional stories and sometimes paragraphs of her biography.
The Miss World pageant is slated for December 18 at the Gaylord International Hotel, Washington DC.
"Guyana can expect me to do more than my best. I intend to be an exceptional representation of the Guyanese people and culture and to reciprocate all of the support I've been receiving from Guyana, the public and private entities by being the epitome of class, beauty, intelligence and purpose on the international stage," she promised.
The Great Pageant Community is hosting a People's Choice Award which runs from now until December 17 and allows persons to vote as many times as they want. To vote for Nuriyyih persons can look for thegreatpageantcommunity.com link on the Miss World Guyana Facebook Page
Around the Web