(Trinidad Guardian) With live singing, a music truck and thousands of fans, family members and artistes in attendance, the funeral service for chutney icon Anand Yankarran resembled one of the massive chutney shows he participated in during the height of his career.
Yankarran, 51, was cremated yesterday at the Waterloo Cremation Site following an extravagant send-off during which his wife of 17 years, Vidya, acted as one of the pallbearers. Vidya also performed the Hindu rituals alongside Yankarran's daughter Deepa and his nephews during the ceremony.
He died at the Couva Health Facility on Monday after suffering a heart attack at his Anand Yankarran Drive Extension, Exchange Development, Couva home.
When the hearse bearing his body arrived at the cremation site, there were scores of people lining the path to the pyre, hoping to catch a final glimpse of the man hailed as a true chutney king.
The music truck accompanied the hearse onto the compound, blasting out his hit songs while members of the public were allowed to view the body. There was also a tent where various chutney and classical singers performed throughout the day and the T&T Guardian was told the singing would last until late evening in tribute to Yankarran.
During the service at Yankarran's home yesterday, fellow chutney singer Samraj Jaimungal (Rikki Jai) said his death had left many feeling broken.
"Anand has gone and there is a feeling of having been left empty and heartbroken. All of us sense that feeling and I do not know when we will be able to get rid of it," Jaimungal said. "And yet together with that feeling, there is also a feeling of proud thankfulness that has been given to us, to have been associated with this giant of a man."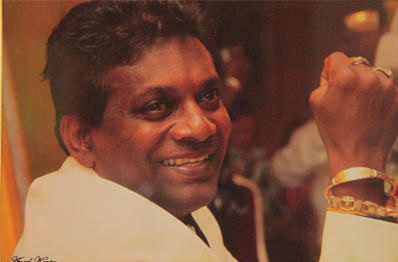 Delivering the eulogy, Jaimungal said Yankarran had been blessed with musical roots from his father, renowned Classical singer Isaac Yankarran.
"Isaac Yankarran's musical genius was bestowed upon his children and moulded them into legends in the realm of local classical and chutney music, not only in T&T but the world at large. This cemented the Yankarran name forever in the industry and our nation's cultural history."
Yankarran's daughter, Deepa, described her father as the funniest man she ever met.
She said although he lived abroad during her childhood, she could always call him when she wanted and he would be there for her.
"I would call him whenever I got the chance, three to four times a day and I remember my daddy was always there to take that call," she said.
"He had so many jokes and when he wasn't sharing them, he was sharing his valuable life experiences and words of wisdom."
She said although she is Yankarran's only biological child, he 'fathered' many others in his lifetime.
"He had lots of other young people who considered him their father and he considered them nothing less than his children. He always took the time to nurture and guide them in life as well."
Yankarran's long-time friend and former Housing Minister, Dr Roodal Moonilal, also heaped praise on the artiste, calling for him to be honoured by the public and private sectors.
"I call on the Couva/Tabaquite/Talparo Regional Corporation, the private sector, the friends and colleagues to install a fitting monument in the Couva/Central area in honour of this great son of the soil," Moonilal said.
"At the University of Trinidad and Tobago (UTT) we will request at the university level that a fitting tribute is paid, to make a 'Chair' for him, the Anand Yankarran chair for Indo-Caribbean Cultural Studies so his work can live on to inspire generations to come."
Couva North MP, Ramona Ramdial, Couva South MP, Rudranath Indarsingh, Caroni Central MP, Dr Bhoe Tewarie, Princes Town MP, Barry Padarath, Chaguanas East MP Fazal Karim and Chaguanas West MP Ganga Singh also attended the service.
Local chutney stars, Ravi B (Ravi Bissambhar), Neeshan 'Hitman' Prabhu, Drupatee Ramgoonai, Soca Elvis (Michael Salloum), Devanand Gattoo, Boodram Holass, Lal Bharat and Adesh Samaroo were also in attendance.
National Chutney Foundation of T&T (NCFTT) founding member Dr Vijay Ramlal and Chutney Soca Monarch producer, George Singh were also present.
Prabhu, who said he was treated like a son by Yankarran, belted out the lyrics to Yankarran's hit Nanda Baba before the procession left the house, bringing many mourners to tears.
Around the Web