An East Canje man was yesterday found guilty of causing grievous bodily harm to his son who he had set afire with methylated spirits when the 11-year-old child tried to stop him from leaving their house for more alcohol.
Ravendra Samaroo of Gangaram Village was found guilty of committing grievous bodily harm on May 7, 2015 but not guilty of attempted murder by a mixed jury at the High Court in New Amsterdam. He will reappear in court on May 10 when he will be sentenced following the presentation of a probation report.
Samaroo's face reflected relief when the not guilty verdict was read, however, moments after the guilty verdict was handed down, his eyes began to water.
The field foreman attached to the Rose Hall Estate, had conducted his own defence before Justice James Bovell-Drakes.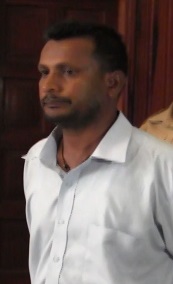 Samaroo, 38, in his sworn testimony had told the court that on the day in question he had returned home after imbibing at the Rose Hall Estate Junior Staff Club and two Chinese restaurants in Canje. According to the accused, he had poured methylated spirits underneath his kitchen sink in a hole where there were cockroaches. However, he then saw his son, Rickey Samaroo, who was sitting on a couch on fire and attempted to put out the fire with his hands, which were not burnt.
According to the facts presented in the magistrate's court, then 11-year-old Rickey went to get his father from the Rose Hall Estate Senior Staff Club, where he had been drinking with other staff members.
Around 6pm, the boy and his father left the club and proceeded home. On arrival at home, the father continued to drink alcohol. Two and a half hours later, he left the child home and went to a nearby shop at Gangaram ball field, where he bought alcohol. The father returned home and continued his drinking. Moments later, he told the boy that he was going out again to buy more beers.
The child pleaded with his father not to go as he did not want to be left alone. Further, he was of the opinion that the accused had had enough and was intoxicated.
The boy then closed the door in an attempt to prevent his father from leaving the home but the father became annoyed. He then took off the child's pants and shirt, leaving him only with his underwear on, and inflicted several lashes on him using a boot.
As a result, the child held on to the father's feet. The man then picked up a plastic bottle containing methylated spirits, poured the contents on the child before scratching a match and throwing the lit stick on him.
Rickey, who had run over to a neighbour's house, suffered burns to the left side of his face, both arms as well as his neck and thighs. He was taken to the Reliance Police Station and then the New Amsterdam Hospital before being transferred to the Burn Care Unit of the Georgetown Public Hospital, where he remained a patient for twenty eight days.
A medical certificate revealed that Rickey suffered second and third degree burns. Rickey testified in the High Court trial
Around the Web