Twenty-six students in the top one percent of the 12,684 who sat this year's Caribbean Secondary Education Certification (CSEC) examinations earned 12 or more Grade I passes, with half of them, including the top performer, coming from Queen's College (QC).
And while the Ministry of Education has proposed to limit the number of subjects students can sit at the CSEC exams, some of the top performing students yesterday said they opted to pursue a large number of subjects with career paths in mind, while others sought to challenge themselves.
Michael Bhopaul, 16, is officially the top student, with passes in 25 subjects, including 24 Grade I passes.
Bhopaul had told Stabroek News last Saturday that he decided to attempt the large number of subjects "for fun."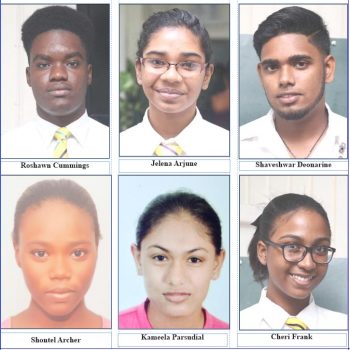 "I initially wanted to write 27 subjects. At the beginning of fourth form [during streaming], when I told my parents and teachers, everyone was saying don't do 27. They were convinced it was too large a workload, too much pressure for me. Many of them said you might just trip out," he laughingly said.
Bhopaul's classmate Rawletta Barrow had the second best results, earning Grade I passes in 19 subjects.
For Barrow, who intends to pursue a career in law, writing 19 subjects was a means to develop a wide ranging base to better equip herself in a changing world. "It was a personal learning experience. I wanted to write a wide range of subjects to get experience in different areas. Though I am set on the career path of law, it is a modern world and there are new emerging fields for which I feel I need to prepare myself," she explained before extending gratitude to God, whom she say was with her the entire time, her family and her teachers, including Ms. Butts, Ms. Cave, Ms. Glenn and Ms. Liverpool, all of whom believed in her and her abilities.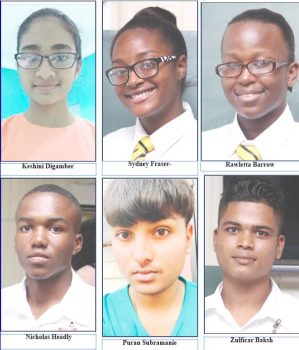 Barrow will be moving to the Sixth Form to pursue a Caribbean Advanced Proficiency Examinations (CAPE) Associate Degree in Humanities.
Roshawn Cummings, also of QC, told Stabroek News that he dreams of leading Guyana as president. His journey into politics began with Grade I passes in 16 subjects.
Expressing gratitude to everyone who helped in any little way, he explained that he will now be moving to the University of Guyana to earn a degree in International Relations.
The next two highest performers were Keshini Digamber and Shontel Archer, both of the privately-run Saraswati Vidya Niketan (SVN).
Digamber wrote 17 subjects and she secured 16 Grade Is and a Grade III, with which she was satisfied. She explained that she wrote subjects primarily from the science and business streams because she had been unsure of what career path she wanted to follow.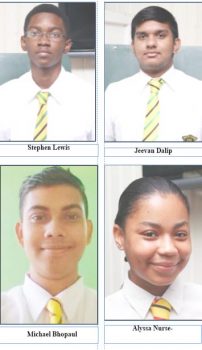 She has since decided to pursue Economics and has applied to the University of the West Indies. However, if this does not materialise, she will consider doing advanced-level studies.
Archer told Stabroek News that she attempted 19 subjects because she believed that she was capable of successfully writing that many. She earned Grade I passes in 15 subjects, Grade II passes in three subjects and one Grade III.
Asked about her performance, Archer said though she felt she could have done better, she was content with her grades.
In extending gratitude, the young woman said, "I am fortunate for my family members and friends who have been and will continue to be my support system throughout my journey and also to my teachers who have given me advice towards how I can succeed and how I can push myself to attain my goals in life."
She also credited her late grandmother, Etheldreda Archer, known as "Teach Tiny" and former Region Three Education Officer for the foundation she had provided for her in her younger years.
In terms of her plans, the young woman said she has applied to QC to pursue CAPE before going off to college to study medicine.
Nicholas Headly, of Anna Regina Secondary, described writing 17 subjects as a "spicy mix" of challenge and ease. He told reporters that he was elated with his 15 Grade I passes and, two Grade II passes.
Also elated was Jelena Arjune, who credited God, her parents and teachers for helping her to achieve 14 Grade I passes and two Grade II passes. "It wasn't easy," she noted before explaining that she intends to return to QC for the CAPE Associate Degree in Natural Sciences
"I intend to be a medical doctor and later a research scientist in medicine," she shared.
While a majority of this year's top performers will be returning to Sixth Form, Zulfikar Baksh, of Anna Regina Secondary, will be moving directly to tertiary studies.
Baksh, who earned Grade I passes in 14 subjects and two Grade II passes, told Stabroek News that September will find him at the University of Guyana studying for a degree in Civil Engineering.
The ninth highest performance was that of Shaveshwar Deonarine, also of Anna Regina Secondary. Deonarine, who wrote 17 subjects, earned Grade I passes in 13 and Grade II passes in four.
He is followed by Sydney Fraser, of QC. The 16-year-old told Stabroek News that she wrote one subject for each year she has been on the earth. "I am thankful for what I achieved and know it was not possible without the support of God, my teachers and even my colleagues who worked with me," she said. Fraser will be returning to QC to pursue the CAPE Associate Degree in Humanities before going on to study law.
Having written 15 subjects, Kameela Parsudial, of Tagore High School, secured Grade I passes in 13 subjects along with two Grade II passes in English Literature and Social studies.
Commenting on her results, she told Stabroek News that though she was somewhat disappointed at not having secured all Grade I passes, she is still thankful for what she has accomplished.
Parsudial, who intends to teach before going on to pursue her goal of becoming a paediatrician, said that writing 15 subjects is simply something she wanted to do.
QC's Cheri Frank also earned Grade I passes in 13 subjects along with two Grade II passes. Her classmate, Jeevan Dalip, secured Grade I passes in 13 subjects and one Grade II pass. He intends to return to QC for the CAPE Natural Science Degree before pursuing a career in sports science.
Also earning Grade I passes in 13 subjects and one Grade II pass is Stephen Lewis, of QC, who intends to pursue his advanced-level studies at Nations University. His aim is to study either Economics or Psychology.
Meanwhile, 16-year-old Alyssa Nurse, also of QC, attained Grade I passes in all 13 of the subjects she wrote. Nurse, a budding economist who will begin her journey in that field with CAPE Associate Degree in Business, advised those approaching the exams to "focus and keep in mind what you can handle."
Puran Subramanie, of Tagore High School, rounded off the top 16, having also attained 13 Grade I passes. While the ministry recorded these as his only subjects, Subramanie told Stabroek News that he actually sat 14 subjects and earned a Grade II pass in English Literature.
He explained that his decision to write 14 subjects was based purely on his belief that he was capable of handling the work.
Initially disappointed with his literature grade, Subramanie has since accepted it and will be looking to take up teaching before migration. Once settled, Subramanie said he will be pursuing studies in either of aviation or medicine.
The Ministry of Education yesterday announced that 63.68% of the students who wrote the CSEC examinations this year were able to achieve passes with Grades 1 to 3, which represents an increase over the 63.39% pass rate in 2016.
Around the Web