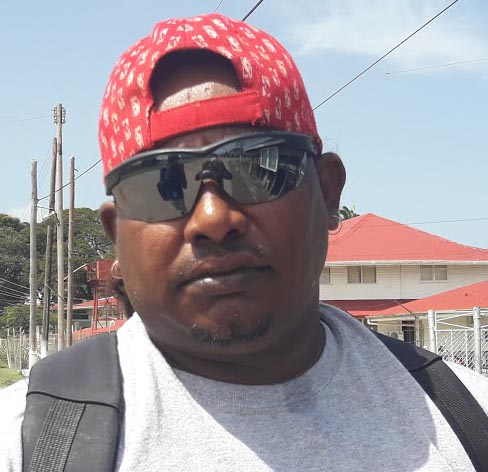 Skeldon was reeling yesterday after approximately 2,000 terminations by GuySuCo from the estate there and workers and residents contemplated a bleak future even amid signs of division in the government over the mass retrenchment.
The Guyana Sugar Corporation (GuySuCo) had warned earlier this year that the layoffs were coming because of the dire financial state of the industry and the problem-plagued Skeldon factory but the hundreds of dismissals beginning on Monday still evoked shock,
With so many dismissals and no ready source of new employment, the East Berbice community will be hard-hit as the year draws to a close.
Stabroek News yesterday midday visited the estate where it was observed that the workers were in line to receive their dismissal letters, a process that went on throughout the day. Almost all of the workers who were in the line, at the time of this publication's visit, had over twenty years' service at the estate, and had just come out from the backdam, dressed in torn clothes and their feet covered with mud.
Most of them had tears in their eyes when the letter informing them that their services would no longer be needed at the end of the month, was handed to them.
Harrichand Chan, 42, a tractor operator, of Rampoor Village, stated that it is a "hard task" to move forward. According to the father of three, who has over 21 years of service at the estate, he is working on seeking employment elsewhere at this point of time. However, the man said, it is not an easy task.
According to Chan and several other workers, officials from the estate recently promised them that they will "re-employ workers" in 2018.
"They say they gone employ back people, but we don't know yet," he wondered.
The tractor operator stated that he does not believe that the Upper Corentyne Area has enough employment opportunities for the workers who will be losing their jobs at the end of the month. "It go be really tough 'cause nuff people depend on this estate," he stressed.
Chan also questioned, why the sugar corporation did not consider taking, "the money they giving all the workers at all the estates for severance pay and invest it in back," while adding, "That could at least help do something and we still would ah get we jobs."
Another 51-year-old cane harvester, Anand Sripaul, said he has no idea on how to move forward. "Me got to look after me wife, pay GPL, phone, water bill and run me house, where you go get the money from?" he asked.
Sripaul also questioned whether the government of the day actually "cares for the people." "People put them there, we expect better, them say we would a get a change, but this is worse," said an emotional Sripaul.
Another worker, Rickyram Shivsankar, 45, who has 25 years of service under his belt, revealed his thoughts. "I have no plans at this time, them tell us them go employ back next year, but what we gon do in the meantime?" he queried.
According to the father of two, he will not be sitting and waiting to be employed again at the estate but will now look for other available employment. "I hope for the best," he stressed.
Odit Narine, 52, said some workers might end up to "beg or thief," if they do not gain employment elsewhere.
Denis Rose, a father of seven, of Kiltairn Village, stated that he will be looking into farming to take care of his family. The man noted that he is not sure whether farming will be successful or not, however, he said that he has to do something else to provide for his loved ones. He lamented that he was saddened upon collecting the redundancy letter.
Another estate employee of over 27 years opined, "I feel really bad cause now we job is terminated. We got bills to pay, we got to live. This is unfair for the workers who work so long."
A 46-year-old man stated that he has already started to seek employment at other locations as a labourer or to do security work. However, he added that he has not heard from any of these business places as yet. "Abie nah know where else abie go work? Me work here 27 years, this really unfair man," he said.
Rabindra Shivdass, 22, one of the younger workers, who got married recently, said, "It is puzzling me right now, I have to look another job to take care of myself and wife." He added that he does not believe that there is enough employment in the area.
Vickram Bhando, 26, a farmer of Crabwood Creek, stressed, that more employment is needed in the area. "We need job creation, it will be tough for these workers," he said.
Urmila Pooran, 45, whose brother is employed at the Skeldon Estate said that many families will suffer and might even break up due to the workers losing their jobs. "They will have problems with their families if they can't able to provide," she opined.
The woman pointed out that persons who do not have families attached to the estates are also worried for the workers and how they will be able to provide for their families in the New Year. She added that they are also worried about the crime rate escalating in the region. She said, "Unemployment will frustrate people."
Meanwhile, a fruit vendor, Chamanlall Nandlall, 43, of Crabwood Creek, explained that his business will be affected tremendously.
"I feel so sad for the workers, I take worries for them, but I got to worry about myself too, nuff of them does buy from me," the man stated, while reflecting that he might have to relocate his stall or seek employment from other persons. "This not gon make workers alone deh without jobs, most people gon got to stop them business and look jobs if them nah get people buying from them," he noted.
Meanwhile, vendors at the Skeldon Market stressed their annoyance at GuySuCo and the government who they claim have not thought the situation through. "This thing gone affect this entire Region Six. I don't how we gone live my child, you nah might see me ah sell here for long, if me nah get business", one vendor lamented.
Business owners along the Upper Corentyne Coast added that their businesses will be seriously affected.
One Corriverton general store owner opined that he might eventually migrate to the US come 2018. He explained that he is waiting to see how "badly" his business will be affected, then he will make a decision on the way forward. "I know sales gone drop, it already drop in this year, people barely making a profit, so why we gon sell more? I will wait and see and then decide what to do," he remarked.
A Springlands grocery owner voiced that she too is considering closing down her business. "I use to punish because all them big, big supermarket does get sale. Imagine what will happen to me now? I might got to close down because nobody nah go get sales now. If them people nah get money, wah them go buy?" the businesswoman queried.
Meanwhile, hire car drivers plying the Corentyne route told this publication, that they too will have to seek employment with persons. "People gone hardly travel, what gone happen to we? I gone go look somebody else car to drive, or drive for some company," one taxi driver from Number 63 Village said.
Another rice farmer from Number 63 Village, who requested that his name not be disclosed, noted, "I feel sorry for these workers. How much we [farmers] gone able employ?" he questioned, then answered himself, "I don't know, I think they need to come up with ways to employ the workers if they want to close the estate."
The issuance of the redundancy letters which commenced on Monday, follows on the heels of similar notices handed out to Rose Hall Estate workers a week ago. Minister of State Joseph Harmon said on Tuesday that Cabinet was not aware of the redundancy letters prior to the press reports.
A source at the Skeldon Estate told Stabroek News on Tuesday evening that on Monday some 1,700 workers, mostly junior staff, were given redundancy letters, while on Tuesday others, including supervisors and clerks, received their notices of termination. However, yesterday, most cane harvesters, machine operators and other field workers received their letters.
Workers at the Rose Hall Estate had recently shared their plight with Stabroek News as well.
The workers attached to both estates are pleading with the Government of Guyana and the management of GuySuCo to look at how their lives will be affected due to the closure of the estates and to reconsider their decision.
Most workers yesterday called on Prime Minister Moses Nagamootoo, while others called on President David Granger and Minister of State Joseph Harmon to intervene on their behalf.
Around the Web