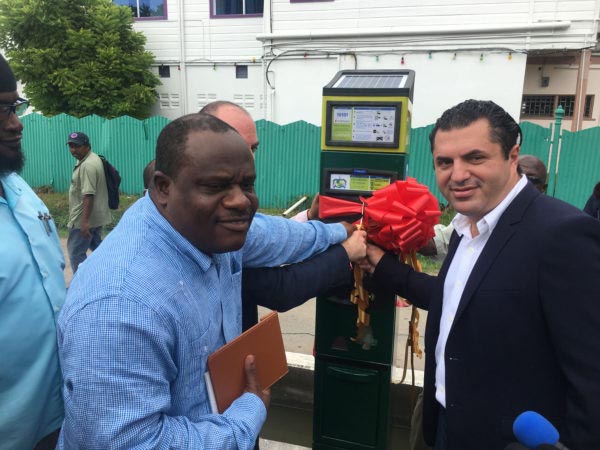 Today at 2 pm the 30 councillors of the Georgetown City Council will once again cast a vote on the future of metered parking in the city and several of them have told Stabroek News that they want to be sure their vote accurately represents a mandate from residents.
The council will at an extra-ordinary meeting discuss and vote on the recommendations made by the Metered Parking Renegotiation Committee. The committee, led by Team Legacy Councillor Malcolm Ferreira, submitted to council a 25-page final report that recommends five options, including continuing with the project with SCS, albeit with a renegotiated contract, or alternatively discontinuing the project by rescinding the contract and leaving the city without metered parking.
Also recommended is for council to request a further suspension of the implementation of the metered parking system, pending the outcome of the court proceedings after which it may use the court ruling as a legal guide to inform any further action.
All eyes will be on the 25 APNU+AFC members on the 30-seat council, particularly those who represent APNU. In previous voting on the council it has been clear that these councillors are taking their cues from APNU. Two of the other five seats are held by the PPP/C, two by Team Legacy and one for Benschop for Mayor. Councillors representing the AFC component of APNU+AFC will be expected to vote against the return of the parking meters.
Three of the 15 constituency councillors who sit on the council told Stabroek News on Tuesday that their vote will be a representation of the views of their constituents.
Alfred Mentore who represents Constituency 4: Campbellville/Lamaha Gardens explained that he  scheduled a meeting for yesterday at 5 pm to allow the residents he represents to voice their opinion on the five recommendations being placed before council.
Gregory Fraser of Constituency 8: Stabroek-Wortmanville-Werk-en-Rust is convinced that nothing can rescue or resurrect the metered parking contract but he too is ready to cast his vote at the behest of his constituents.
Bitter taste
"It [the project] has already caused a bitter taste because of how it was done. Nothing is going to remove that taste other than a proper, fair, transparent consultation process however I will be voting in the best interest of my constituents and I intend to dedicate (yesterday)  to gathering their sentiments so that I can take those to council," Fraser explained.
Meanwhile, Ron Persaud of Constituency 7: Bourda-Stabroek has explained that as a member of the committee he was able to hear the views which informed the report first hand and will therefore vote accordingly.
"The report we submitted was a summary of the views we collected. Since I am a member of the committee I won't air my views separate from the contents of the report but I will say that most of our consultations happened in my constituency and my vote will represent the will of my constituents," Persaud told Stabroek News yesterday.
Former Deputy Mayor Sherod Duncan who represents Constituency 14: South Ruimveldt/ Industrial Estate has committed to voting against a continuation of the contract.
As one of the first persons to raise objections to the metered parking project Duncan has consistently maintained that the secrecy surrounding this contract makes it impossible for him to support the project.
Speaking with Stabroek News on Monday he commended the effort of the committee before noting that "it is regretful, however, that they could not be supplied with all the critical information they required of SCS. It is this lack of information and all the other issues surrounding this deal that compelled us not to support it initially, and this position remains unchanged in the interest of giving the citizens we are elected to represent the best options in these arrangements."
The report specifically says that though SCS was asked to provide proof of its stated millions in investments, it refused to do so. The company also refused to share with the committee its feasibility study and business proposal unless its members agreed to sign a confidentiality agreement.
MAPM
The Movement Against Parking Meters (MAPM)  which was birthed by grassroots opposition to the metered parking project has urged residents to contact their councillors so that they can be made aware of the views of their particular constituents.
"We still have the power to make this fail. Call your councillor, email him or her or visit their home. Do what you need to make sure that they know how you want them to vote," Raquel Thomas-Caesar urged residents.
Marcel Gaskin another member of MAPM explained that while MAPM is sure that the courts will find the contract to be illegal the court process is not swift.
"The case could drag on for months so now we must lobby our representatives to vote in our best interest," he explained.
The Private Sector Commission (PSC) meanwhile remains "indifferent" to the report.
Head of the PSC Eddie Boyer told Stabroek News that while as a collection of investors the PSC wouldn't wish to see anyone lose invested capital they have no sympathy for SCS.
"We are not going to support anything that did not follow procurement regulations such support is not conducive to a healthy investment climate. We can't respect SCS and won't be paying attention to any report from council; it holds no weight with us.
The legality of this contract needs to be tested in court and the court decision will be final. We can't support this private company they knew exactly who they were in bed with and what to expect," Boyer explained.
He told Stabroek News that the PSC was so perturbed by the nature of the negotiations between SCS and City Hall that they wrote to the National Procurement and Tender Administration Board asking for an investigation.
"We wrote the procurement board in March and received a response two weeks ago saying that the city was out of their jurisdiction. They said they can't investigate or take any action against city hall so let the court decide," Boyer said.
He stressed that the contract the city needs to be most concerned about respecting are those with their solid waste contractors Cevons Waste Management and Puran Brothers Waste Disposal.
"Those contracts were negotiated and signed after following a proper tender and procurement process which makes them contracts that must be respected," Boyer stressed.
The metered parking project was suspended by Central Government in March after which the seven-member committee was mandated to review the contract, consult with all stakeholders and recommend possible solutions to any impasse that may arise from the implementation of the metered parking project.
The team was specifically tasked with addressing five areas of concern identified by Central Government. These included the unequal terms of the contract, which disproportionately favours the concessionaire; the fees, which are too burdensome; the too high penalties for non-compliance; and the exclusion of gazetted public roads and certain areas around schools and hospitals.
After two months of stakeholder engagements, the committee submitted its report to Mayor Patricia Chase-Green and Town Clerk Royston King on August 2.
The secrecy with which Chase-Green, King and others on the council had concluded the controversial deal had been broadly condemned by civil society groups.  The contract was also said to have been in breach of the procurement law.
Comments

TAROUBA, Trinidad,  CMC – Left-arm spinner Veerasammy Permaul snatched three of the four remaining wickets to end with five in the innings and nine in the match, as Guyana Jaguars routed Trinidad and Tobago Red Force by an innings and 217 runs in their fourth round match here today.

Since producing its first gold bar in August 2015, Canadian miner, Guyana Goldfields Inc (GGI) says it has paid US$26.5m in royalties to the state and purchased US$84.1m in goods and services from local businesses.

(Trinidad Guardian) When everyone felt that the case was closed on the kidnap and murder of United States citizen Balram "Balo" Maharaj, comes news that new motions have been filed in the Federal Court in Washington DC, which could see a new trial for the seven convicted Trinidadians.

HARARE,  (Reuters) – President Robert Mugabe was dismissed as leader of Zimbabwe's ruling ZANU-PF party today in a move to force a peaceful end to his 37 years in power following a de facto military coup.

Former Attorney General Anil Nandlall says that the Attorney General's Chambers' retention of six attorneys to prosecute a number of high profile cases is unconstitutional and he is warning that the right to a fair trial will be compromised by a politically-tainted process.