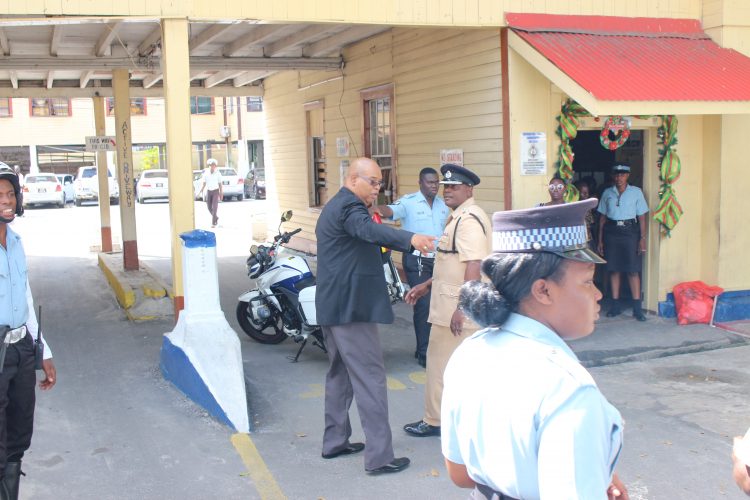 PPP/C Members of Parliament this morning walked out of the Committee of Supply following Chairman Dr. Barton Scotland's ruling that all the estimates scheduled for yesterday's disrupted session would be passed without question.
The MPs later returned for the estimates where questions were being permitted.
Meanwhile, PPP/C MP Juan Edghill, who defied a ruling by Scotland yesterday and sparked an uproar in Parliament was prevented from entering Public Buildings today and later charged with breaching a barricade.
As he passed the police barricade outside of Parliament he was greeted by a line of police officers and one told him he was under arrest. When he questioned what was the offence, he was told that he had breached the police barricade but he pointed out he was a sitting member of Parliament.
He was led to the police vehicle and informed he should enter but he said he would walk to the Brickdam Police Station, located a stone's throw away.
Prior to the ruling to have the estimates which should have been considered yesterday passed without question, Scotland allowed a motion moved by Government Chief Whip Amna Ally that Edghill be suspended from the Assembly for four sessions for yesterday's upheaval.
Ally moved the motion under Standing Order 47:3 and according to the Speaker the four-session suspension was very lenient as there are more severe sanctions under that standing order.
Opposition Leader Bharrat Jagdeo attempted to object to the suspension but was not allowed by the Speaker as he told him he was not permitted to speak. Jagdeo said that it was an attempt to muzzle his party.
The estimates being passed without questions include estimates for the Office of the Prime Minister, Ministry of Business, Ministry of Agriculture, Ministry of Natural Resources and some for the Ministry of Presidency.
Comments


The National Accreditation Council of Guyana (NAC) is advising the public that the American Medical Institution is not registered with the NAC as is legally required for post-secondary and tertiary educational institutions operating in Guyana.

Fifteen city councillors voted yesterday in favour of accepting the recommendations of the parking meter renegotiation committee, which would see a reduction in parking fees to $150 per hour, exemptions for religious organisations and schools, and Smart City Solutions (SCS) giving up on their claim to garage parking.

A GDF rank was yesterday remanded to prison over three armed robbery charges and alleged possession of an unlicensed gun and ammunition.
Minister of Natural Resources and Leader of the Alliance for Change (AFC), Raphael Trotman on Monday praised ExxonMobil for investing in the oil sector here and said it is now resulting in other important companies wanting to do business here.

The city lance corporal, who on Sunday allegedly shot and killed Marlon Fredericks, a mentally-challenged vendor, after he reportedly attempted to flee custody is to be charged with manslaughter.