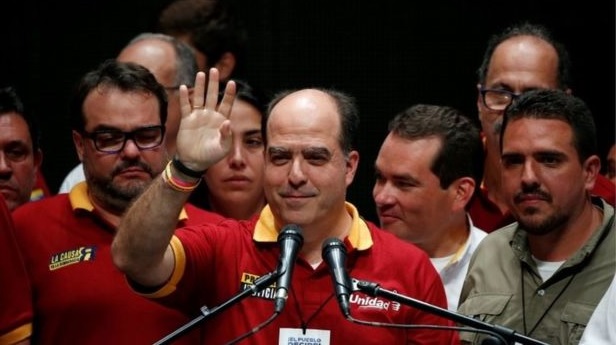 CARACAS,  (Reuters) – Energized by a massive vote against President Nicolas Maduro in an unofficial plebiscite, Venezuela's opposition mulled today how to escalate protests and block a new congress it fears may enshrine Socialist Party hegemony.
After months of street rallies that have led to nearly 100 deaths, the Democratic Unity coalition brought millions onto the streets yesterday for an informal referendum intended to de-legitimize a leader they call a dictator.
Now, opposition leaders are promising "Zero Hour" in Venezuela to demand a general election and stop the leftist Maduro's plan to create a controversial new legislative super-body called a Constituent Assembly in a July 30 vote.
Opposition tactics could include lengthy road blockades and sit-ins, a national strike, or possibly even a march on the Miraflores presidential palace, similar to events before a short-lived coup against Maduro's successor Hugo Chavez in 2002.
"Today, Venezuela stood up with dignity to say freedom does not go backwards, democracy is not negotiated," Julio Borges, who leads the opposition-controlled legislature, said shortly after midnight when the referendum results were announced.
"We don't want a fraudulent Constituent Assembly imposed on us. We don't want to be Cuba. We don't want to be a country without freedom," he added, promising further announcements on opposition strategy during Monday.
Maduro, whose term is due to end in early 2019, dismissed yesterday's opposition event as an internal exercise by the opposition with no bearing on his government.
"Don't go crazy, calm down," he said yesterday in a message to the opposition, vowing his Constituent Assembly would bring peace to the volatile nation of 30 million people.
Maduro, 54, a former bus driver and long-serving foreign minister for Chavez, narrowly won election in 2013 but has seen his ratings plunge, to just over 20 percent, during a brutal economic crisis in the South American OPEC member.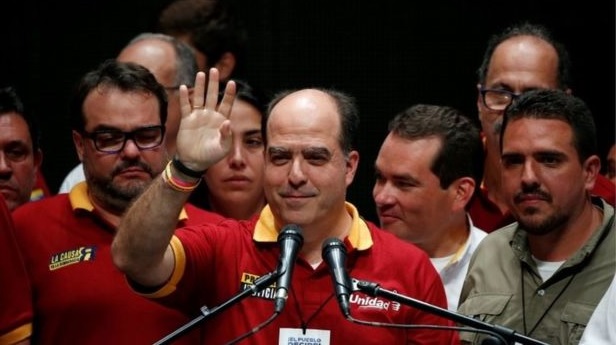 Though polls show the opposition has majority support and his foes repeatedly call for a free and fair election as their No. 1 demand, Maduro insists they are U.S. pawns intent on sabotaging the economy and bringing him down through violence.
Most Venezuelans oppose the Constituent Assembly, which will have power to rewrite the constitution and annul the current opposition-led legislature, but Maduro is pressing on anyway for the vote in two weeks' time.
In three questions at yesterday's event, opposition supporters voted overwhelmingly – by 98 percent – to reject the proposed new assembly, urge the military to defend the existing constitution, and support elections before Maduro's term ends, according to academics monitoring the vote for the opposition.
Yesterday's nearly 7.2 million participation compared with 7.7 million opposition votes in the 2015 legislative elections that it won by a landslide and 7.3 million votes for the opposition in a 2013 presidential poll narrowly won by Maduro.
"The result is a remarkable show of force for Venezuela's opposition," New York-based Torino Capital said in a research note, noting the vote was only called two weeks previously and participation meant openly defying the government.
"We can assume that the number of people voting was less than that which would turn out to vote in a regular election .. The results seem to confirm that the opposition would easily defeat the government in any election."
The political turmoil has taken a heavy toll on Venezuela: 95 deaths in unrest since April, thousands of injuries, hundreds of arrests, and further damage to an economy already in its fourth year of decline.
Comments

HARARE,  (Reuters) – President Robert Mugabe's own ruling ZANU-PF party wants him to step down and plans to hold a rally in Zimbabwe's capital Harare on Saturday to make the point.
WASHINGTON,  (Reuters) – U.S. President Donald Trump said in a tweet yesterday he is putting a decision to allow imports of elephant trophies on hold until he can "review all conservation facts." The rule released yesterday allowing hunters who kill elephants in Zimbabwe to bring their trophies back to the United States outraged animal activists.
LONDON,  (Reuters) – The Norwegian sovereign wealth fund's proposal to ditch its oil and gas shares, though hugely symbolic in the battle against climate change, is unlikely to cause a rush to the exit by major investors in the sector in the short term.

(Trinidad Express) Petrotrin says it now has independent confirmation of the discrepancies between the oil production reported by a contractor and what was actually received by the company, which resulted in an over-payment of an estimated TT$80 million.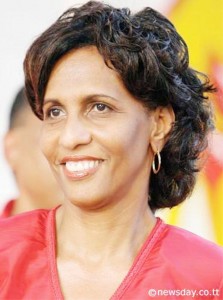 (Trinidad Express) Government Minister Karen Nunez-Tesheira is now one step closer to receiving more than TT$18 million in compensation from Gulf View Medical Centre and one of its doctors.