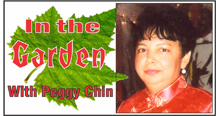 Contrary to what some might think, there is a lot to do in the garden during the rainy season. Of course there are days when you obviously do not have to water your plants or lawn, but they still require a great deal of attention.
Last week, I received quite a few inquiries on lawn and plant care. As regards lawns, remember that the grass would grow more quickly in the rainy months so you would have to cut it more often. The soil/earth would be soft so do be careful when cutting your lawn. You may even lose patches of lawn grass with the heavy rain.
The heavy rainfall would also leach out the nutrients from your lawn so you would need to feed your lawn. Miracle Gro All Purpose Plant Food is a balanced plant food. I have been using it for years and always got good results. There is a feeder bottle that you can attach to your garden hose to distribute the Miracle Gro evenly. Once a week is good enough.
Please ensure that you also have proper drainage around your lawn to prevent water logging and flooding. If you do not have drains around your lawn now is the time to dig/make one so that the excess water would run off easily.
Remember also to spike your lawn. Use a garden fork and make sure that you do four to six-inch spikes so that the water can penetrate the soil/earth. Rock the fork backward and forward as this would help the soil/earth to absorb the excess water.
With regard to your plants, lift the potted ones off the ground and place them on stands or pallets if you have them. Concrete hollow blocks also work well.
Make sure that the pots have proper drainage holes. Check the soil inside pots to make sure it is not too soggy. If it is, take a hand tool and loosen up the soil (this is similar to spiking your lawn). Move plants that do not require much water, like aloes and other succulents, to an area where they are not constantly exposed to the rain.
I will address plant fungus and diseases in another article.
Until next week, Happy Gardening.
Comments

There are many types of pine trees and in Guyana some people tend to confuse the names and varieties.

Many of you would have received potted plants as gifts and with the holiday season having ended, I have received many telephone calls on how to care for these new plants.

Thuja originated in Denmark and comes from the Cypress family; it was after World War II that it spread across Europe, then to Asia and North America.

It's here! Just in time for Christmas. Last weekend, I received the most beautiful, potted, red, velvet-like Poinsettia evoking the spirit of Christmas.

The Begonia commonly called Shell Rose was first discovered in Brazil by a Franciscan Monk, Charles Plumier in 1690, who named it after his favourite Botanist Michael Begon.