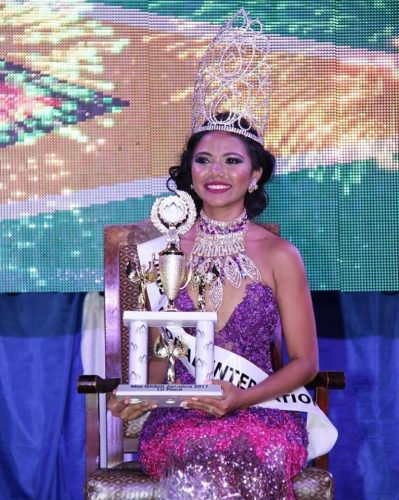 Guyana's Cynthia Dookie won the Miss Global International 2017 crown last Saturday evening, besting 19 other beauties in what was understood to be a nail biting competition at the Hotel Riu, Montego Bay, Jamaica.
The 23-year-old fitness trainer was crowned by Jamaica's Chairman and CEO of Miss Global International Lachu Ramchandani.
"I am going to bring home the crown," was what Cynthia had said in an interview with The Scene just before leaving Guyana for the competition; a promise she certainly kept. In her most recent interview the queen had expressed her joy and gratitude at becoming Miss Global International 2017 and added that she worked tirelessly to represent her country.  Cynthia noted that it was a stiff competition as all the ladies brought their best. The competition was initially set to have 30 countries participating but due to Hurricane Irma some of the contestants were unable to make it.
The competition comprised five categories: talent, swimsuit, national costume, evening gown and question and answer. The pageant had two nights of competition and saw the talent segment on the first night where Cynthia did a combination of two songs by Jamaican artistes Tami Chynn and Samantha J. The following morning the contestants were all judged on knowledge of current worldwide issues, and Cynthia won the Miss Most Aware Award.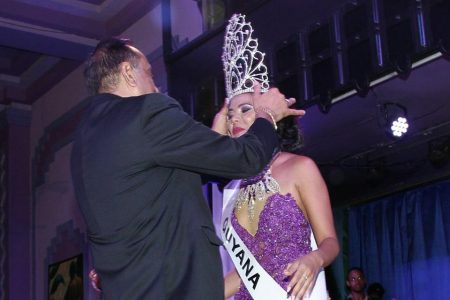 According to the Mahaicony native she was a bit nervous for this category, but was encouraged by a friend that the judges were ordinary individuals like herself who she was just going to have a conversation with. She admitted that this helped a lot.  The finals saw the other four categories.
The most challenging for her was perfecting every move, routine and segment knowing that every other contestant worked just as hard. Cynthia added that it was only because of God that she had the strength to pull it off. "I told myself, I'm here to win this for myself and my country and I have to do it," she said.
Her best segment of the competition was the question and answer. Her question was: 'Most tourists come to Jamaica for its sunny weather and rich culture. Based on your experience in Jamaica, what would you say is the number one reason to make you stay?'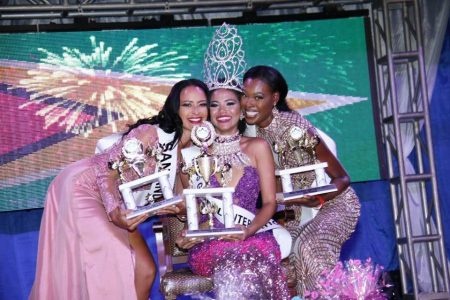 "In my answer, I spoke about how warm and welcoming the Jamaican people were, which would be the major reason I'd stay because the people were so hospitable; they would make any budding tourist like myself feel at home." She also then thanked the organisation for allowing her the opportunity to participate.
The pageant, she shared, has helped her to grow and realize the essence of what it takes to be a woman of substance and has given her the courage to be a voice that will change the world. Now that she is the title holder, she plans to take full advantage to bring awareness to charitable causes and social issues and to be a voice for those who cannot be heard. She plans to also promote her 'Fit-U' Project through a slogan: 'Transforming Lives One Pound at a Time'.
The new queen's national costume was designed by Nachle Designs, while her evening gown, which saw her winning the best evening gown award and her swimsuit were designed by designer Randy Madray. Naomi Murray designed her cocktail dress.
The pageant saw contestants from: Belgium, Canada, Cuba, Dominican Republic, Ecuador, Guyana, Haiti, Holland, Israel, India, Jamaica, Nicaragua, Panama, Philippines, Scotland, San Andres, Saudi Arabia, Sierra Leone, Trinidad and Tobago and the United Kingdom.
The runner-ups were Trinidad and Tobago coming in second place and San Andres in third.
The Miss Global International Guyana's franchise is held by Hashim Alli and Nachle designer Melicia Pertab-Alli. It has over the past three years been represented by Onesha Hudson (2014 – top ten finalist, top five in the talent round and Best Smile Award), Alicia Bess (2015 – second runner-up), Poonam Singh M (2016 – first runner-up, Best Personality Award, Best Evening Gown Award, Best Maja Outfit, Best National Costume and in the top three for the talent round).
Comments

Two Fridays ago, Onikha Joseph clinched the coveted Calypso Monarch title after stiff competition from ten other contestants before a large gathering at the National Park.

On Sunday last, contestants of the I'm A Big Deal Miss Berbice Beauty and Empowerment Pageant put aside the glitz and glam associated with pageantry to team up with the police of Rose Hall Outpost, the mayor, workers of the town council and youths in a clean-up exercise around the Berbice town.

Drummers from around will soon have the opportunity to participate in the country's first drum festival next week Sunday and the chance to win over $1 million in cash and prizes.

New graduates of the National School of Theatre, Arts and Drama are expected to entertain patrons next Saturday, when they perform in Michael James's Skin Teeth Nah Laugh, a comedy.

These little ones from the Cherry Blossom Play School in Kingston yesterday had their part of Mashramani celebrations when the school held a mini parade.