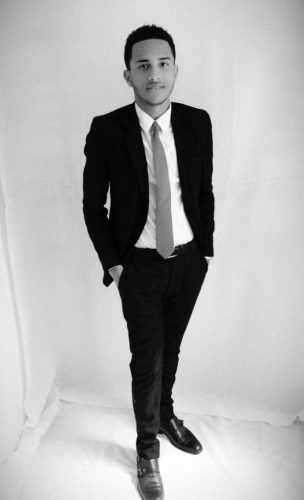 At nineteen, Daniel Ifill is not just an ordinary teenager still trying to figure out a career but rather he is miles ahead as he is already a dancer, model and makeup artist who when he's not working his skills backstage on some performer's face is flaunting his stuff on a stage he takes charge of.
More than a month ago, The Scene caught sight of this young man when he serenaded the small gathering with his mesmerizing voice singing a reggae piece at the launching of the Miss Guyana Talented Teen and the Miss Princess Guyana Pageants at the National Cultural Centre.
This year marks four years since Ifill has professionally taken up singing but like most artistes, he began singing much earlier, at age four. Coming from an array of ardent church-goers and a line of soprano and alto singers, his voice was trained to sing for God. His favourite song to sing was 'His Eye Is on the Sparrow'. Daniel's journey of singing began with gospels but he has since expanded to singing R&B songs. Presently he only does covers but hopes to take up singing originals and writing his own pieces…..
To continue reading this article
Comments

Nineteen-year-old pop/soul singer/songwriter and personal designer Jasha 'JJ Artz' Abrams, when he isn't making a statement with his voice is doing so with fashion.

During my extremely short-lived tenure as a model for Donna Ramsammy-James when I lived in Guyana, I was always hesitant of highlighting it as something that I did.

Canada-based Guyanese and humanitarian Sangeeta Bahadur finished as second runner-up in the Miss India Worldwide Pageant at the Royal Albert's Palace in Edison, New Jersey last Sunday night, October 8.

The wee hours of Sunday morning saw 20-year-old stunner, Sherryanna Balkaran of Paramakatoi being crowned Miss Indigenous Heritage at the National Cultural Centre.

Guyanese will this evening be treated to a display of fashion and live entertainment at Tower Suites poolside as in honour of Miss World Guyana 2017 Vena Mookram as organisers also attempt to raise some much-needed funds to cover her wardrobe for the Miss World competition being held in China which kicks off October 20.