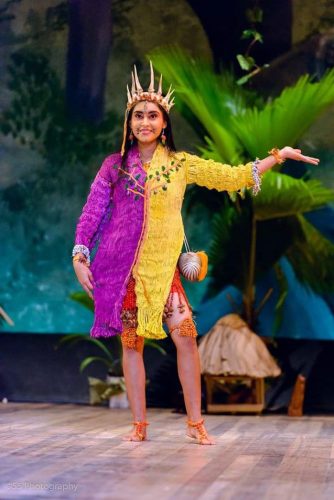 The wee hours of Sunday morning saw 20-year-old stunner, Sherryanna Balkaran of Paramakatoi being crowned Miss Indigenous Heritage at the National Cultural Centre. Sherryanna's fluency when she spoke and her confident stride throughout each segment found favour with the judges and by the end of night, they were ready to bestow the prestigious honour on her.
"… It was surreal. I was ecstatic, nervous, I can't begin to explain. Right now, it's sinking in and I'm happy; I'm enjoying," the Patamona beauty excitedly shared earlier this week.
The pageant consisted of five segments: Intro-duction, Talent, Evening Wear, Cultural Wear and Final Question. Introduction was one of Sherryanna's two favourite categories as she got the opportunity to introduce herself in the Patamona dialect. The other was the Final Question.
Her undoubtedly outstanding performance in the pageant did not come easy but took tireless days of practice. In the run up to the pageant, she said, training was intense and two weeks prior to coronation night things got hectic. Each contestant was trained on perfecting her speech, on how to be emphatic, to appease the crowd and perfecting her struts which included learning to do the 'T' stand. They were trained by the Fung family from 11 in the morning to one in the afternoon each day for speech class and from 6.30 in the evening until the trainer was satisfied with the practice regarding modelling…..
To continue reading this article
Comments

Nineteen-year-old pop/soul singer/songwriter and personal designer Jasha 'JJ Artz' Abrams, when he isn't making a statement with his voice is doing so with fashion.

During my extremely short-lived tenure as a model for Donna Ramsammy-James when I lived in Guyana, I was always hesitant of highlighting it as something that I did.

Canada-based Guyanese and humanitarian Sangeeta Bahadur finished as second runner-up in the Miss India Worldwide Pageant at the Royal Albert's Palace in Edison, New Jersey last Sunday night, October 8.

Guyanese will this evening be treated to a display of fashion and live entertainment at Tower Suites poolside as in honour of Miss World Guyana 2017 Vena Mookram as organisers also attempt to raise some much-needed funds to cover her wardrobe for the Miss World competition being held in China which kicks off October 20.

Lambert 'Lambi I' Semple, singer/songwriter and lead vocalist in the famous 'How are We Gonna Survive' produced by the now defunct popular group 'First Born', of which he was a founding member, has now gone solo.