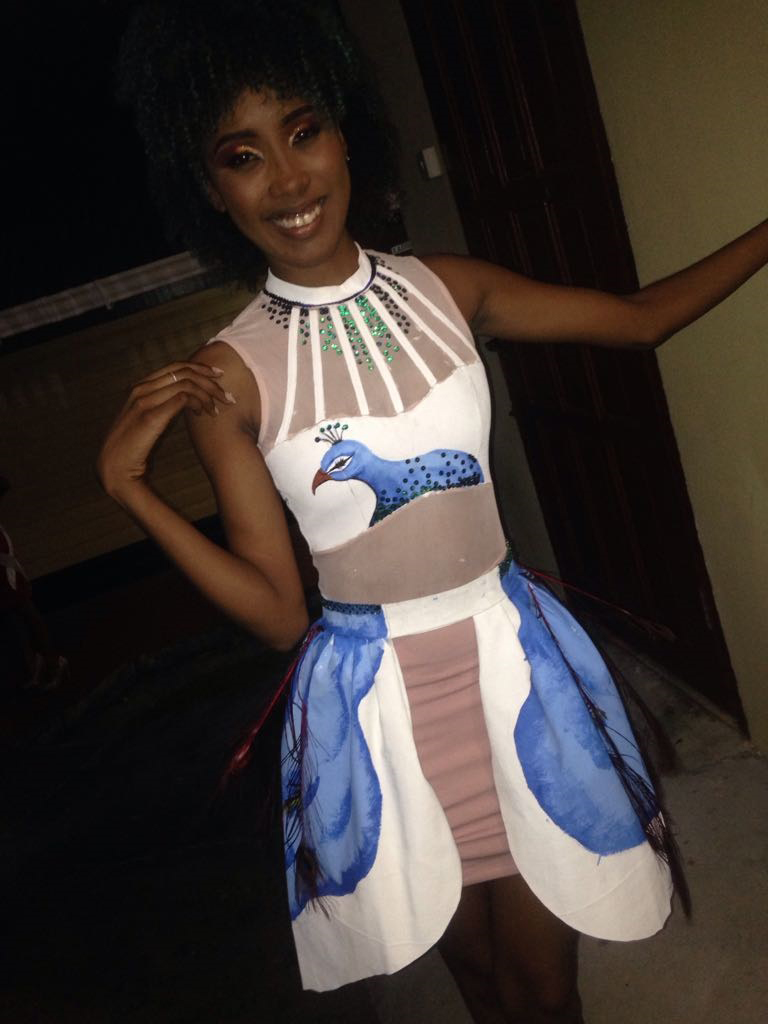 Burrowes School of Arts beauty Romichelle Brummel was last Saturday night crowned Miss Cultured Guyana 2017 after competing with two other contestants at the Umana Yana.
In a sit down with the queen, The Scene found her emotional at times as she explained what it felt like: "I'm still in awe. It still hasn't fully sunk in as yet that I won but it's a very warm feeling and I'm happy."
This is the fourth pageant 'Romi', as she's fondly called by friends and peers, has competed in. There was the Miss Guyana Talented Teen 2013 where she finished as the second runner-up, then Miss Summer Blaze 2014 (second runner-up), followed by Miss Mash Queen 2017.
Romi's journey to the crown was no bed of roses. She revealed that usually the biggest thing in a pageant is getting sponsorship and this year was no different. "I was telling myself that I have all these ideas and no sponsor and was on the [verge] of dropping out of the competition. I had a side job that helped me to acquire the necessary materials. It was Monday, the same week of the pageant and I still hadn't gotten a sponsor or designer and had nothing to wear for any of the categories. I called my best friend Michael Sam up and asked him to help me out. [Michael recently won the Best Talent Award at this year's Mr Guyana African Roots Pageant doing speed painting to a dramatic piece that he wrote.] We got together that Monday just pitching ideas," Romi shared.
The days to follow got even busier as the two tried to find materials for the much-needed pieces that would reflect the pageant's theme: 'Embracing Our Indigenous Heritage through Cultural Cohesion: A Statement of Unity.' The two other contestants did manage to pull it off with the help of designers while Romi did most of the work with Michael from scratch into the wee hours of mornings.
Asked whether she is a pageant fanatic she surprisingly said no. Some years ago, while she was a student at St John's College, flyers were distributed regarding the Miss Guyana Talented Teen pageant. Romi paid no mind but her best friend, Crystal Fraser jumped at the offer and decided to sign and insisted that she contest with her, but she declined. However, she accompanied Crystal when she went to sign up and learnt of the different categories and projects the contestants would be involved in. The talent segment, she admitted, meant the most to her as she loves singing and so she signed up as well.
This year's pageant, Romi said, was not much different as regards the training and because she would have been exposed to this at other pageants it was easier. They were trained by Miss Guyana Jamzone 2013 and Miss Global International 2015 Alecia Bess on how to strut the catwalk.
Other training included classes to inform the contestants on the indigenous people as this year's theme reflected on this particular ethnic group. Last year's pageant was focused on Africans. It was during these sessions that Romi realised how little information was gathered on the first people. On pageant night when asked what she would do to promote the importance of a comprehensive indigenous curriculum to stop cultural erasure, she replied, "The aspect I would choose would be literature, because for indigenous literature, there isn't much information on the indigenous people. You can check the textbooks, you can check online – there isn't much and I believe that as our first people, they deserve the respect to have a concise curriculum focused on them, so that children would not become ignorant of their culture." This answer won favour with the audience and judges.
Art
A third-year student at E R Burrowes School of Arts, Romi is doing a major in painting and a minor in leather craft. Her journey down this path was not ready made, as she revealed she disliked art. She first did the subject in first form and some years later when she was a fourth former and had chosen Agricultural Science stream, Crystal who was doing Art pleaded with her to take up the subject as well. Romi may have been persuaded into doing something she may not have liked at the time but for her it became her saviour.
It was during the same time that both the girls had signed up for the Talented Teen Pageant and two days prior to the pageant Romi was busy making preparations when she became involved in an accident while crossing Regent Street. She spent a day in the hospital and while she had no internal injuries she had external ones that left scars.
Romi confided that it was while lying in the hospital bed that she realised that nothing can stop her in life but her and that she was strong enough to fight her battles. Although embarrassed because of her scars she was determined to go through with the pageant and so wrapped in bandages under her gown and other pieces and struggling with the pain she courageously stepped out on stage and gave her best. Although she did place at the competition, she still believes today that her injuries had affected her performance and that she could have done better.
Yet, that wasn't the last of the challenges. Shortly after she fell ill, her mother and teachers thought it best if she waited another year to write the CXC exams and against her wishes she didn't get to write the exams when her friends did.
There were days when Romi looked at her scars and hated them and because of this she fell into depression. It was in this state that she turned to art.
Day after day she painted.
"During that time, art became my therapy. Everything has its own beauty…. I look at my scars now and I see different shapes. I'm on the verge of accepting them though I still battle with how I look every day. I'm still self-conscious about what I wear, but yet I'm confident to an extent. Talking about this is still a bit hard but I find that such stories help to inspire others," Romi shared.
Through all of this Romi said, her mother is her biggest inspiration. "She's always supported me and finds ways to make me accomplish my dreams."
She's also inspired by Oprah and her life story as she is inspired by her courageousness and feels connected because of her struggles. Dr Martin Luther King is also one of her heroes.
It's painful, Romi said, to see the attitude people have towards art. "We don't see the impact it has on our culture and we don't respect our local talents enough." She added that one of the reasons she is attending Burrowes is so that she could eventually pursue studies in psychology in hopes of putting the two together and later becoming an art therapist so she can help persons with autism and depression express how they feel and recover through this form.
The pageant
The Miss Cultured Pageant, Romi shared, has made her a better person in more than one ways. "I learnt to be independently creative. Lack of sponsorship did help me to find the creative side of me I didn't know I possessed. I had never thought there would come a day when I'd actually make a dress. My dress was held together with silicone glue and hand stitching. I have also developed a better friendship with Michael. I find that we work well together when we are creating. It has also improved on my self-confidence."
This experience saw Romi working along with the children at the Ruimveldt Children's Care Centre, something she plans on doing more of during her reign along with other projects. She plans to also launch her very own NGO during this time.
When asked whether she plans on entering any other pageant, Romi said she had always wanted to be Miss Guyana World and so with some more time and when she feels she's ready, she'll sign up for the pageant.
The last of three children, Romi enjoys singing, painting, playing hockey (is also a member of the Old Fort Hockey Club), seeking new adventures and travelling. She hopes to be able to travel to all of the regions in Guyana.
The pageant under the stewardship of Lloyd N De Arts Productions saw its inaugural pageant last year. According Romi, the pageant this year was to have six competitors. However, two dropped out and the third, 18-year-old Akita Joseph fell ill just days short of the competition.
Most of the designs that Romi wore at the pageant were hers. For the talent segment she did a fusion of Jacki Jaxx's "Guyana's Song" and Dave Martin's "Not a Blade of Grass".
The categories were: introduction, cultural personality, talent, catwalk challenge, cultural creative professional wear, cultural creative cocktail wear (for this category she wore a peacock evening dress she designed herself), cultural creative creek wear, cultural creative evening wear and the question and answer segment.
The awards are as follows: Best Smile (Faith Harding), Mother Morse Award/ Miss Congeniality (Jenel Bennett) and Miss Show Stopper/ Best Talent and Best Evening Wear (Romi).
A prize giving ceremony is scheduled for the November 21, where the other awards will be announced. The queen has won $100,000 in cash and prizes.
Around the Web