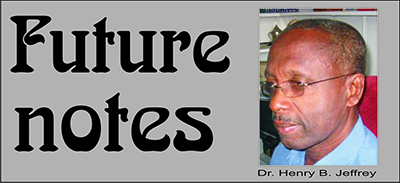 Given its pitiful management of the oil and gas sector, suspicions have also been raised concerning the many memorandums of understanding (MOUs) the government has been signing and particularly about those relating to that sector. Best practice suggests that these documents be transparently designed with broad stakeholder participation and only be used if absolutely necessary. Indeed, apart from providing good photo opportunities, MOUs are not legally binding and in themselves are neither good nor bad: it depends on how effectively they are managed. Today I want to consider the background of the concerns that were raised over the signing of the China Road and Belt Initiative MOU between the governments of Guyana and China to see if there are any lessons for Guyana.
It is argued in some quarters that Chinese economic relations with the developing world and Africa in particular have been drowning those countries in debt and will result in a new form of colonialism. China's loans to the African continent rose from about US$2 billion in 2002 to US$30 billion in 2016. China is at  present 'the single largest bilateral financier of infrastructure in Africa, surpassing the ADB, the European Commission, the European Investment Bank, the International Finance Corporation, the World Bank and the Group of Eight (G8) countries combined'
(https://www.bbc.com/news/world-africa-45368092). In 2017 alone, the Chinese signed contracts with Africa worth some US$76 billion.  McKinsey has projected that revenues for Chinese firms in Africa will reach some $440bn by 2025, and the incapacity of some countries on the continent to service debts is widespread. According to the IMF in April 2018, some 40% of low-income countries in the region are either in debt distress or at high risk. China has become Africa's largest trading partner, and earlier this year at a gathering in Beijing, African leaders were jumping for joy when the Chinese President Xi Jinping promised some US$60bn in additional loans and assistance.
Africa has a huge infrastructure deficit and there can be no doubt that the various Chinese interventions have had a positive transformative effect and have a legion of supporters at all levels in the continent. Nonetheless, recently Zambia has become something of a poster child of the anti-China narrative. Zambian official public debt, a substantial portion of it owed to the Chinese, is about US$10.6 billion and as occurred in Mozambique in 2016, there had been suspicions that the government was hiding the level of its indebtedness. Fearing this, at one point  the International Monetary Fund (IMF) delayed talks over a $1.3 billion loan deal
(https://www.scmp.com/news/china/diplomacy/article/2165377/fears-zambia-huge-debt-bust-china-fuelled-building-boom). Notwithstanding the government's claim that the opposition is 'mischaracterising our economic cooperation to mean colonialism', the opposition with posters claiming 'China equals Hitler', continues in its belief that the country is being sold out and that the state is about to lose control of Zesco, the national electricity company, Lusaka airport and ZNBC, the state broadcaster, to China. The situation at the social level has also been deteriorating, with opposition complaints that Chinese workers are taking jobs from and maltreating Zambians. 
To help quell the situation, the government gave figures which showed that in the first half of 2018, it paid US$342 million in debt financing, only 30 per cent of which went to the Chinese.
A study by Johns Hopkins School's China Africa Research Initiative that in 2015 began questioning the capacity of African countries to repay Chinese debt, stated a few weeks ago 'We find that Chinese loans are not currently a major contributor to debt distress in Africa.' It has been argued that the increases in commodity prices in the last decade, which saw base metal and energy prices increasing by 160%, precious metals by 300%, and agricultural commodities by over 100%, are over partly as a result of a slowing Chinese economy. These are important exports for many African countries and only recently Glencore, the international commodities producer, decided to suspend production at copper mines in Zambia and the Democratic Republic of Congo. The result is lower government revenue, unemployment and social disquiet, which are largely a result of government over-borrowing based upon fluctuating international commodity prices.
Joseph Stiglitz, the Noble Prize-winning economist, might have been right when he said that Western criticism of China relations in Africa is 'sour grapes' (https://www.bbc.com/news/world-africa-45368092). In international society, every country, some more ruthlessly than others, gives priority to its interest, however that is defined, and China is no different. China does not have a Foreign Corrupt Practices Act that seeks to prevent overseas bribery and Stiglitz recognised that corruption is a concern, but he reminded that it is the responsibility of individual governments to look after the interest of its people in an open and transparent manner. Some would argue that while sound in theory, the position taken here is a tall order for many impoverished developing countries with usually corrupt politicians and weak institutions. It would benefit the local population enormously if international actors are under moral and legal obligations to act in a manner similar to how they must behave in their own countries.
Africa also has a significant trade deficit with China, which has not improved since 2014, and only about five African countries have a trade surplus with China. 'Seven surprising numbers from China-Africa trade' makes interesting reading. For example, 'In 2014, tiny Benin was the continent's biggest importer of wigs and false beards from China. It purchased Chinese hair pieces worth $411m. … South Africa was the continent's biggest importer of Chinese-made male underpants. Of the 18,747,003 pants imported by South Africa in 2014, 16,612,590 (88%) were Chinese. … Kenya was Africa's biggest importer of plastic Chinese toilet seats in 2014, spending $8,197,499 on the lavatorial thrones.  In Nigeria, China has not only been buying its oil, but also keeping Nigeria's teeth clean. Nigerian traders were the continent's biggest purchasers of toothbrushes from China last year, spending a cool $9,372,920 on 159 million items – roughly one for each Nigerian. China has also been keeping Africa moving. In 2014, Togolese traders spent $193,818,756 on Chinese motorcycles. Only Nigeria imported more, spending a whopping $450,012,993' (https://www.bbc.com/news/world-africa-35007900).
So while the focus upon building infrastructure is laudable, what Africa also urgently requires is help in building its institutional and physical capacity in manufacturing, services, etc to better balance its economic relations with the world.  However, 'So far, China has only paid lip service to such long-term support (https://www.bbc.com/news/world-africa-45368092). Some believe that the asymmetric nature of negotiations between China and the individual countries gives China a big advantage. 'The issue that I have seen is the asymmetry of power in the negotiations of the transactions, where you are actually giving your mining rights away just because you want to build a superhighway. … You are only dealing with one country, how are you sure that you are getting the best deal?'
(https://www.bbc.com/news/world-africa-45368092). Stiglitz also drew attention to the need for 'Every project whether it comes from the West or China needs to be evaluated against the rate of returns.'
For decades, Guyana and China have had excellent relations and there is absolutely no reason why that should change. Eventually, it is for the government to protect the interest of the Guyanese people by making smart decisions. Guyana one had the highest per capita debt in the world and presently there are concerns about its level. Given the vagaries of international prices, a single-minded focus on borrowing to build infrastructure because funding is easily available and an impending oil bonanza is nearing, will not do. Guyana needs to also focus on interventions that will improve the functioning of the private sector in building modern industrial, technological and financial bases. The current regime might do well to recall that in another era, the 'founder leader' of the PNC in attempting to industrialize negotiated and acquired Chinese help in the form of, for example, the now defunct bicycle and clay brick factories.  
Around the Web