Caribbean Community (CARICOM) leaders met yesterday with United States Vice President, Mike Pence, on the margins of the final day of the Summit of the Americas in Lima, Peru.
Second Vice President and Minister of Foreign Affairs, Carl Greenidge, told the Department of Public Information (DPI), following the meeting, that Caribbean leaders "took advantage" of the opportunity to dialogue with the US.
"It was a good opportunity to at least exchange ideas at practically the highest level in the United States,"  Greenidge said. The minister stated that Vice President Pence confirmed that the US remains interested in the Caribbean and Latin America.
During the meeting, the CARICOM heads of state and delegations also had discussions with the Vice President's team including the new head of the United States Agency for International Development (USAID), DPI reported.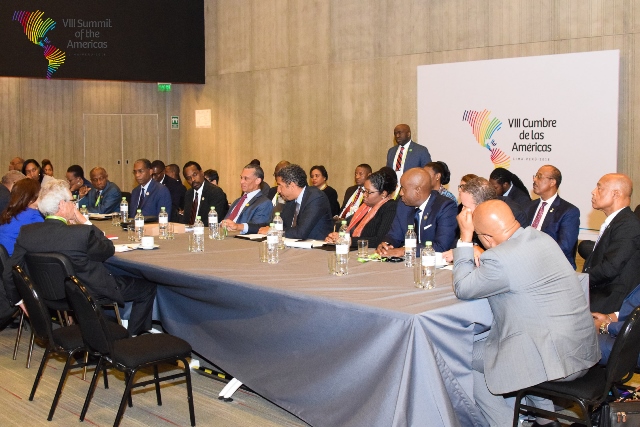 "It was a wide-ranging discussion. The Caribbean raised many of the problems they would have raised before but also looked at an on-going framework of cooperation with the US and setting a scene for the types of discussions that may arise",  Greenidge added.
The discussions, in relation to the Guyanese concerns, were along the line of migration and crime and security. "We share, of course, some of the other things the Caribbean would normally have," Greenidge added.
These, he said,  include resilience, the problem of de-risking and the disappearance of correspondent banking.
Following the meeting with Pence, the CARICOM leaders were also engaged by several members of the US Congress, DPI said.
The CARICOM heads of state and delegations were participating in the eighth Summit of the Americas.
Around the Web