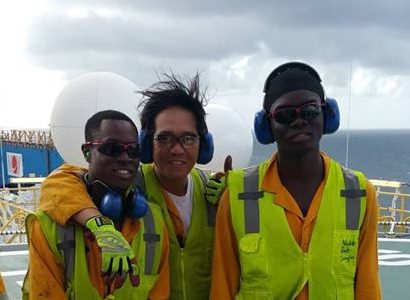 Twenty-three Guyanese, including a doctor, have been working on a drill ship contracted to ExxonMobil for oil operations and yesterday the company flew seven journalists to the site for a firsthand look at operations.
The Noble Bob Douglas has been contracted by ExxonMobil's subsidiary to drill some 17 wells for its Liza Phase One project in the Stabroek Block, offshore Guyana.
In a trip paid for by the Government of Guyana and ExxonMobil, seven journalists were yesterday given the opportunity to tour the 752-ft long ship, which is about 121 miles from shore, and interact with the crew. The journey took a little more than an hour flying by helicopter from the EF Correia International Airport at Ogle to the offshore location.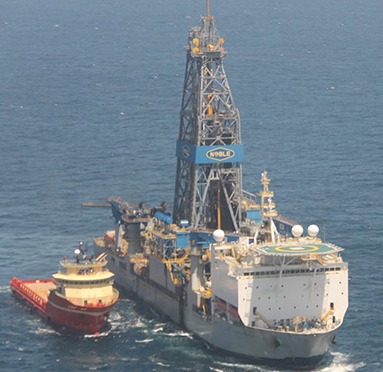 Of the 160 persons on board the vessel – six women and 154 men – 23 are from Guyana and those interviewed said that they were enjoying the stint, which has given them exposure to a new work environment and experience at a job focused on safety.
Making up the Guyanese contingent on the vessel are 14 persons in the catering operations, four roustabouts, two clerks, one doctor, and two logistics support personnel.
"From you wake up in the morning, you hear the word safety until you go to sleep," Marlon Humphrey told reporters.
The 21-year-old Canje, Berbice, logistics support staffer said that he learned much of the technical aspects of his work from the GuySuCo trade school so when he was taken to Trinidad and Tobago for training it was not difficult.
But he said that the emphasis placed on safety by the crew's management was not expected as it is drilled into them daily that their jobs allow for zero errors and that they must function as a team.
"Here we are a family. I have my family onshore in Berbice and this is my family here and we have to look out for one another…if you see something that doesn't look right, you stop and ask, even if you are wrong and start again. Safety is everything here," he said.
Humphrey explained that he learned of the vacancy from a newspaper advertisement and never believed that he would have been selected.
The resident doctor, 25-year-old Dr Wilburg (only name given) said she studied in Guyana and had experience working at a private hospital when she saw the vacancy advertised and applied. She pointed out that her job offshore was "much, much quieter" than what she was accustomed to working at the hospital in the city as all of the crew are healthy and none has had to report any on-the-job injury.
A roustabout from Berbice, a chef from Linden,  two galley hands and a clerk also from the capital said that their employment came through their answering of advertisements placed in the newspapers.
Some explained that they do not see themselves staying in the same positions and are studying so as to be competitive in other areas. They said that the work hours on the ship—12 hours a day for 28 days after which they are flown off to their homes for 28 days of rest—allows for their own personal and educational development.
In their 12 hours off duty, the crew is free to relax all the time or use the many recreational facilities afforded onboard. The facilities include a gym, cinema and games room.
And while the cabins are shared, they each work different shifts so they are never in the rooms together during their 12-hour off-duty periods.
The rig arrived in Guyana late last month and began working on the drilling of the Sorubim Well in the first week of April.
The contract was awarded last August to Noble Corp by ExxonMobil subsidiary EEPGL for drilling services. The Noble Bob Douglas drillship was contracted for a three-year period and is expected to start drilling Liza Phase 1 development wells in the first half of 2018
Liza Phase 1 is approximately 190 kilometers offshore in water depths of 1,500 to 1,900 metres. The development plan includes completion of a Floating, Production Storage and Offloading (FPSO) vessel designed to produce up to 120,000 barrels of oil per day. The FPSO facility will develop approximately 450 million barrels of oil from the Liza Field. Four drill centres are envisioned with 17 wells in total: eight production wells six water injection wells and three gas injection wells.
Giving a brief history of the vessel, its captain Elmo Cerise informed that it was named after one of the long-serving employees of the company as the company sees naming its vessels after dedicated employees as a tribute to their years of service.
It was constructed at the Hyundai Heavy Industries Shipyard in South Korea and delivered to Noble in 2013.
The Noble Bog Douglas has drilled wells in New Zealand, the US Gulf of Mexico and in Suriname. It was previously located in the US Gulf of Mexico prior to mobilisation to Guyana, where it brought home Guyanese that ExxonMobil had trained in the United States.
Also present on the trip yesterday and ready to answer questions on the rig's operations were the Drilling Superintendent/ Rig Manager Joe Brewer, Operator Representative David Wedgeworth and ExxonMobil's Kimberly Brasington, Doug McGehee and Jim Hagg.
Oil production is scheduled to begin in 2020. The Liza oil deposit was discovered in 2015.
Around the Web