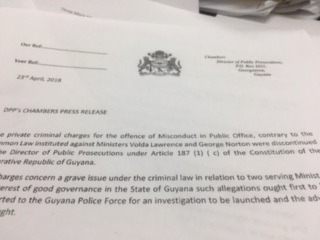 The private criminal charges instituted by two PPP/C MPs against Minister of Public Health Volda Lawrence and the former minister in the ministry, Minister George Norton have been discontinued by the Director of Public Prosecutions (DPP), Shalimar Ali-Hack.
A statement today from the DPP's Chambers said that the charges for the offence of misconduct in public office contrary to the Common Law were discontinued by the DPP under Article 187 (1) of the constitution.
The statement from the DPP said "These charges concern a grave issue under the criminal law in relation to two serving Ministers. In the interest of good governance in the State of Guyana such allegations ought first to have been reported to the Guyana Police Force for an investigation to be launched and the advice of the DPP sought".
Under Article 187 (1) C, the DPP has the power "to discontinue at any stage before judgment is delivered any such criminal proceedings instituted or undertaken by him or any other person or authority".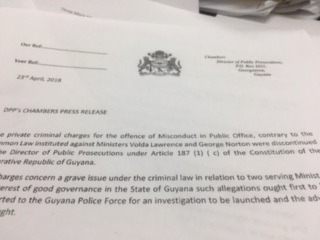 Around the Web