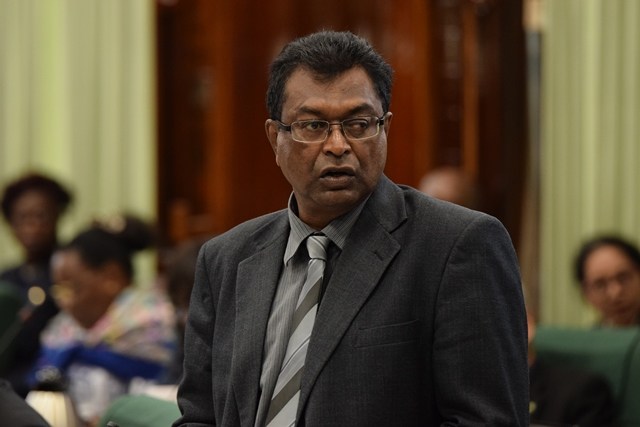 Guyana last night moved closer to abolishing wandering and truancy as crimes with the unanimous passage of the landmark Juvenile Justice Bill, which will see significant reforms in the way juvenile offenders are treated by law enforcement and the judiciary.
During a fiery five-hour-long debate, the parliamentary opposition insisted that the bill be sent to a special select committee to be "fine-tuned" before being passed but the government resisted, saying that the reforms have been on the agenda for too long.
"We have indicated that it is not going to any select committee. That is final. This government will fix its legislative agenda, not the opposition," Public Security Minister Khemraj Ramjattan, who piloted the bill through its final readings, declared above the shouting during his final comments to close the debate.
The bill, which was introduced to the House on March 15th this year, seeks to "amend and consolidate the law in relation to criminal justice for juveniles; to make provision for proceedings with respect to juvenile offenders; to provide for the establishment of facilities for the custody, education and rehabilitation of juvenile offenders; and to repeal the Juvenile Offenders Act and the Training Schools Act."
The significant reforms it proposes will become law once President David Granger gives his assent.
Ramjattan, who opened the debate, told the House that some of the major recommendations include raising the age of criminal responsibility from 10 to 14 years; ensuring that those persons below the age of 18 years are not tried as adults but are given adequate special protection; ensuring children below the age of 18 who are charged are provided with free legal assistance; and establishing separate remand homes for boys and girls below the age of 18.
Other reforms include the compulsory attendance at a vocational institution or specified education centre by offenders, community service or compensation to the victim in an amount which the juvenile's family can afford and the consideration of a referral or warning either from the police or the Director of Public Prosecutions (DPP) before any matter reaches the courts.
After quoting parts of existing literature which stresses rehabilitative and preventative measures, Ramjattan said that government wants to see the strengthening of justice system for juveniles and to make it responsive to them and their situations.
He added that government also wants to see a framework where professionals are in the forefront supporting juveniles rather than the police and prison wardens. "We do not want to make a jailhouse nation for our young people. We want to minimise the harsh punishment meted to our young offenders which can stigmatise them for life," he added.
To applause, Ramjattan said that the desire is for them to maximise their education, to rehabilitate them and to reintegrate them into society.
Ramjattan said that he supports the exclusion of offences which criminalise behaviour patterns of children who wander, who commit vagrancy, truancy and are runaways. "These actions are often the result of physiological or socio economic problems and it is of particular concern that our girls and street children are often victims of this kind of criminalisation," he said, while calling the situation an "inherent injustice."
Noting that children are being sent to the New Opportunity Corps (NOC) for wandering, he stressed that "these offences should be abolished and they have been abolished in this act."
He added that confinement must not be used as a penalty. "We must not betray young people by continuing the disposition of custodial sentences. This must only be an exercise of last resort," he said, before adding that government will give some attention to making the necessary changes and providing the needed resources, including staff, training of police and placement facilities as soon as possible.
"We must invest today in realistic, rational, sensitive and supportive interventions to reap the dividends for safer communities tomorrow, and ultimately a stable nation," he said.
'Age of responsibility
PPP/C Member of Parliament (MP) Dr. Frank Anthony, who was the first speak for the opposition, called for the bill to be taken to a special select committee. "The measures there are all good measures… there are some very small grey areas that we can quickly sort out and if we… take this bill to a select committee, so that we can iron out the small grey areas, then we will have unanimity, I think, with the entire bill," he added.
Anthony acknowledged that the bill is comprehensive as it seeks to cluster all matters related to juvenile justice "conveniently under one umbrella legislation." He pointed out that the bill speaks to
progressive approaches and seeks to rehabilitate rather than punish juveniles who run afoul of the law.
Anthony spoke of the need for domestic legislation to be on par with what exists internationally. He said that one of the weaknesses in the approach to juvenile justice is the lack of specialised counsellors. Interagency collaboration has also been a sore point, he said, before highlighting some of what was mentioned in drafts of the bill. He informed that there are differing views on what the age of criminal responsibility should be.
This was also later highlighted by his fellow PPP/C MP Priya Manickchand, who also sought to argue for the bill to be referred to a special select committee.
Manickchand, who served as both Social Services and Education minister under the former PPP/C government, said it was clear that some of the clauses need "some work" and sought to assure that once this was done in the select committee the bill could be returned to the House for unanimous passage.
She took issue with the age of criminal responsibility, noting that it needed much thought because countries have a different age depending on their situation and persons have said to her the issue needs to be carefully examined.
The bill proposes moving the age of criminal responsibility from 10 to 14 but the opposition is saying that 12 years is the ideal age. "It is best if we can have people on board…who are supportive of this legislation," she said, while adding that one has to look at the realities on the ground and the reasons for why other countries have a lower age.
Manickchand argue that there was no harm in sending the bill to a select committee for the benefit of the children and she then pointed out that all previous pieces of legislation relating to children had gone to select committee. She said that it will be a tragedy if the bill were "railroaded" through the National Assembly, while noting the obligations of the state under the reforms, such as providing legal representation and psychological evaluations. "You are not ready for that… I don't understand what is the harm in sending it to the select committee," Manickchand declared. "This is a piece of legislation that is necessary… that I wouldn't find any difficulty supporting but it needs fine-tuning… We owe our children a more deliberate examination of this piece of legislation," she stressed.
'Alternatives to detention'
Social Protection Minister and Government Chief Whip Amna Ally also spoke on the bill and she pointed out that youths coming from poor backgrounds are disproportionately involved in the juvenile justice system. "We must actively work to correct this," she said.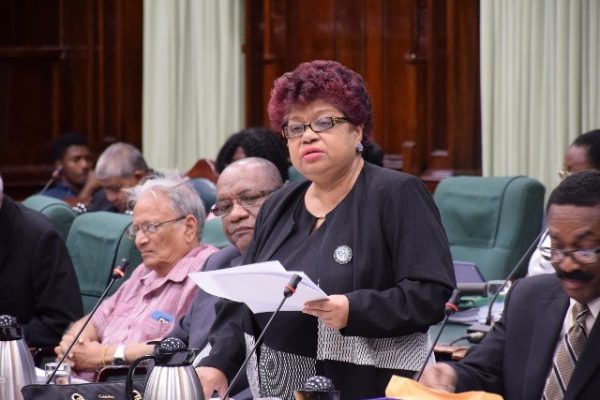 Ally stressed that the bill sets out diversionary measures, some of which will facilitate the Ministry of Social Protection in carrying out its mandate by playing a much more integral role in changing the lives of children through behavioural modification programmes as an alternative to detaining them. She then listed the many alternatives to institutional care, which she said is appropriate and are proportionate to the circumstances and offences committed.
"It is imperative that we support alternatives to detention because children should not be incarcerated… the vast majority have been accused of minor and non-violent crimes," she noted, while adding that juvenile offenders should not be cast aside but instead be given adequate care, including enlistment in diversion programmes to help guide them.
Diversion, Ally said, is intended to reduce stigma and corrosive entry into the system and help connect them to broader security service alternatives. She argued that this will lead to a reduction in the case load of judicial officials and probation officers as well as the number incarcerated. As a result, she said diversion is more cost effective than a detention system.
Ally emphasised that the passage of the bill would "usher in a new milestone… in juvenile justice reform," while assuring that her ministry stands ready to assist juvenile offenders. However, success, she said, would require increased collaboration among key stakeholders, including the Education Ministry, the Public Health Ministry, the Public Security Ministry and the Department of Youth, Culture and Sport.
Later, Opposition Chief Whip Gail Teixeira said "going to select committee is not a problem for us, it is a problem for you," while waving her fingers at the government benches.  She added that the bill is of importance and the government's reluctance to send it to the select committee for further review could not be understood.
She made reference to $81 million budgeted to be spent to build a fence at the NOC. "That could be better spent on setting up the programmes and facilities to make this bill happen not …on a fence," she added, while pointing out that NOC is not meant to be a prison and therefore she did not see the need for that amount of money to be spent on a fence.
She took issue with how the Director of Juvenile Justice is appointed and questioned the qualifications for the post and the availability of an office equipped with financial and human resources. This, she said, is a major omission.
Teixeira also said it is not good enough to just abolish wandering. "What are you doing with the children? You must have an alternative," she added as she called for the bill to be sent to the select committee in the best interest of children.
Ramjattan, in closing the debate, said the bill has been on the cards since 2004 and 14 years later the opposition is saying that "this and that should be put in."  He said he could not understand this argument, while noting that if anything was omitted it was because the opposition omitted it.
"In every respect this bill goes an extraordinarily far way… we cannot come up with the perfect bill…This spent 14 years under a PPP administration and three years under APNU+AFC, why not let us get on with the business?" he added before calling for passage and urging the opposition to bring amendments to the House if they find errors.
Also contributing to the debate were Minister of Legal Affairs Basil Williams SC and PPP/C MPs Gillian Burton-Persaud, Dr. Vindhya Persaud and Clement Rohee.
Around the Web