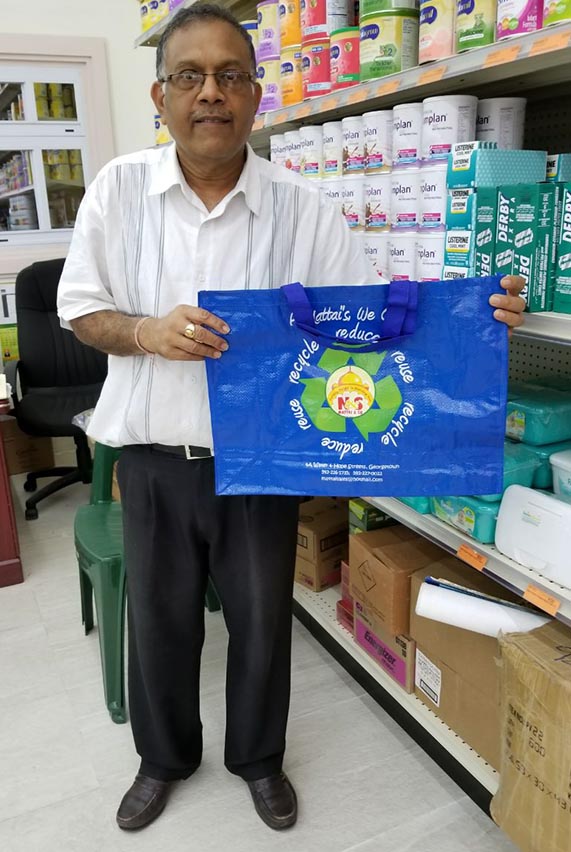 Although government recently announced its decision to consider a ban on single-use plastics, a change of culture rather than a change in policy may be what is first needed to tackle plastic pollution.
While the government prepares to deliberate on the latest strategy in its agenda to achieve a green economy, at least one local supermarket has been fighting behind the scenes for years to reshape the habits of its customer base by encouraging the use of reusable bags over single-use plastic ones.
But supermarket owner Harry Mattai can attest to the adage that old habits die hard.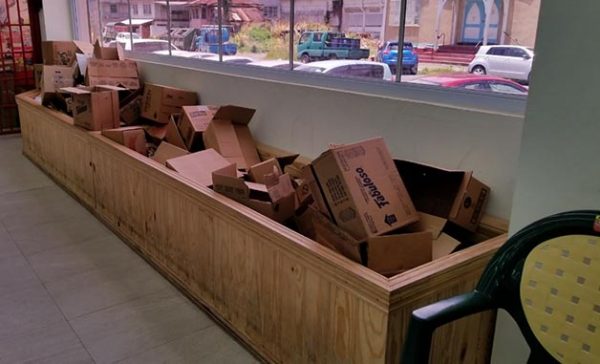 Mattai related to Sunday Stabroek that over the years he has employed a number of methods to reduce plastic bag use among his customers, including imposing a tax on single-use plastic, offering shoppers used plastic bags (bags returned by customers, which he said they refused), and distributing reusable shopping bags.
"Over a period of years; in the last two to three years, we brought in and gave away approximately over 20,000 reusable shopping bags…not a single customer have come back with those bags and reused them," Mattai, the proprietor of N&S Mattai and Company, related during a recent interview with this newspaper.
"…What we experience…is that it doesn't matter what tax, what added value you put to the grocery shopping bags…I've done it all—I've done the survey and all the tests done on the shopping bags and it's still not working," he stated, before adding that what they do know is that "if the customers have to pay for it, they'll pay for it."
In Guyana, the use of single-use plastic bags for shopping is embedded in the culture. It is likely that a trip to any retail store around the city, be it a supermarket, department store, or a corner shop, will see customers being offered plastic bags to accommodate their purchases. If it is not offered, they will likely request it.
Mattai acknowledged that while some of his customers now bring along  reusable bags, they use them only as a supplement to the plastic bags.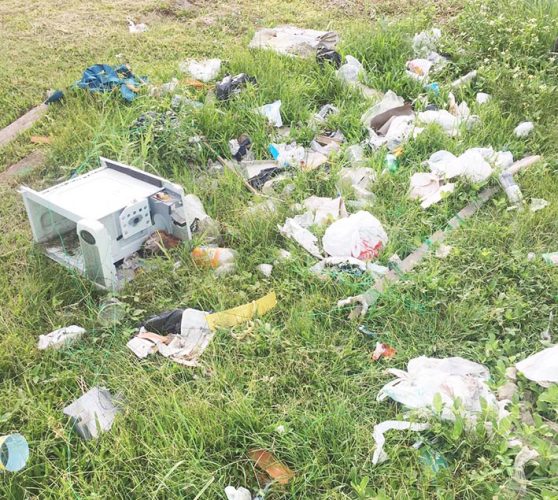 "…Presently, what we experience is the customers are coming with their bags in their purses or in their cars, but they still want to put it in a plastic bag and then put it in the bag," he related, before adding that customers often have another request—that their groceries be placed in black plastic bags specifically.
Mattai's Supermarket has since began importing biodegradable shopping bags, branded, "Mattai's Earth Friendly Lifestyle," with a nudge for customers to "GO GREEN" and a reminder that the bags are biodegradable and compostable.
"…With the biodegradable shopping bags, it still didn't help; but the only satisfaction to that biodegradable shopping bags is that in your heart you know that it will break up in the soil. With that in mind, we find our customers still want their bags doubled, still want extra bags. In a case like that we don't mind giving them because they use it for their garbage, and it goes back into the earth," he explained.
Mattai related that as far as he is aware, the biodegradable shopping bags do not come in black, like the bags that are popularly requested. However, as a result of customers' shopping habits (requesting that bags be doubled), the supermarket is sometimes forced to go into its "plastic bag reserve," which consists of the non-biodegradable product.
Mattai estimated that the supermarket distributes an average of 1,500 shopping bags a day. Mattai's supermarket is certainly not the largest retail distributor in Guyana, nor is it part of a chain, giving an indication of the high plastic bag consumption rate locally.
"…Those bags are costing us between $5 to $6 for one. We are not passing on that cost to the consumer, we are not. But in the last four months, we are trying to cut down on the bags that we give the consumers by educating them and saying, listen, this bag is strong enough; you don't need to double them. And they see it…," he stated.
Cardboard boxes
Another strategy that the supermarket has utilised to encourage shoppers to give up their plastic habit, is offering to pack groceries into empty cardboard boxes.
The area near the supermarket's exit now houses a large, rectangular wooden box, into which those cardboard boxes are packed.
"So what happens now is that when you come to shop our staff will ask you, 'Do you want boxes or bags?' So that helped to take out some of the plastic bags out of the landfill, or less using of the bags—but still, that's not the solution. The solution is that, I feel, that once the shopping bags—these white bags, these black bags and all these plastic bags are banned or stop coming to the country, the people themselves, the Guyanese public, will take that initiative of coming out and bringing their bags," Mattai opined.
Mattai explained that his passion for the cause, which is shared by his family, comes from having seen firsthand the destruction that plastics cause to the environment. He noted that he himself utilises reusable shopping bags on his shopping trips.
"I, personally, anywhere I go, I take a shopping bag with me…if I have to buy my tablets, I don't need a bag…if I have to go get a pastry, I don't need a bag; I go to buy a shirt, I tell them I don't need a bag. And, of course, you go to the stores, the people look at you and say, 'No, why not take a bag?' But by time you get home with it, you add it to the volume of bags that you have," he reasoned.
In Georgetown, plastic waste clogs the drainage system on account of poor disposal practices, leading to flooding in some places. In Guyana on the whole, the solid waste management system leaves much to be desired as waste is neither sorted nor recycled on a large scale.
According to the draft National Integrated Solid Waste Management Strategy, in 2010, plastics, a non-biodegradable product, accounted for 14.2% of matter within Georgetown's waste streams, statistics based on a study done by Hydroplan and CEMCO Inc.
Of that amount, 9.7% was attributed to bags and other plastic containers, and 2.8% to plastic bottles.
The strategy lists "reduce plastic bag consumption" under its goals.
"We at Mattai's here are willing to experience and undertake any programme or process that the EPA or government has to do regarding the shopping bags, because we are 100% sure that we can basically work around the bags," Mattai said, while opining that once consumers are left with no alternative, they will have no choice but to go the eco-friendly route.
Supermarket drive
On Earth Day, celebrated on April 22nd, the Environmental Protection Agency (EPA) partnered with major supermarkets to raise awareness of the need to end plastic pollution.
EPA Environmental Officer Whoopi Liverpool related to Stabroek News that the drive was intended to "encourage persons to start changing their attitudes towards the environment as it relates to plastic pollution." She further disclosed that the drive would also allow the entity to collect data on the public's response to such an initiative, so that trends could be analysed.
She noted that it is recognised that shopping bags account for a significant portion of disposable plastics globally and added that because supermarkets are one of the major providers of those bags, the decision was made to target these businesses.
Customers were encouraged on Earth Day to take their own reusable bags to shopping centres, instead of opting for plastic shopping bags. Bags were also distributed at the featured branches.
The drive included 10 supermarkets—four Bounty stores, Distribution Services Limited, Budget Supermarket, Survival Supermarket, Mattai's Supermarket, Real Value and the Massy Supermarket.
"The supermarkets that have taken part, they have demonstrated their interest in addressing the problem, they have also in the past tried their own initiatives to tackle the problem, where they've distributed their own reusable bags to customers," Liverpool related.
"This drive to combat plastic pollution, it continues all the way into World Environment Day, which is on June 5th. So we're hoping to pursue some other initiatives leading up to World Environment Day, so whatever data we collect, we'll try to see how we can do comparisons in the future to understand how the public is responding to this whole drive," said Liverpool.
On April 23rd, during the official launch of Guyana's Earth Day activities at State House, Minister of State Joseph Harmon announced that the Department of the Environment is working on a proposal that will include, among other things, a ban on single-use plastics in Guyana.
The document is expected to be taken to Cabinet shortly.
Around the Web