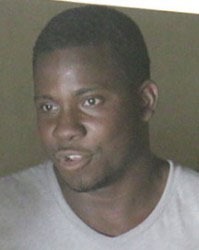 Former Pritipaul Singh Investments security officer, Marlon Callender, yesterday walked out the High Court a freed man after a jury unanimously acquitted him of murdering fisherman, Envil Pollard.
The 12-member mixed jury returned with its verdict after about two hours of deliberations.
A visibly relieved Callender, after being informed by Justice Sandil Kissoon that he was free to go, expressed gratitude to the jury and the entire courtroom, while apologizing to the family of the deceased for their loss.
Callender's mother and other relatives who could not contain themselves, were in high praises to God as his shackles and handcuffs were being released.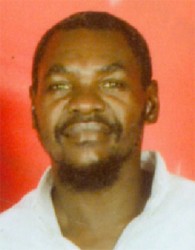 Pollard's relatives on the other hand, seemed visibly shocked at the outcome of the trial. The man's reputed wife, Ashmoo Khan broke down in tears. Kneeling on the corridors, she asked what she was supposed to tell her eight children about the father's case.
The woman had to be consoled by other tearful relatives who led her away from the courthouse.
Callender had been on trial for the shooting death of Pollard on January 29, 2015.
Leading his defence in unsworn testimony from the prisoner's dock on Monday, the former accused professed his innocence, stating that he was only defending himself from Pollard, who had been advancing towards him with a knife.
The former security officer had said that on the day in question he had asked the fisherman several times to remove from the prohibited fishing area of the Pritipaul Singh Investments wharf.
According to him, he had also fired a warning shot, but his warnings were all ignored by Pollard, with whom security officers had had previous confrontations about fishing at the private wharf.
Callender's story was that he became fearful for his life after Pollard advanced towards him with a "Rambo knife," while cursing and threatening to kill him. It was at that point he said he shot him. He had detailed being on armed duty when he was radioed by another security officer who told him that Pollard was refusing to leave the wharf though repeatedly spoken to.
The man had told the court that he then proceeded to the wharf area to "help the situation," as was entailed by his job description as a security officer at Pritipaul Singh Investments.
He said he thereafter had a confrontation with Pollard, which resulted in him discharging a "warning shot" from the 12-gauge shotgun with which he was armed at the time.
According to him, at this point Pollard was in his fishing boat beneath the wharf in the river.
Callender said that several minutes after, Pollard then went onto the wharf, armed with the knife and was behaving disorderly, cursing and threatening to kill him.
"I became afraid for my life and I asked him again to leave the wharf," he had said.
According to him, the man instead made a few steps towards him, at which point he fired a shot, which hit Pollard.
Noting that he had never before shot anyone, Callender stressed, "I was scared for my life when the deceased attacked me."
While stating that he was sorry for the loss of life, the tearful man said that he was only trying to protect himself and perform his duties.
It was the prosecution's case that a "trigger happy" Callender by his mere conduct, was intent on killing Pollard or at least causing him grievous bodily harm.
Lead state attorney Lisa Cave had argued that even if Pollard had been a nuisance, that was no reason for him to be shot and killed, while dismissing Callender's claim of ever being attacked by the deceased.
The former accused was represented by attorney Everton Singh-Lammy.
The state meanwhile, was represented by Cave, in association with Prosecutor Mandel Moore.
Around the Web