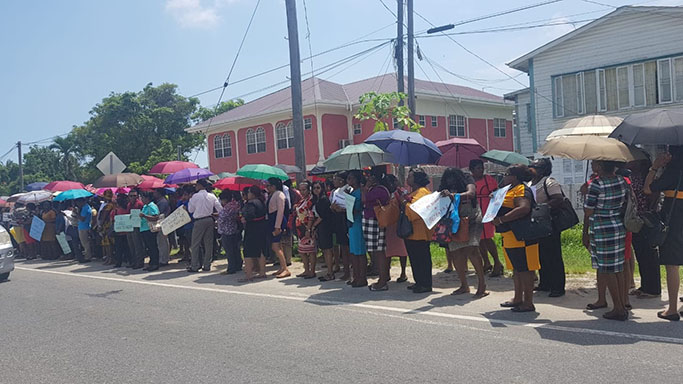 Over 100 striking teachers turned up in front of Region Three's Department of Education yesterday morning as they continued to press their case for hikes in wages as well as non-salary benefits.
"We nah wuk, we nah wuk 'til we get we increase, fine am fine am and give we…,' 'Ting- a-ling-a-ling, no school bell gon' ring 'til Henry give we, we pay…,' and 'Solidarity forever because the union makes us strong," were some of the chants heard while the teachers, armed with umbrellas and bottles of water outside the Vreed-en-Hoop office, indicated that they wanted their concerns addressed.
Currently, the Ministry of Education and the Guyana Teachers' Union (GTU) are at an impasse in their negotiation of what was thought to be a multi-year agreement addressing wages and benefits. As a result, a strike that began in the pre-term has continued into the start of the new school year.
One teacher told Stabroek News that her decision to strike was based on her need to better provide for her own children.
 "I have been a teacher for the past 24 years and I have three children who would have placed at senior secondary schools. Two of them are now at the University of Guyana, while the other is at the Bishops' High School but as a graduate teacher I cannot afford to send two of my children to University. I have been forced to ask one of my children to take a year leave from the university just so I can send the other to high school," the woman said.
"Working as a teacher for 24 years with a post-graduate degree and a Bachelor's in Education, my salary cannot take care of three children. We work so hard to bring out all these doctors, lawyers and here we are. I am not out here because I want to be here, I feel for the children, but I also have to do for my own biological children too. This is the point where I have decided that my children comes before the nation's children," she added.
Another teacher said her decision to join her striking colleagues was driven by her desire to no longer contend with overcrowded classrooms. "I am here to support my union and my fellow teachers because being a teacher for so many years we have been faced with many challenges in and out of our classrooms. One of the challenges I have been faced with as a teacher is having to teach 37 children in one classroom. We have overcrowded classrooms and we have to deal with that on a daily basis," the teacher related.
"What the minister said last night about hiring temporary teachers made no sense because we, who work day-to-day in the classrooms, are the ones who knows what it is like. Those teachers can't handle those children—the retired teachers nor those who are in-training—they will not be able to handle and deal with those children the way we who are in the classrooms every day are accustomed to doing… She should go in the classroom and see if she would be able to cope," she added.
Others lambasted the government for what they say has been the continuous disrespect shown to them by the ministers and they even suggested that ministerial allowances be cut to pay the increase.
"The present administration has no respect for teachers. If they had respect for teachers, they would not have been making certain comments about us teachers…If you cannot pay the increase, explain to us properly, don't try to railroad us and bully us like this.  That is why we are out here—they are not explaining themselves properly but they want us to comply," the man said.
"We know that they have the money because the allowances they get, they can cut some of that and give it to us," he added.
'No school'
Meanwhile, visits to some schools along the West Bank of Demerara suggested that more teachers were inclined to participate in the strike action.
The doors of the Parfait Harmonie Primary School were shut tight yesterday morning and students who turned up for school were told there would be no school as teachers were on strike.
Parents who had accompanied their children to school were seen leaving while some students lingered behind in what was an otherwise empty school yard.
Stabroek News also observed students from Malgre Tout Primary leaving the school's compound, some in the company of their parents, just after 10 yesterday morning.
Meanwhile, parents of those attending the Vreed-en-Hoop Primary School reportedly removed their children just before 10 after some were sent home after being told that there was no school.
However, Stabroek News was told that the instruction did not come from the headmistress but other teachers at the school. As a result, the school remained open with some parents reportedly assisting to maintain order.
Over at the Nismes Primary School, less than half of the school's student population was in attendance, but even so, Stabroek News was told that it still proved to be a task for the teachers who showed up to work. It was explained that while the school recorded the attendance of its 10 teachers on Monday, one has since been relocated by the Ministry of Education to serve at another school, while another has left to join the strike.
This newspaper was also told that some of those who showed up for work "cannot afford to strike" as they have scheduled practicums.
Similarly, at the La Grange Primary School, which also has a secondary department, it was noted that while more students showed up for school on Tuesday, the numbers reflected less than half of the total student population.
Regarding teachers' attendance, Stabroek News understands that of the 24 teachers on staff, four had opted to strike.
Meanwhile, though a 90 percent attendance rate for both teachers and students was recorded on Monday at the West Demerara Secondary School, this newspaper understands that six teachers proceeded to take part in the strike yesterday afternoon. On Monday, the GTU said 400 teachers from Region Three were participating in the strike. 
Around the Web