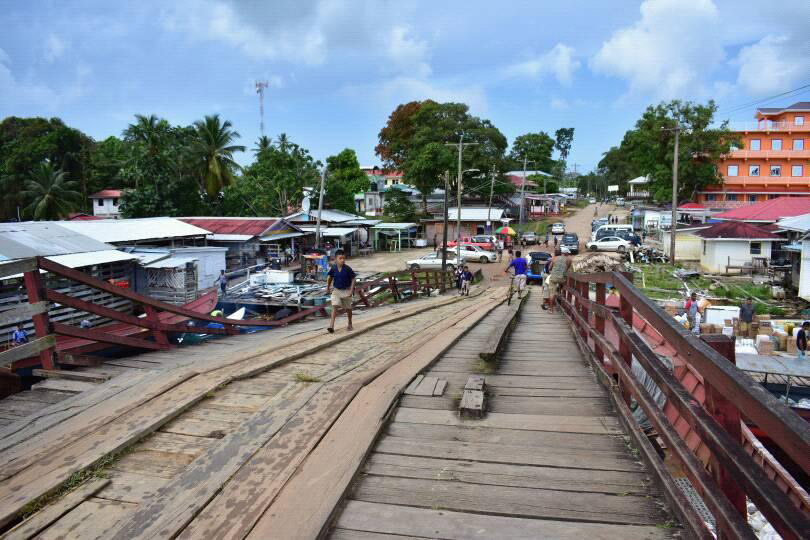 Residents of Santa Rosa Village and its immediate environs, in Region One, have voiced growing concerns over the current state of the San Jose-Kumaka Bridge, which was expected to be dismantled to make way for a new bridge, which was promised by government.
In May of this year, Minister of State Joseph Harmon announced that a $119 million contract was awarded to Mohamed Ramzan Alli Khan Construction to build a "proper" bridge at the location.
However, residents have noted a delay in the commencement of works, while noting the continued rapid deterioration of the current bridge, which has raised safety concerns and has also stalled other planned works.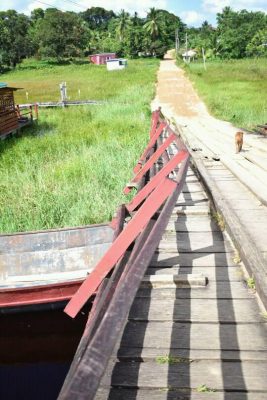 Photographs of the current bridge were shared on Facebook recently by residents, who noted that that it serves as a key piece of infrastructure linking two islands and is used by hundreds of students attending schools in the area, farmers and other commuters.
"The current condition is like really bad. The rails are literally falling off on both sides of the bridge at both ends. There are holes in the bridge," a concerned resident told Sunday Stabroek.
"For the time being, children are still crossing. I am also still using it. But it's a threat. Some vehicle might soon pass through. You can actually feel the bridge shake when you're on it when a vehicle pass," the man, who asked not to be named, added.
Similar sentiments were shared by Village Councillor Sharon Atkinson, who explained that the rails of the bridge are slowly falling off, while the planks on top of the bridge have rotted.
Atkinson told Sunday Stabroek that the project manager had visited the village in mid-July and said that works on the new bridge would commence in early August. However, they have not received any other information from anyone since that interaction in July.
"They requested that the waterfront area, which housed several shops, be cleared out so that they can have that area to work and we did that but nothing has happened since then. Part of the contract was to dismantle the bridge and put in place a system for people to cross… at one time they said they [were] going to make a catwalk or a draw bridge over the river and then another time they said they are going to pay drivers to take people across. We have already alerted and prepared our drivers for this but nothing has happened. The bridge needs dismantling and people are getting frustrated," Atkinson said.
"We also have a project to shape and grade roads but the machinery cannot pass and it's affecting a lot of other projects here, the roads are in a horrible state and we cannot get anything done," she added.
Minister of Public Infra-structure David Patterson, who was tagged in a Facebook post about the situation, responded to the concerns, saying that the challenge is that the bridge is the only structure that can be used by vehicles to cross the river. As a result, he said they are looking to keep the bridge operational for the longest period. "Shortly it will be dismantled and a new permanent concrete bridge will be erected, however to ensure that the fastest construction period, the contractor was not permitted to dismantle until ALL materials are on the ground," Patterson added.
The Minister also res-ponded to speculation by residents regarding the presence of young greenheart saplings that are being accumulated for use on the project. "We are seeing materials being cut and stockpiled similar to preparation for a wooden structure… on Kumaka waterfront. The young greenheart is stockpiled at Cabucalli," Atkinson commented.
However, the Minister in his response said, "At this stage I would not be overly concerned with the materials on the ground at present, most likely it's the materials to construct the "coffer dam." As you are aware, some of the construction will be below the water line, so the contractor has to [have] a dam or water tight working space to operate within."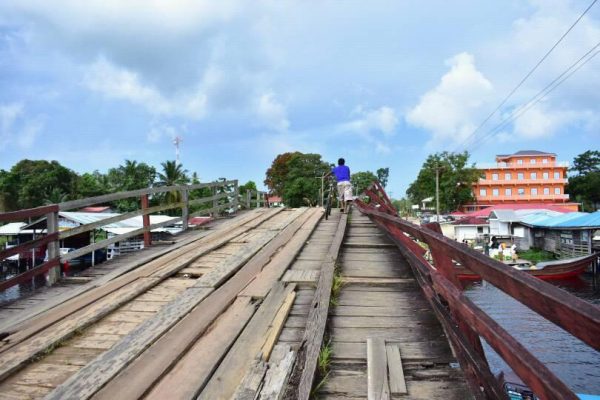 Notwithstanding, Atkinson told Sunday Stabroek that apart from the greenheart that is being stockpiled, no other building materials have arrived in the village for the bridge.
"They don't have anything much here, they have some greenheart piles, and some machinery in here but there [aren't] building materials," she said.
Additionally, Atkinson noted that a request was made by the Toshao of the village, Whanita Phillips, for the Village Council to be presented with the bill of quantities and a blueprint of design for the new bridge, however, they have only seen a "skeletal print" that lacks details of the design.
"To date we have not received any bill of quantities and that skeletal print can hardly be called a blueprint, it does not have enough information and we only got that two weeks ago via the RDC," Atkinson explained.
"We would have had cases where contractors did substandard work and we had a history of that with the current bridge and we don't want that to happen again with this bridge… the Toshao has been calling the project manager but no answer, the calls are going straight to voicemail and when persons come to our office we have no information to give them on what is going on," she added.
It was reported by this newspaper that in March 2014, that $43 million in works on the bridge were carried out by Hardat Singh, who was had also been awarded the contract to build the bridge in 2012. He was however accused by residents and observers of substandard work and for taking too long to complete the bridge.
Around the Web