Former Minister of Home Affairs Ronald Gajraj, who also served as Guyana's High Commissioner to India and Bangladesh died suddenly today.
He was 65.
He was pronounced dead at a city hospital shortly after noon. He had been rushed there after his collapse.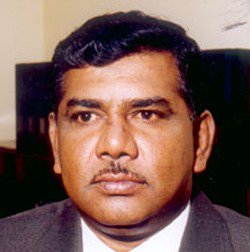 Former President Donald Ramotar confirmed his death and said he was saddened by his sudden passing.
"This is tragic and I am deeply saddened. I want to give my condolences to his wife, children, brothers and all his loved ones. I think it is a big blow to the country because he led the fight against crime. He fought against crime during a terrible time. Yet he was able, under his leadership, control the crime levels and that is something this nation must always be grateful for," he said.
Gajraj served as Minister of Home Affairs from January, 1999 to May, 2005, when he was forced to resign after local and international pressure was applied to the Bharrat Jagdeo administration due to allegations linking the minister to the activities of a death squad.
A presidential commission of inquiry cleared Gajraj of any involvement in the activities although it raised concern about his associations.
He was shortly after appointed High Commissioner to India by Jagdeo and kept a low profile thereafter. In April of 2015, just one month short of the General Elections, Gajraj was also appointed as High Commissioner to Bangladesh.
He resigned when the APNU+AFC won the elections in May 2015 and returned home and had been living here with his family.
The PPP today expressed shock at his sudden passing and issued the following statement:
Mr Gajraj served as Home Affairs Minister under the PPP/C Government from 1999-2005 and then as Guyana's High Commissioner to India from 2005-2015. Mr Gajraj will best be remembered for the pivotal role he played as Home Affairs Minister in the fight against crime at a very challenging time of this nation's history. Mr Gajraj was also a very loyal and dedicated supporter of the Party To his wife, Mrs Chandra Gajraj, his children, Aparna & Ranveer and his relatives, we extend our profound sympathies and condolences at this time of pain and anguish.
Around the Web