(Trinidad Guardian) "I'm always up for challenges."
That's the position of an unperturbed former national security minister Edmund Dillon who moves into his new job at the Housing Ministry today.
Dillon and others affected by Prime Minister Dr Keith Rowley's latest set of Cabinet changes commented yesterday on the development.
The Prime Minister's Office Facebook page posted the Cabinet changes around midnight. A media statement was issued at 12.22 am yesterday. Changes have been made each year since the People's National Movement (PNM) assumed office, particularly after La Horquetta/Talparo MP Maxie Cuffie's stroke last year, and regularly this year.
The main change in the latest reshuffle shifted Dillon from the embattled National Security portfolio to Housing. Dillon was replaced in National Security by Communication Minister Stuart Young.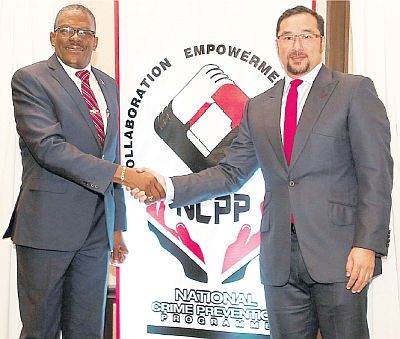 Dillon, who held National Security since Government assumed office in 2015, was informed of the shift on Sunday. Yesterday, he didn't respond to questions on whether his performance in Security—and criticism of that—caused the shift.
Instead, Dillon said, "I'm always up for challenges. In my entire career, I've embraced challenges and risen to changes. In whatever post I'm placed I'll do my utmost best.
"I thank the Prime Minister for allowing me to serve as National Security Minister and look forward to continuing service in Housing, a frontline ministry for decades, and assisting citizens' needs."
Cuffie, the former Minister in Public Administration who recently returned from medical attention in the US, was also shifted further "down" to Parliamentary Secretary in that ministry. A PS carries a lower salary than a minister or a minister in a ministry, Government officials said.
Contacted on his switch yesterday, Cuffie said, "I'm fine with the appointment and thank the Prime Minister for his continued faith in me. I return to work September 3."
Dillon/Gary can't work? —Moonilal
Opposition MP Dr Roodal Moonilal yesterday questioned the midnight reshuffle of the Cabinet.
"Nothing prepared T&T for this. Is it a reaction to Gary Griffith's appointment as Police Commissioner—did Dillon say he can't work with him? Or was it caused by the Opposition's recent no-confidence motion in Dillon, up for debate again in September?" Moonilal asked in a telephone interview.
"Dillon hasn't answered satisfactorily on his New York housing matter, now that he is appointed Housing Minister—the fifth in less than three years. At this rate, Government's as stable as Jello. Kamla Persad-Bissessar did calculate reshuffles annually. Rowley reshuffling every three months."
He added: "T&T's in for a shaky ride with a new Police Commissioner and National Security Minister lacking practical law enforcement/policing experience. What wrong has Glenda Jennings-Smith done, that, after being in Security for three years, she couldn't be elevated to Cabinet?
"Also, why did the PM inform the President that Marlene McDonald's resumed duties? Did they cut her salary? The President isn't a doctor, she only handles appointing or removing."
UNC MP Rodney Charles pointed out that Young was appointed "like a thief in the night" and questioned whether he had the experience to handle such an important portfolio.
"On what basis has the Prime Minister appointed a relatively inexperienced 'OJT' (On the Job Trainee) to provide strategic policy guidance, leadership and management expertise to National Security Ministry's 20,000 public servants?
"Young lacks known experience in Security and managing multi-faceted bureaucracy. Where will he find time to address three portfolios? Are his Communications and Security portfolios essentially one ministry about old talk? His only qualifications are that he's a talker in Parliament, a 'smooth talker.' For that, he may be suited to Communications to hoodwink the population into believing crime's down."
Around the Web