(Trinidad Guardian) Keyshawn "Boy Boy" Mckenzie yesterday appeared in the San Fernando Magistrates' Court charged with the murders of a Chinese businessman and a 16-year-old school boy, which occurred two months apart.
The 22-year-old Pleasantville accused stood quietly in the Second Court prisoner's dock as Magistrate Natalie Diop read the charges which alleged he murdered Noah Simmons, 16, and Chen Zhi Zhong, 24.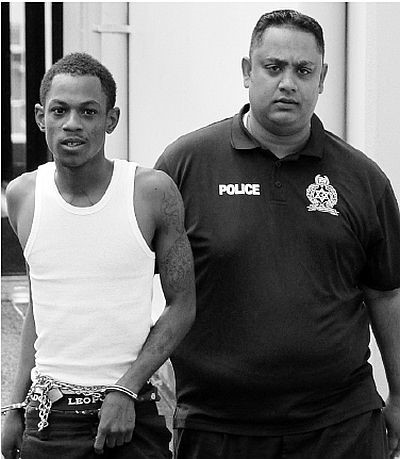 Simmons, a Form Four student and footballer of Shiva Boys' College, was at the home of his cousin at Union Park East, Gopaul Lands, Marabella, on May 8 when he got into an argument with a man he knew.
During the altercation, the man pulled out a gun and shot Simmons in the chest. The gunman fired several more shots into the air before running off, police said.
Simmons, who had turned 16 on that day, died on the scene. Zhong, 24, was at his business Karvill Supermarket Ltd, at Manahambre Road, Princes Town, around 12.12 pm on July 29 when a man came to the counter with a drink.
He then shot the businessman in the mouth and left hand. The man escaped in a Nissan Tiida. Zhong died in his business place.
McKenzie, of Ixora Lane, was arrested last Friday during an anti-crime exercise by officers attached to the Southern Division.
Following advice from Deputy Director of Public Prosecutions Joan Honore-Paul, McKenzie was on Wednesday charged by WPC Callender-St Clair and PC Mathura of the Homicide Bureau of Investigations Region 3.
McKenzie was represented by duty counsel Christa Jones who asked for disclosure. Court prosecutor Sgt Denzil Alexander said a copy of the summary of evidence would be handed over to her.
The magistrate transferred the Simmons murder case to the San Fernando First Court for September 6.
The other murder case was transferred to the Princes Town Magistrates' Court because Zhong's was killed in that area.
Mckenzie is expected to appear in the Princes Town First Court today not only on the murder charge, but other charges stemming from an unrelated shooting incident in Princes Town.
Sgt Roger Richardson laid those matters.
Around the Web