Guyana and India today signed three agreements, including on renewable energy and cultural exchanges, following bilateral talks between External Affairs Minister Sushma Swaraj and Second Vice President and Foreign Minister of Guyana Carl Greenidge in New Delhi.
According to the Indian news agency IANS "Three memorandums of understanding (MoUs), namely, renewable energy, cultural exchange programme and framework agreement on International Solar Alliance (ISA) were signed," the External Affairs Ministry said in a statement following the meeting.
The "Guyanese delegation also presented the Instrument of Ratification of the International Solar Alliance," the ministry stated.
According to the External Affairs Ministry statement,  Swaraj, during the meeting, referred to the historical and multifaceted ties between the two sides.
"The subsequent discussions focused on further strengthening India-Guyana bilateral relations, through cooperation in capacity building, promotion of business and trade, enhancement of people to people contact, cooperation on pharmaceuticals, sharing India's experience in information technology by setting up IT centres of excellence in Georgetown," the statement said.
There was no specific mention of any assistance for the reform of the sugar industry here.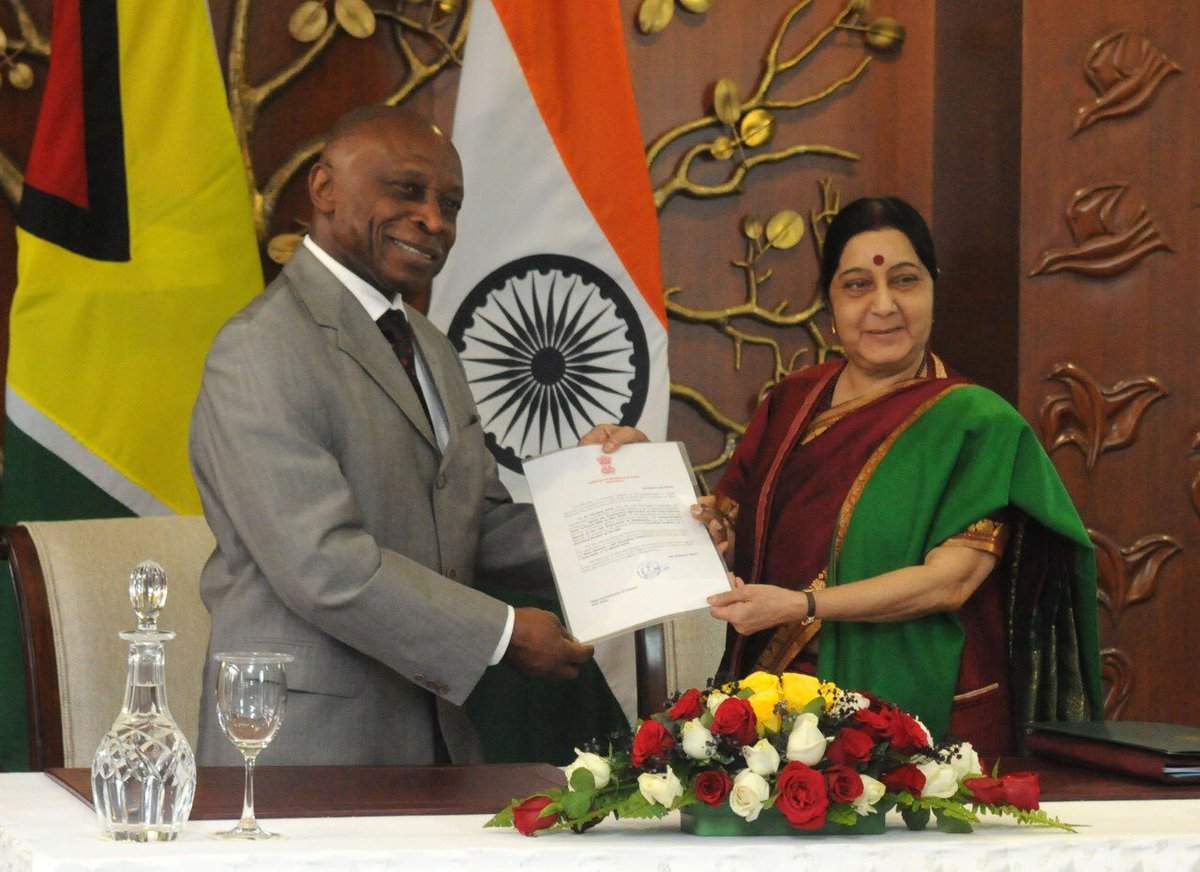 IANS said views were also exchanged on regional and multilateral issues such as climate change, solar alliance and UN Security Council reforms.
Bilateral trade between India and Guyana stood at $34.58 million in 2016-17.
India has done some high-visibility projects under line of credit (LoC) in Guyana, including a cricket stadium, traffic lights in the capital Georgetown and supply of 14 water pumps.
An LoC of $17.50 million for modernisation of three primary health centres has also been approved by the Indian government.
Comments

Even as he posited that Guyana was unequally matched in negotiations with ExxonMobil and other multinationals, British Professor of Economics and Public Policy, Sir Paul Collier last evening cautioned against pulling back the contract with the US company and affiliates, saying it can spell doom for Guyana's investment climate.

-SPU representative says efficiency improved by 40-45% Photos by Dhanash Ramroop Grinding has resumed at the Enmore Sugar Estate factory in a bid to make use of cane in the fields and to attract prospective investors.

Fly Jamaica Airways crewmember Hugh Hall was caught with US$160,000 worth of cocaine taped to his legs after a flight, according to NBC news in New York.
The Cheddi Jagan Research Centre (CJRC) has accused the government of deliberately frustrating its work, after the Guyana Post Office Corporation (GPOC) failed to deliver on time an order of commemorative stamps to honour the 100th birth anniversary of the late President, Dr Cheddi Jagan.

A case management conference was yesterday morning held to set timelines for preliminary hearings ahead of the trial commencing in the challenge mounted by the Cheddi Jagan Research Committee Inc.