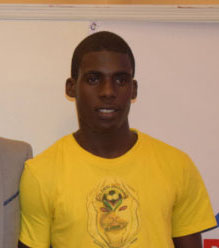 Golden Jaguars Center Back Jeremy Garrett, is banking on his maturity and preparations ahead of an audition with American Football Club, DC United on Friday, in the United States.
The 18-year old, who journeyed to Lisbon Portugal for a similar undertaking in 2016, indicated to Stabroek Sport that he is 'trusting the process' and understands the weight of the opportunity presented to him.
"I look at this as a steppingstone for youngsters coming up. I don't only look out for myself; it's a very good opportunity that I have in front of me and for me to grasp it with both hands, it would be beneficial for Guyana and for other youngsters looking up to me or football in general," Garrett, who departs today, said.
Garret received the call for the audition two weeks ago and he told Stabroek Sport that his regular minutes on the field for his local club, Fruta Conquers along with the experience from Lisbon places him in good stead to impress DC United's front office on Friday.
"I've been preparing all along," he was quick to highlight while adding: "I've been playing in the Elite League because and we just came out of the first half of the season so preparations have been good.
"The same process that got me called up the first time, is the same process that has given me this opportunity and I've been playing more games this time around," the Fruta Conquers defender disclosed.
Commenting on lessons learnt from his time in the Portuguese football craze country, Garett underscored the need to better equip youngsters with the capacity to meet the tactical and technical expectations of scouts.
"Seeing the work out in Portugal, the tactical and technical work there was way above what you experience in Guyana.
"For me, those were the two areas I needed to work on and I have been working over the past two years. Hopefully, now I can show DC United what I'm capable of and they can sign me to join their academy and from there burst to the MLS."
According to the youngster, while he is eligible to make the cut for the Under – 19 team, the American Club is more focused on having him represent the club's Under – 23 unit, based on how he performs at the tryouts.
The opportunity of realizing the dream of playing in a pro league, according to the former Chase Academy Student, will also come as a sigh of relief for his family who has backed his aspirations ever since he laced his football shoes at the age of eight.
"My family has been behind me since I was 8-years-old and I know sometimes they might be between a rock and a hard place because they are not seeing any progress but if this can comes true and I can get the opportunity to go to a college and play in the U.S for DC United then this would be a great joy and warmth for my family," a transfixed Garret explained.
Garrett, who hails from the community of Lodge, Georgetown, has been representing Guyana since 2014 at the youth level and later went on to dribble his way into the senior Jaguars setup, three years later.
Around the Web