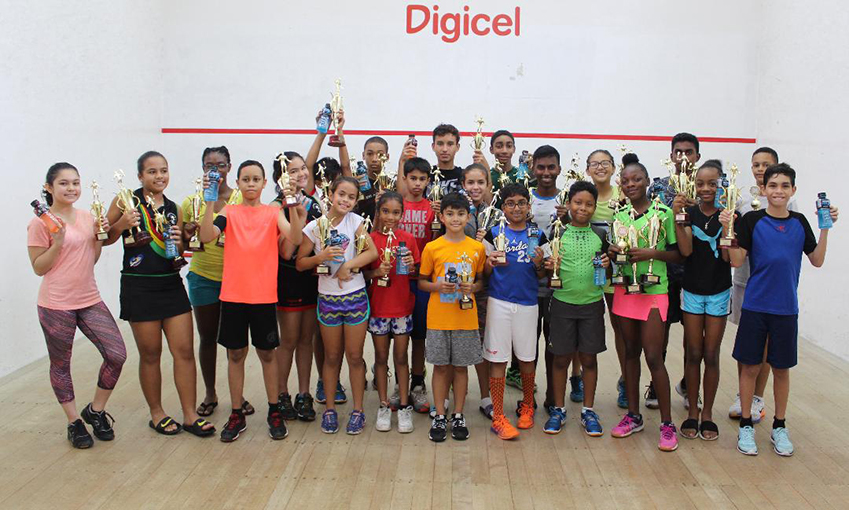 Reigning Caribbean Area Squash Association U15 champion, Shomari Wiltshire, retained his Woodpecker Products junior national U15 squash title while also completing the triple by capturing the boys U17 and U19 titles at the Georgetown Club courts yesterday.
His U15 counterpart Abosaide Cadogan was in triple threat mode as she too won the U15, U17 and U19 titles.
Wiltshire defeated Daniel Islam in straight sets in a match that was used to decide the U17 and U19 winner.
Though the match was played with intensity, Wiltshire displayed his skillset to take the first set (which he led 7-1) 11- 5 to go one up.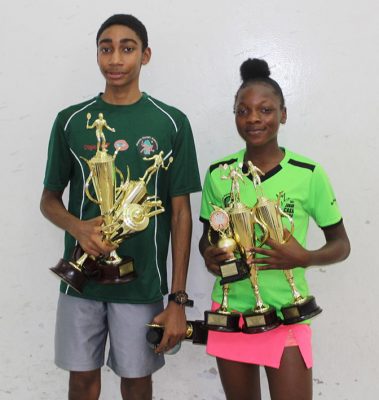 Islam took an early lead in the second going 4-1 up but failed to capitalize on the early lead, dropping the second set 9-11 as Wiltshire was at his usually precise best in executing a few well-placed drop shots which often got a satisfying reaction from the crowd who reacted, "shot".
There was no respite for Islam in the third as Wiltshire closed out the match with a commanding 11-5  win.
The day prior, he defeated Samuel Ince-Carvalhal in straight sets to retain the U15 title, defeating Ince-Carvalhal 11-3, 11-4, 11-7.
Cadogan defeated Kirsten Gomes in the final girls U15 match 3-1 which was also used to decide the winner of the girls U17 and U19 winner since Cadogan had defeated favourite Makeda Harding in the U 17 and u19 match on Friday.
She had an early 6-3 lead in the first and completed the win 11- 5 after an enthralling rally which punctuated the first set.
Gomes bounced back to snatch the second 11-8, outsmarting Cadogan in the process.
Cadogan, however, who played a lot more tactically in this tournament, employed great skill to go along with her agility to get hard to reach balls and win the third and the fourth sets 11-3, 11-5.
Winners are decided based on their seeding after their round-robin matches and Wiltshire by winning all four of his games, the last against Ince-Carvalhal, retained his U15 crown.
Michael Alphonso captured the boys U13 title after defeating Demetrius De Abreu. Both players were unbeaten in the matches leading up to their final match, presenting a virtual final. Alphonso won in straight sets 11-6, 11-1, 11-9.
The girls U13 crown went to Paige Fernandes who defeated Beau Fernandes 11-1, 11-5, 11-5 to end unbeaten en route to her crown.
Christina Fernandes who ended unbeaten yesterday defeated Malia Malko in the final girls U11 match to take the girls U11 title. She took the match, 11-7, 11-4, 11-10.
Louis DaSilva won the boys U11 crown after easing his way past Chad De Abreu 11-2, 11-0, 11-1.

Around the Web