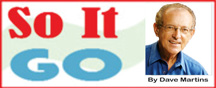 For someone who grew up in modest circumstances and very limited exposure to what Guyanese in those days referred to eerily as the "outer world", I ended up in a musical career with Tradewinds (something simply unthinkable for me when I left Guyana) which led me to spend time in a number of places in what is widely referred to as "the West".  I lived in an apartment in Toronto, with my first wife, Dorothy Walker, later a suburban house of our own there, and, later still, a home on the island of Grand Cayman, Cayman Islands, in an area called Northward, with my second wife, Angela Ebanks, but I had also been almost everywhere in the Caribbean (except Saba and Barbuda) and across the US and Canada with Tradewinds since 1966.
I had grown both as a musician and a person in the Toronto years, and, incidentally, became more of a "Caribbean man" living there than I had been back in my native Guyana.  I've written before about the cultural awareness that was originally propelled by a linguistic class at Ryerson University there, and of the hands-on process of learning the music business at a level I could never have found in my homeland. As it is with most immigrants, Canada widened and strengthened me in a number of ways in the 22 years I lived there, and left me with a respect and an affection for things Canadian, among them the hockey Maple Leafs recently in the Stanley Cup chase.
But looking back on my life, I see pivotal influences, too, from the 25 years I spent in Cayman before returning to Guyana nine years ago.   One of them was a better awareness of Caribbean behaviours and influences, and an understanding of the Caribbean tourist economy, partly through the connections of my second wife, Angela, who had been the country's Director of Social Services and its Director of Tourism for several years.
Cayman is a unique place – with a culture unlike anything else in the Caribbean.  Its early story, before tourism, was largely a maritime one (no sugar, no rice, no tourism) with highly skilled boat builders, producing several famous schooners, and an economy largely dependent on Caymanian sailors who had gained a sterling reputation in the merchant marine of several countries. Originally, a dependency of Jamaica, before gaining its own Crown Colony status, Cayman's population is an intriguing mixture of people from close to 100 various nationalities (yes, 100) with strong ties to Britain that remain to this day, and the names in the country's telephone book reflect that change, ranging from Russian to Filipino and everything in between.   There is a wide religious base operating in the culture, with, in a country of only 58,000 residents, a surprising range of places of worship, each clearly doing well with their individual congregations, and the sociologists often point to this as an important factor in what makes a Caymanian.
Perhaps from its marine background, and its simple way of life, Cayman was fertile ground for someone like me with my inclination to writing songs about the society around me.  The Tradewinds band was already popular there from Radio Cayman pounding our recordings, and that indeed is how we ended up there in the first place – prior to that I had never heard of the place – being asked in the late 1970s to headline the country's national festival, Pirates Week.  Marrying a Jamaican-born Caymanian, and relocating the band to Cayman in the 1980s, I was thrust head and shoulders into the Cayman culture.  In its simplicity and directness it had a similar ambience to the West Demerara area of Guyana where I grew up; I felt a definite "country man" attitude in the Caymanians I kept meeting.  There is a humility to Caymanians, something one does not always find in the Trinidad or Barbados or Antigua cultures, and that appealed strongly to the "country boy" in me from the beginning.
Early on, as well, as I learned more about the place and seeing things of value or merit, I began writing songs about it, springing from the culture, and a kind of admiration pastiche sort of grew up between us – something which I recognized and valued from the beginning.  Probably because the barriers between us had been broken by the Tradewinds songs they knew, many of these senior Caymanian people opened up to me – it's actually a long list of names – leading me to understanding them better and, gradually developing an affection for them in the process. (A few of them did categorise me "foreigner" but the vast majority made me very welcome over the many years I lived there.)
As I write this, one week from now I'm headed for Grand Cayman where I'm going to perform in an event called Rundown which is a theatre show I started there 25 years ago and which is still being staged, 9 years after I left, by my Guyanese brother Henry Muttoo who runs the Cayman National Cultural Foundation there.  Henry has been the director of this variety show Rundown (in Cayman lexicon, a kind of metemgee) from the beginning and it is now part of Cayman culture; some Caymanians refer fondly to Henry and me as "the Guyanese Mafia".  On the 25th anniversary of the show, the Foundation invited me back to do a guest spot in the programme and that's where I'm headed on April 24.  I've recently written a nostalgic song about the place, it's called DIS AH CAYMAN, and the opening verse goes:
"I first came here in '83 and wound up married with three pickney
And I came to know Cayman gradually, inna dis Cayman
Things were quiet all around, only one traffic light in town
But it looked like a good place to settle down, inna dis Cayman."
Cayman has truly been a major plank in my life, and I'm looking forward to next
week.
Around the Web