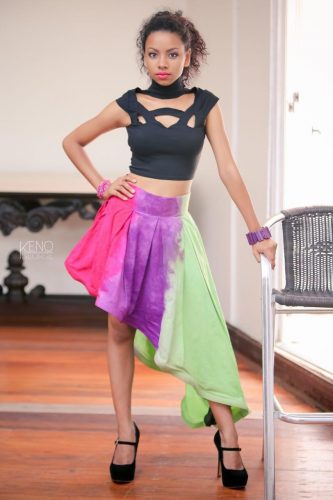 Ariel Cappell has been strutting runways flaunting the latest designer styles for the last four years. Her expertise makes her one of the most sought-after models in Guyana for runway shows, commercials and photo shoots.
Over the last four years Ariel has walked the runway for the likes of Jason Shurland, Olympia Sonaram and Sonia Noel among other designers. She has done photo shoots and commercials for Pink Memo Boutique, John Lewis Styles, Classics Styles Boutique, Exclusive Styles and GTT.
While a young teenager Ariel was always fascinated by fashion shows and would often be glued to the internet taking it all in. It was models' posture, she said, and the courage they displayed with each step that made her grow to like modelling and vow that someday she too would strut a runway…..
To continue reading this article
Comments

Kareem 'cKush' Lewis's latest song "Another Day" has been blowing up the airwaves on 94.1 Boom FM and 98.1 Hot FM since its release last month.

Poetry on a stool and tassa drumming are among the treats as the Rupununi Music and Arts Festival continues today at the Manari Ranch.

Police Constable of Brickdam Police Station Michael 'Smallie' Small placed third with his song "Help Meh Stop the Violence" at the Junior Calypso competition on February 3, at the Mahaicony Fun Park.

Renata Burnette has been lighting up the poetic stage for the last two years.

Reggae/dancehall singer and songwriter Owen Adams recently released his brand new single "Life Too Short".