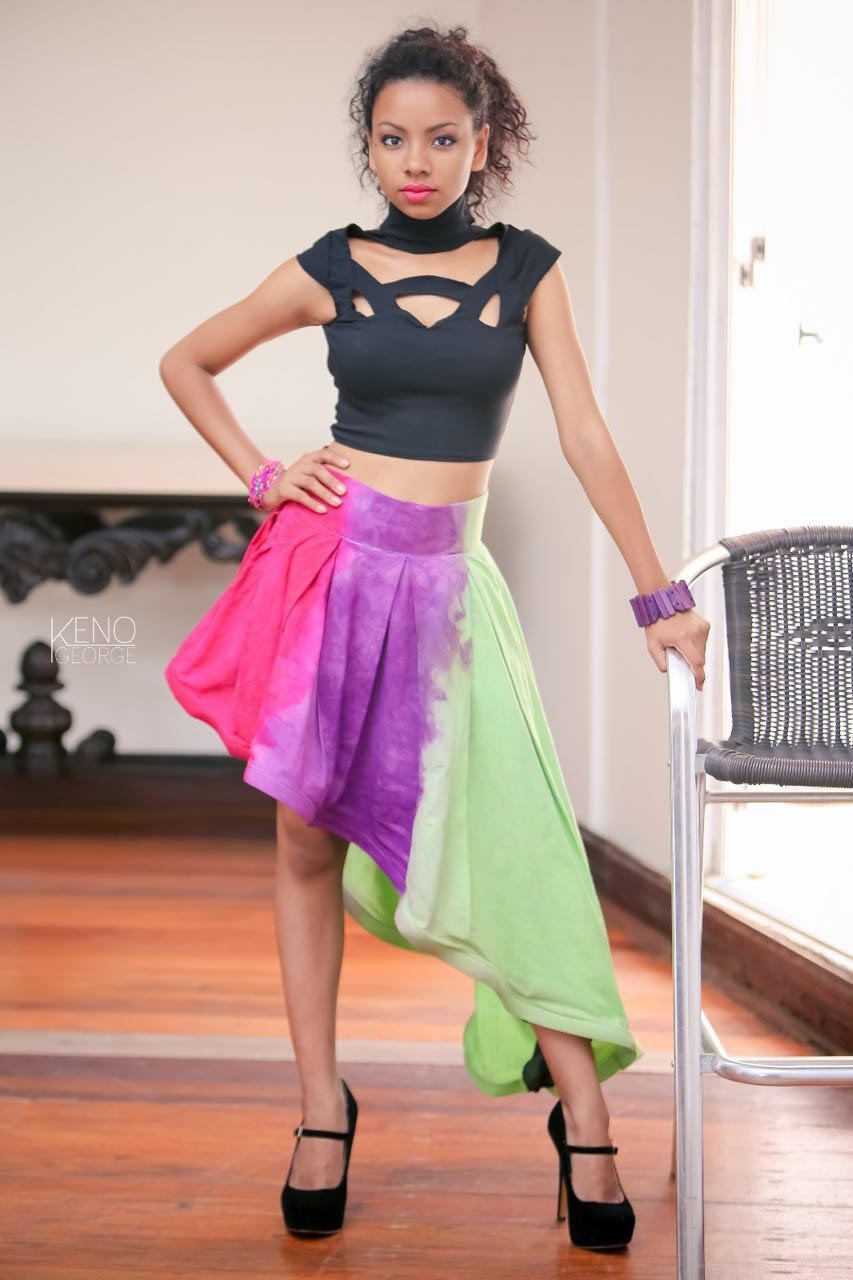 Ariel Cappell has been strutting runways flaunting the latest designer styles for the last four years. Her expertise makes her one of the most sought-after models in Guyana for runway shows, commercials and photo shoots.
Over the last four years Ariel has walked the runway for the likes of Jason Shurland, Olympia Sonaram and Sonia Noel among other designers. She has done photo shoots and commercials for Pink Memo Boutique, John Lewis Styles, Classics Styles Boutique, Exclusive Styles and GTT.
While a young teenager Ariel was always fascinated by fashion shows and would often be glued to the internet taking it all in. It was models' posture, she said, and the courage they displayed with each step that made her grow to like modelling and vow that someday she too would strut a runway.
Someday didn't take too long as Ariel was still in her teen years when she was first be introduced to the model industry through a photographer friend, Sean Charles who talked her into doing her first photo shoot. She noted also that his encouragement was what she needed to step out and she will be forever grateful for the opportunity he gave her.
This led to her first fashion show 'Allure' which was sponsored by a handful of boutiques. Allure, she said, is still memorable. There was so much excitement in the air and best of all her family, her biggest fans, was there to support her. It was a bit nerve-wracking, but who wouldn't be when making a debut. Having all eyes on her when she stepped out on the runway, along with the lights and the flashing of cameras was overwhelming. Yet she managed to learn during her very first catwalk strut that the secret to overcoming this is to never look directly at the crowd but try to look a little above the heads, remember your steps and always smile; this always does it for her.
Since taking up modelling, Ariel has seen several advantages. "You're recognized for your work and commended on it by esteemed persons. You see yourself around the city perhaps on billboards, in theatres, on television and in the newspapers, but one of the best advantages is that you're allowed the opportunity to be a role model for the younger generation… [There are] young persons who aspire to follow in my footsteps and who admire me and my work as a model," the 22-year-old stunner said.
After her first shoot was aired and eventually made the newspapers in advertisements she found the drive to be persistent, to stay true to herself and remain courageous and just do it. With every new shoot or show, she is driven to work harder and maybe someday she will be modelling internationally.
But though there are advantages, Ariel has had her own set of challenges to deal with, like having to say no to persons who in wanting models to display their pieces have their own hidden agendas. Because she is not one to drop her standard, she takes the high road, refusing to be used just to gain popularity. Another challenge is having to turn a deaf ear to people who discouraged her from modelling because of her height. Ariel is just 5' 4", but because modelling was what her heart so badly wanted, she could not be stopped. There is also the fact that she is unable to have a full-time modelling career because modelling in Guyana is not feasible; there are never enough shows or gigs. Ariel's job as a custom broker helps to maintain her, as a model's pay could never be sufficient here and therefore many times she chooses to step out on a runway or do a shoot for the love of it.
"Models are not supported enough in Guyana in terms of finances and having that motivation and positive energy coming from friends and family alike. What I would like to see is bigger companies getting on board hosting and/or sponsoring fashion shows which would be a 'win-win' situation for everybody as the model and designer would get the exposure they are looking for and the companies would get advertisements in return. It would be much appreciated if persons that are classified to be of high stature can be more genuine and eager to train and help models find good promotional and runway gigs," she said.
The former Winfer Gardens Primary and Business School student had always liked a challenge back in her school days and was always looking forward to new things. She describes herself as someone who was jovial back then and remains her bubbly out-going self.
This Leo beauty, when she has free time, enjoys reading, painting, playing chess and researching interesting topics.
Around the Web