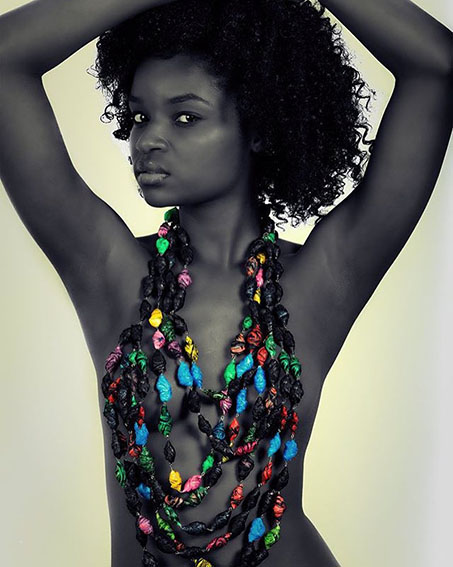 Twenty-six-year-old model Onesha Hutson has been strutting the catwalk for the last seven years in and out of Guyana and her exploits include finishing second in the Miss Jamzone Guyana in 2014 and becoming queen of the local leg at the Miss Global International Guyana the same year. She is now vying for the Miss Venus Model Caribbean slated for Anguilla on June 30. 
The second-year University of Guyana medical technology student began modelling at the age of 19. It all began one evening while she was being escorted by longtime friend and designer Mwanza Glen to a pageant at the National Cultural Centre. Onesha was flaunting one of Mwanza's pieces and high heels. Mwanza, picking up on her height and gait in the heels encouraged the 5ft 9ins beauty to participate in the upcoming Miss Guyana Universe pageant. She did but did not place. However, her experience in the pageant opened the door to her modelling career which commenced with a gig for Wanza's Designs.
In a sit down with The Scene, Onesha said she has always been sports oriented and while attending St Rose's High would be caught up in basketball, volleyball, badminton and table tennis. Her school life saw her taking on parts in plays, doing impromptu speeches, participating in debates and writing short plays, some of which found their way to the school stage. With all of that on her plate she never had time for modelling at school events or to enter pageants, although she grew up watching the various international pageants whenever they were aired.
Pageantry, she said, was far from her mind and she explained, "I was always skinny in school and was conscious of it. I had friends who were too and were teased and called names for it. Though I was never a victim of this I always somehow expected to be teased for my height eventually. So having grown up being conscious of this, I was sure I wasn't pageant type."
However, having taken in the Miss Universe Guyana pageant that perspective of herself began to change. This particular pageant gave her one of her favourite experiences. "From pageantry I've become a better public speaker and I voice my opinion better. It paved the way for me to do forums. It boosted my self-confidence. It allows me to be a role model and keeps me on my toes knowing persons are always looking on," Onesha said. And in relation to modelling: "Modelling helped [me to embrace] my feminine side and helped me in knowing the appropriate fashion for the respective occasions."
Since then Onesha has participated in fashion shows locally and internationally strutting the catwalk for Guyana Fashion Week in 2009, 2011, 2013 and 2015; Suriname Fashion Week in 2016 and 2017 and in French Guiana in 2016.
The Taurus stunner would also have modelled for Sonia Noel, Jason Shurland, Nachle Designs, Carol Fraser, Andy Cummings and Mark Junor, all local designers. Junor is the official designer for Onesha in the Miss Venus Model Caribbean Pageant. Internationally, the model has displayed pieces for Warda Murica (CEO of Suriname Fashion Week), Abraham Lienge and Akasha Knott of Suriname, Sohan Badall of Trinidad and from Trinidad as well Creative Designer for a number of fashion Shows in the Caribbean and former judge on Caribbean Next Top Model, Richard Young including a few other designers from Trinidad and China.
Onesha said she was always admired for her natural look and hair and would be the ideal model for specific designs.
Challenges
Throughout the years since she took up modelling and pageantry she has dealt with various challenges and would rely on her supporters, mostly her family. "Generally, I'm an independent person but I have a great support system that I draw from – my sisters, my mother and grandmother."
When asked who her inspiration is, Onesha said her mother, who dropped out of UG after becoming pregnant to raise her and tried her best to put her children through school. Even now her mother is helping to raise her daughter so that she can finish school.
It was through Khaya., her daughter, she shared, that she learnt of new challenges in life and it was Kia also she said who helped her realize how strong she is. "It was an added motivation and an inner strength was founded having transitioned from a woman to a mother in the prime of my modelling career. It was a challenge at first, but I gained strength from it," the young woman said. Onesha is all about her daughter because of their experience together, having had to include studying and work while raising her daughter, she decided that her platform for this particular pageant will focus on working mothers.
She will be working along with Alicia Bess and Tracy Smith who recently participated in the Miss Universe Guyana. Together the women will carry out a survey on working mothers, the challenges they face and how they deal with them. They will also be hosting a forum where some prominent working mothers in society will share their bit. "The main focus of the forum is to help mothers realize that whatever they are going through, it will eventually come to an end. The forum aims to help persons in setting short and long-term goals and how to achieve this," Onehsa said.
The upcoming pageant will have a featured category that highlights parts of the eight-hour community service each contestant is expected to carry out; the forum will be included in this.
Onesha, a freelance model, chose to stay away from agencies and said in doing so she is able to market herself and explore as she chooses.
How she manages to stay fit? In explaining this she laughed noting that she has a hyperactive daughter who helps. Kia has always been part of her workout routine and she would incorporate part of their mother and daughter time into this; she puts in an hour every day, usually with Kia strapped to her. Onesha does not have a particular diet, but she tries to have few sweets and a lot of water.
Though in her earlier years she was never a pageant fanatic, she claims she is now and hopes to one day share the spotlight with her daughter in the Mother and Daughter pageant and eventually to participate in the Miss Renaissance Pageant also. She encourages young women to be open to pageantry saying that in being groomed to become queen, persons are pushed to become the best version of who they are inclusive of etiquette, proper posture and impromptu speeches.
In her free time Onesha loves travelling, spending time with her family, volunteering with St Rose's High from time to time in tutoring and reading. Her favourite author is Jackie Collins. It was one of Collins' books, Dangerous Kiss, that allowed Onesha to see herself in a different light. She was drawn to one particular character who reminded her of herself. The character, she said, found pride in her kinky hair and though the character was a high-class person, she was reserved and shy. From her, Onesha drew the strength to always be herself and realize that nothing could hinder her.
Onehsa now works at the Balwant Singh Hospital but hopes that in a decade's time, having completed her degree, she would open a non-profit organization that caters for women and girls and collaborate with friends in making life free from discrimination for persons in the LGBT community.
The Miss Venus Model Caribbean gives the crowned queen the opportunity of a full-scholarship to the University of the West Indies. Onesha leaves next Wednesday for Anguilla where she will begin participating in preliminaries alongside representatives of eight other countries up until the coronation night set for next Saturday.
The model took the opportunity to acknowledge her support team: Mark Junor, Tracy Smith, Kiefer Bacchus, Mwanza Glen and Alicia Bess.
Around the Web