Head of the National Secretariat of the Guyana Extractive Industries Transparency Initiative (GY-EITI), Dr. Rudy Jadoopat, has said that the organisation has not been privy to the cost of the agreement between ExxonMobil and Ogle Airport Inc. (OAI), for the lease of land for the oil company's corporate head office.
Ex xonMobil Guyana will be leasing 15 acres of land from OAI at Ogle, East Coast Demerara, where the company's corporate head office will be constructed.
Sources explained that the oil major was in negotiations with Ogle Airport Inc. since 2017 for lands but OAI's former lease with government was scheduled to expire in 2028 and the company wanted a longer period before it committed to an agreement.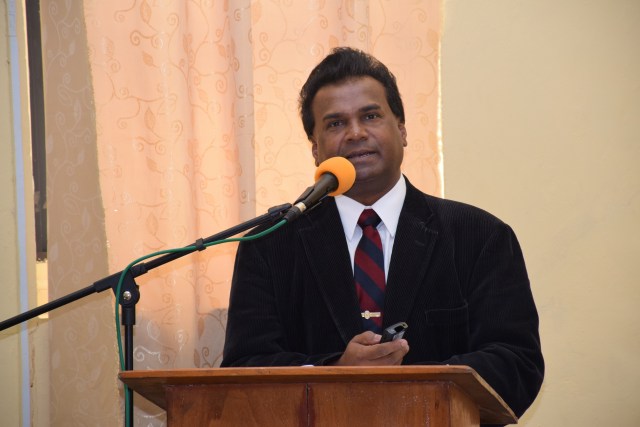 Last year, the GL&SC entered a new 50-year lease with OAI, and OAI in turn with ExxonMobil.
The oil company's Senior Director, Public and Government Affairs, Deedra Moe, had stated three weeks ago that the company was advancing its plans to construct an office building near the Ogle airport for long-term use. Subsequently, NABI and KCL Oilfield Construction Services Guyana had announced that they have been awarded the contract for the headquarters' construction.
However, the cost of the lease between the company and OAI remains unknown and when Jadoopat was questioned on Tuesday, he explained that no cost has been declared to his office.
Instead, Jadoopat explained that they are currently preparing their first EITI (Extractive Industries Transparency Initiative) report, which should be published by April 25, 2019and will cover all associated costs and information pertaining to the natural resources sector from 2017. Next year's report will deal with the data and information for 2018.
Jadoopat also pointed out that the EITI does not request figures from day-to-day operations. "We are here for transparency and accountability, we don't examine things as they happen right now. It's just for the reporting year that they [EITI International Body] are asking for," he stated.
Under the global EITI, all monies paid by extractive companies within a particular country have to be reported as a means of ensuring transparency and limiting room for illicit transactions.
Around the Web