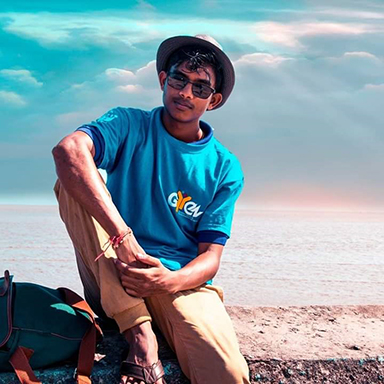 Twenty-year-old Kevin Somwaru is set on making his mark on the photography scene and is using his photography talent and his skill as a graphic artist to create magical photos, more specifically with his Milky Way themes.
Kevin was always fascinated by nature, especially Biology area which also turned out to be his favourite subject in school. He is currently a second-year student at the University of Guyana majoring in Biology. Photography, he claimed, goes hand in hand with this. Kevin wants to show the world how beautiful nature is by preserving it through his photos.
His love for capturing nature began while at school and he never missed any opportunity that presented itself to do so with his LG mobile phone. At the time, no one quite understood him or saw his perspective, but he did not care.
From a young age while attending the Greenwich Park Primary School Kevin had begun saving with the school's early savers programme and would try to save $500 every week. By the time he was 16, he knew just what he wanted and had saved just enough to buy it.
"When I first got my camera, I would go around taking pictures of everything and anything. My parents allowed me to take my camera to school. For them, if you saved for it then you can do as you pleased with it. They were always supportive of my passion for photography. Yet there were times when they would advise me to be cautious if they should hear about a robbery in town and tell me that maybe I should leave the camera at home today. I had a curfew I had to abide by, so I wasn't out late with it and of course I was always aware of my surroundings and only took it out of my bag when I needed to take a photo," he said.
According to the young photographer, prior to getting his camera he had had a fair idea of how to handle one as a former teacher had taught him while he attended the Saraswati Vidya Niketan School. (He also attended St Stanislaus College.) This teacher, Subhash Haimraj, was also a photographer, and was his mentor in the skill adding that he was always impressed by how much he was fascinated by nature himself often seeing him use his lunch hour to capture the sky or something of the sort. He is also inspired by photographers Michael Lam and Darrell Carpenay.
YouTube tutorials aided Kevin in perfecting his talent.
Photographers are known for going all out for the perfect shot. In Kevin's case he is a bit of a risk taker and has landed himself in a few dangerous situations which led to him sustaining mostly minor injuries.
One incident almost led to him sliding off an old ship. Kevin is small in stature and at one time he underestimated his weight and sank in mud. This was during an outing with Subhash. He was at the time trying to get a side view of the Demerara Harbour Bridge and there was muddy slush where the water had receded that he wanted to stand on to get his photo. Though he was warned that it was too soft, Kevin went ahead and instantly went down in mud almost his hip. However, all he could think about at the time was his camera and raised it, quickly handing it to Subhash. Being a Science student, he remembered not to fight it and instead lay on the mud to increase the surface tension which allowed him to get out of it.
He shared also about the time he sat at the back of a car driving down the backdam in Leonora trying to catch the dust being raised up with the cane fields in the background; the car went over a bump and he almost fell off.
Another incident found him trying to fit himself in a small canoe with four other men who were fishing in the half full Boerasirie conservancy. The boat flipped over, but because the conservancy was really low, he managed to not go under and was submerged up to his waist. Luckily, he had had his camera in a Ziploc bag.
Aside from his risk taking, Kevin said photography leads to adventures. Some these adventures have taken him to Linden where he has visited the train site in Watooka along with just about all the lakes, Pandama Retreat along the Linden/Soesdyke Highway, Capoey and Lake Mainstay Lakes on the Essequibo Coast, the Claybrick Factory in Canal Number Two, Fort Island, as well as Bamboo Island where he came across the wing of a shuttle that one of the residents had found in the water there.
Some of the pros of being in photography are travelling, discovering new places, getting involved in different cultures and meeting interesting people. He said the cons include people believing that photography requires no talent because anyone can take photos. He has had an elderly person ask him why he was wasting his time doing photography.
He has also had instances where persons expect the all photographs to look alike not realizing that every professional has their own style. Kevin added that he would never want to be compared to another photographer, especially if it meant belittling another.
Although he has a love for landscape photography, especially plants, he also finds himself doing portrait photography from time to time. However, he prefers to do this when he is on his semester break so he can put his best time and effort into editing.
He is looking forward to visiting Purima, since he has heard and seen how scenic the village is. The photographer also plans on someday visiting the famous Denham Suspension Bridge also called the Garraway Stream Bridge which was constructed in 1933 linking Mahdia to Bartica by trail, believed to be the longest suspension bridge in Guyana.
Though he's passionate about photography, Kevin doesn't see himself doing photography as a business but sees himself incorporating this hobby in his line of work as a biologist. He said he can hardly wait to take underwater photos of marine life.
His hobbies include listening to music (jazz, medieval and classical), playing sports especially cricket, and reading horror and mystery books: the Harry Potter series is one of his favourites. He is also a rock collector.
Asked about his favourite dishes and they include Seven Curry, he noted that being a member of the Dynamic Tassa Troupe he has his fair share of Seven Curry, but it is not one of his favourites. He likes barbecue, pasta, cheesecake, pizza and eats a lot of takeout food. 
For a look at Kevin's images, he can be followed on Facebook and Instagram at Kevin Somwaru.
Around the Web