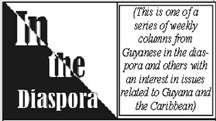 -Puran Brothers rejects overseer's criticisms
There are a few things that are threats to the standard of living of the community of Charity on the Essequibo Coast and one of those is the improper disposal of garbage that has been a constant problem over the past few years.

Located 60 to 70 miles from Charity in the Lower Pomeroon River sits the pristine Amerindian Com-munity of Akawini, home to native Caribs, Warraus and Arawaks.
By Karen Abrams Perhaps to a greater extent than their participation in Guyana's first ever National Robot and Technology Exhibition last Saturday, I took my cue from the decision by an empowered group of STEMGuyana team members to spend the previous evening at the Cliff Anderson Sports Hall readying the venue for what was to be an unprecedented experience.

The police on the Essequibo Coast are investigating the deaths of a 22-year-old woman and her two-year-old child after their bodies were discovered by neighbours at around 9am yesterday.

Two cousins are now dead following an accident on the Lima Public Road, Essequibo Coast at around 01:15am yesterday.

-residential areas threatened
Flooding as a result of heavy rains is currently threatening several areas on the Essequibo Coast and over 1000 acres of rice lands have been affected while Lima residents are worried after a major pump in the community stopped functioning on Saturday.