Delinquent Stabroek Market food vendors handed 'stop trading' orders
Stabroek Business has learnt that earlier this week the Office of the Clerk of Markets ordered the closure of two stalls offering cooked food for sale in the Stabroek Market on account of the failure by the vendors to renew their Food Handlers' Certificates.
Acting Town Clerk Carol Sooba confirmed in a brief interview with the Stabroek Business that an order by the Clerk of Markets that the vendors stop trading came after it was found that the Food Handlers' certificates for stall #97/ Section Three run by Mohindra Seeram and stall #98/Section Three run by Mohani Girdat had expired in September and October this year, respectively. The Acting Town Clerk told Stabroek Business that the issue of the Food Handlers' Certificates had arisen during a meeting in July and vendors had said in their defence that they had forgotten to renew the certificates.
Some vendors with whom Stabroek Business spoke on Tuesday said the closure order was issued without warning. However, a municipal official attached to the Stabroek Market confirmed that the vendors were well aware of the importance of ensuring that their Food Handlers' Certificates were up to date.
In the wake of the closure order the vendors reportedly appealed to the Clerk of Markets for leniency on the grounds that food spoilage was one of the likely outcomes of the embargo on selling. However, the Acting Town Clerk told Stabroek Business that up to Wednes-day the two businesses remained closed. Another source told Stabroek Business that apart from what, in some cases, was extreme delinquency in the matter of the food handlers' certificates, appeals to vendors to observe basic protocols associated with safety and health were sometimes met with indifference, even abuse.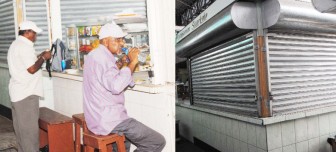 Former City Hall employee and current Safety and Health Consultant Dale Beresford told Stabroek Business several weeks ago that enforcing health and safety regulations was one of the most difficult challenges facing the municipality. He said he believed the problem arose, in some measure "out of a lack of will on the part of the municipality" but that it had grown worse on account of a lack of training. Beresford had said during an interview several weeks ago that if there were laws that addressed safety and health standards as far as the vending of food in municipal markets was concerned then there was no question about those regulations not being properly policed in the interest of public safety.