Famed Cuban dissident Oswaldo Paya dead in car crash
HAVANA, (Reuters) – One of Cuba's best-known dissidents, Oswaldo Paya, leader of the Christian Liberation Movement, died yesterday in a car crash, religious and dissident sources said.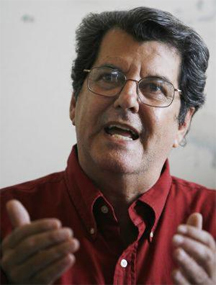 Paya, 60, was traveling in eastern Granma province at the time of the accident, the details of which are not known, the sources said.
According to dissident blogger Yoani Sanchez, who broke the news on Twitter, Paya's death was confirmed by the bishop of Granma, Carlos Amador.
Paya's family was not immediately available for comment.
In 2002, Paya spearheaded a petition campaign calling for a referendum on one-party rule and submitted more than 30,000 signatures.
The petition drive was rejected by the government, but Paya emerged as the leading advocate of peaceful democratic change in Communist-run Cuba.
Paya received the European Union's top human rights award in 2002, the Sakharov Prize, named after the late Soviet dissident Andrei Sakharov.
He was nominated twice for the Nobel Peace Prize by former Czech President Vaclav Havel.
Most Read This Week