T&T justice minister fired
(Trinidad Express) The fiasco of Section 34 sparked widespread calls for two heads – the Attorney General's and the Justice Minister's. Last night Prime Minister Kamla Persad-Bissessar offered up one—that of Justice Minister Herbert Volney.
In an address immediately following an extended Cabinet regular meeting on Thursday, the Prime Minister informed the nation that she had advised Acting President Timothy Hamel-Smith to revoke Volney's appointment. The Prime Minister announced the appointment of Tobago-born attorney Christlyn Moore, a senator, as his replacement.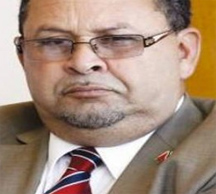 In her live address to the nation, the Prime Minister cleared the Attorney General Anand Ramlogan of any culpability or involvement in the scandal of the (Administration of Justice) Indictable Offences Act) and she placed the blame for the Section 34 debacle squarely at Volney's feet, stating that he misled the Cabinet with respect to the concurrence and support of the Chief Justice and DPP for early proclamation of Section 34.
It was Volney who piloted the final version of Section 34 in the Senate ("which, the Prime Minister noted, was not the version approved by the Legislative Review Committee (LRC) and thereafter by the Cabinet"). She also pointed that it was his Cabinet note which called for early proclamation, citing consultations with Chief Justice and the Director of Public Prosecutions.
She recalled that when Volney brought the note on August 9 to the Cabinet to proclaim Section 34 she specifically asked him whether the Chief Justice and the DPP had been consulted. She said Volney drew her attention to paragraph five of the Note which started that the Chief Justice had been consulted on the proclamation. "He then confirmed to the Cabinet that he had the support and approval of both the Chief Justice and the DPP on this matter," the Prime Minister stated.
"Early proclamation should never have occurred," the Prime Minister concluded.
"The approval of the Cabinet for this piecemeal proclamation was therefore predicated and based on the assurance and understanding that the Judiciary and the DPP were adequately consulted and fully supported the early implementation of this measure (Section 34) as a precursor to the rest of the act that would come into force in January 2013," the Prime Minister said.