Armed men rob shopkeeper, 12-yr-old grandson
A 12-year-old boy and his grandmother were held at gunpoint yesterday when their family business was robbed by four armed men.
The operator of the Habeeb Bhola shop, 58-year-old  Nimoon (only name given) of Lot 9 Unity Street, La Grange, West Bank Demerara was robbed of the morning's takings which she had not yet counted. In addition to this, the gunmen escaped with a quantity of groceries.
When Stabroek News visited the home which is located above the business, the woman's son, Ameer (only name given) said that she is still shaken up after the man "chuck her up" and gun-butted both she and the child.
Additionally, a 9-year-old relative who walked in during the robbery was said to have run away from the scene and was traumatized by what he had seen. He was later taken to another relative's home.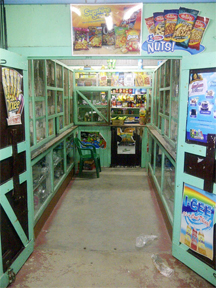 Ameer explained that it was about 11.10 am when three men entered the shop, all wearing topes and armed with guns. He said he later was given to understand that a fourth man was waiting in an escape vehicle at the head of the street.
The three men, he said, jumped over the counter and immediately lunged at the woman and child. "As soon as they come in they say keep quiet and start holler clear the way, clear the way and they hold we up," the child said.
Ameer stated that he and other family members were inside at the time when they saw two children in the shop and heard the noise but assumed they were only playing.
"They put the gun to this boy head and another one put a gun to my mother forehead and they went demanding more money from inside but I run and lock de door and they start kicking the door," he recalled.
He further explained that he instructed another relative to call the police and to bring him a cutlass. He stated that after the bandits heard this, they escaped back over the counter and walked out to the street to the waiting car.
His relative, Ameer added, could not find the telephone number quickly enough for the La Grange Police Station and as a result dialled 911 through which she was referred to the station. Two officers arrived some 15 minutes later on motorcycles. The perpetrators had already made their escape.
Later that day, the body of a man was found floating in the vicinity of the koker opposite the La Grange Police Station at Old Road which is just a short distance away from where the robbery took place.
Stabroek News was told by eyewitnesses that the corpse appeared to be that of a man in his 50s and of Indian descent. He was said to be fair skinned and bald. The body was picked up by Ezekiel Funeral Parlour and remained unidentified up to press time.
Most Read This Week